I

n Vietnam, eating and drinking out-of-home is a part of everyday life with adult restaurant visits amounting to 340 million translating into $1.1 billion in Q2 2016 in HCMC, Hanoi and Da Nang according to a new report from research company Decision Lab.

In recent years, an increasing number of Western style restaurant chains have entered Vietnam and more and more Vietnamese consumers are sampling Western food and drink. In fact, visits to Western-style outlets account now for 7% of total Out of Home.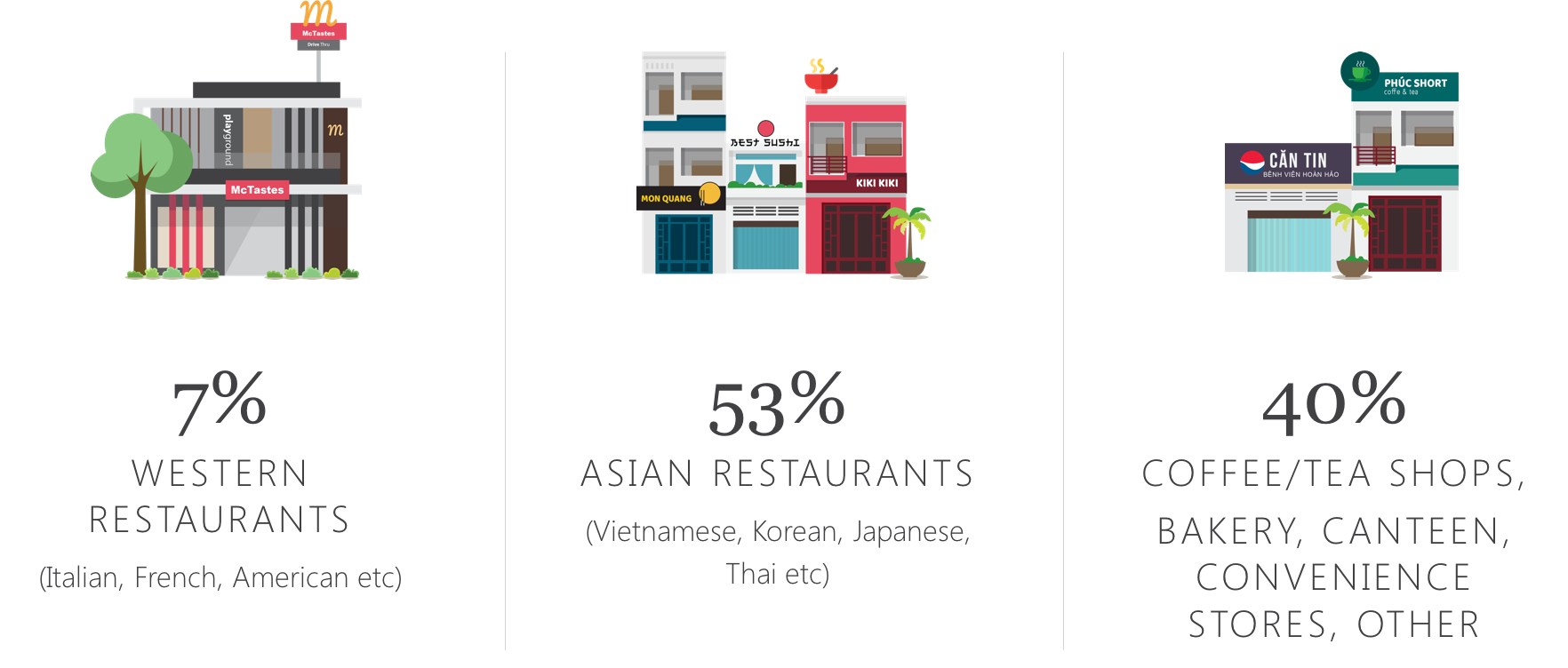 Yet, Western outlets are still low frequency destinations. It's twice as likely for Western venues to be chosen as a treat, to celebrate a special occasion or to try out something new compared to their Asian counterparts.
In contrast, Asian restaurants are high frequency destinations and more convenience driven with about a quarter of visits made because the venue had a convenient location, the consumer didn't want to cook or there was a lack of ingredients in the house.
High price is one of the barriers why Western outlets are not visited often. According to the new report eating at a Western restaurant sets each consumer back an average of VND168K (about 7.5 USD) per visit – 2.5 times more than the average cost of an Asian meal.

To compensate Western outlets have made extensive use of vouchers and promotions as many have the advantage of years (if not decades) of international experience to shape their marketing strategy.
Restaurants such as KFC, McDonald's etc offer an abundance of promotions and vouchers to drive customers. In fact, Decision Lab's report shows that 23% of visits to Western outlets were using a voucher or promotion compared to just under 6% of visits to Asian style restaurants.

But, extensive voucher and promotion offers are not always the best bet for longevity as there is the danger that it will lead to a devaluation of the brand so Western restaurants should target their promotions and offers at consumer segments that are likely to increase sales in the long run. Large groups eating out together, for example, tend to have a higher spend per person per visit and are a valuable consumer segment to target.
Having a selection of traditional or Vietnamese-Fusion items on the menu will also help Western restaurant brands to cross from a special occasion destination to a high frequency one.
Decision Lab's Foodservice Monitor can also help restaurant operators:
Position new concepts
Optimize offering
Drive Footfall and spending per head
Download the Foodservice Monitor product sheet below to understand how Decision Lab can help your company drive growth.