F

intech has been receiving much buzz on the Vietnam tech scene. More specifically, digital wallet payment methods have been in fierce competition with each other to grow their user base and number of transactions. Without a doubt, there remains a lot to discover about E-wallets in Vietnam. For that reason, Decision Lab has launched a study to uncover insights about Vietnamese consumers' usage and attitude regarding E-wallets.

The growing number of E-wallet providers sums it all up: In Vietnam there are currently more than 40+ E-wallets, compared to merely five E-wallets just 6 years ago. The idea and the demand is there. However, for E-wallet providers, the recipe for success is still in the making. Some E-wallets leverage their 'first-mover' advantage by becoming exclusive partners to super-apps, while others derive benefits from financial institutions and sharing customer base.
E-wallets' context for success
Once the most popular method of payment, cash-on-delivery has seen a downward trend in usage ever since the pandemic started in early 2020. Correspondingly, digital payment methods, including internet banking (70%) and E-wallets (59%), have stepped in. Thanks to the rise in digital payments, there are great potentials in the Vietnam market for E-wallet, as it is becoming the most preferred method of payment for making online purchases.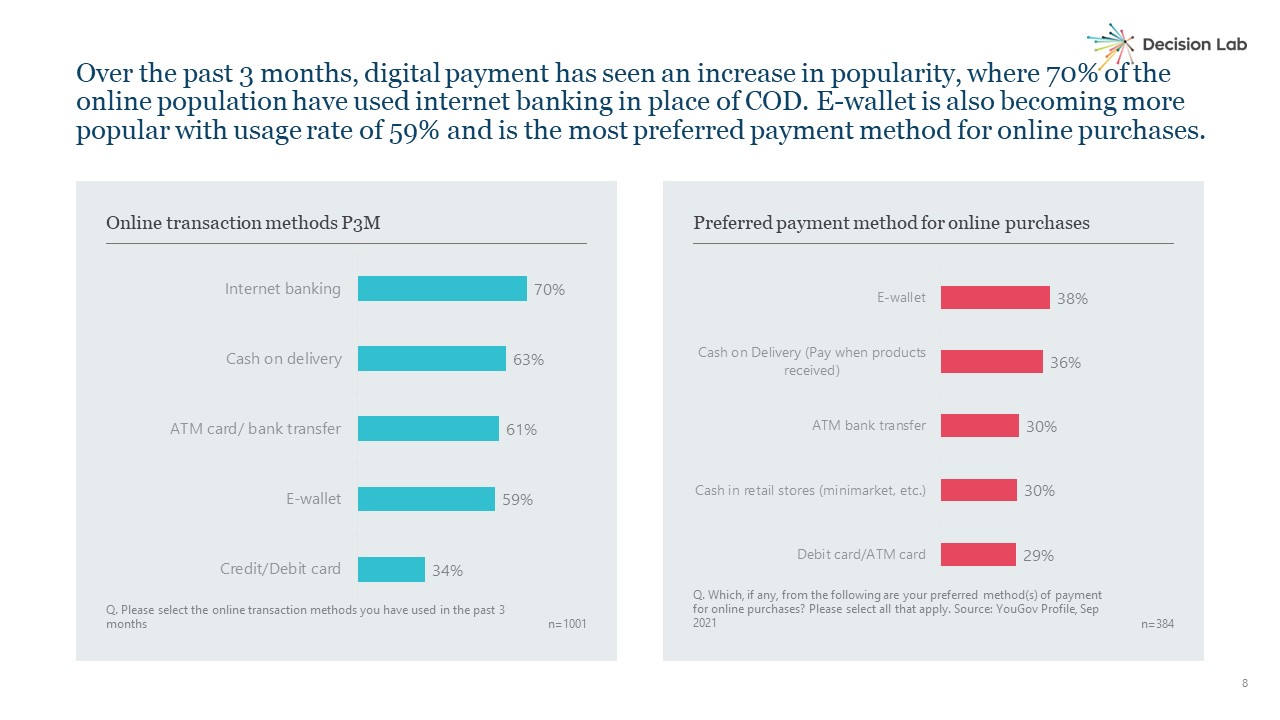 E-wallets came into existence with the primary purpose of facilitating transactions and online payments, which holds true for two-thirds of Vietnamese consumers. It is noteworthy that promotions are the second most important reason for using E-wallets over other payment methods (65%), followed by convenience when paying for bills (61%). Understanding customers' motivation for using E-wallets can help providers improve key features to stay ahead of the competition.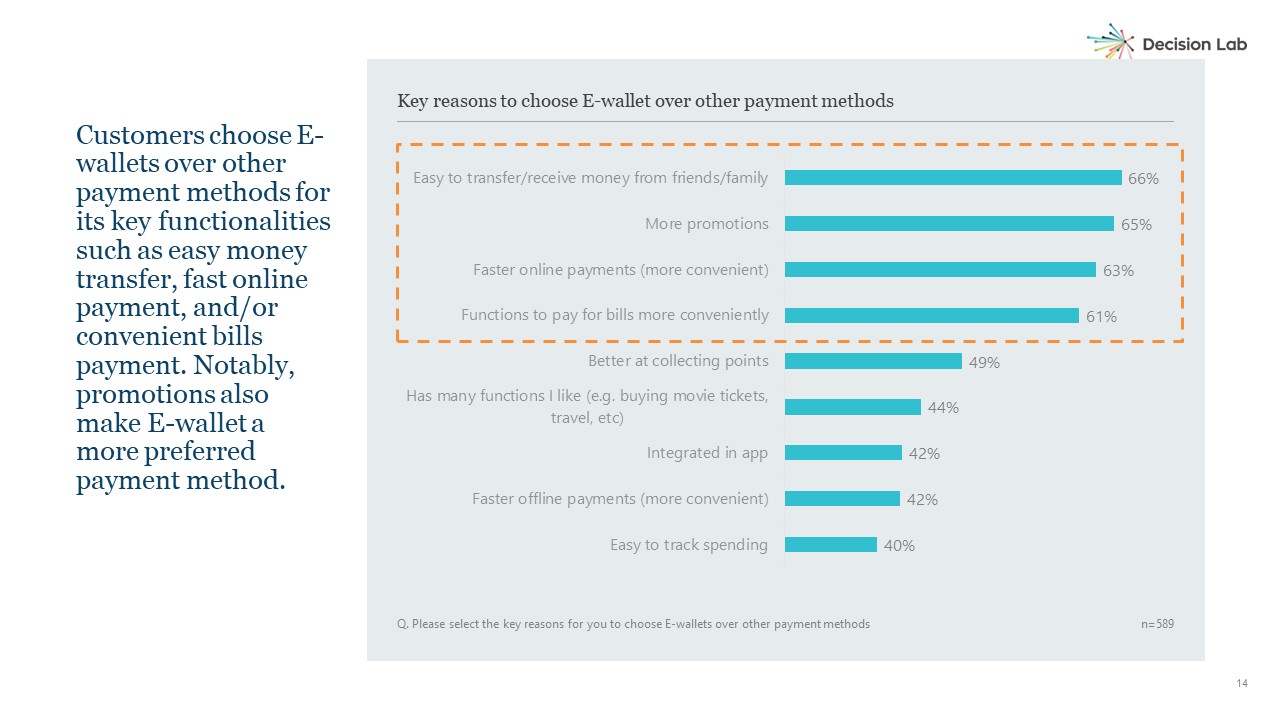 Our findings also show high usage frequency for E-wallets. Two thirds of Vietnamese customers use E-wallets on a weekly basis. Among them, 35% use E-wallets 3-5 times a week and 30% use E-wallets daily. In addition, 61% of Vietnamese customers use two or more E-wallets. Is the increase in E-wallet usage merely a result of social distancing? Yes, but only for the 6% of users who intend to use E-wallets less in the future. Otherwise, 37% of customers claim they will continue using E-wallets as much as they do now. And most importantly, 57% of customers intend to use E-wallets more frequently in the next 6 months.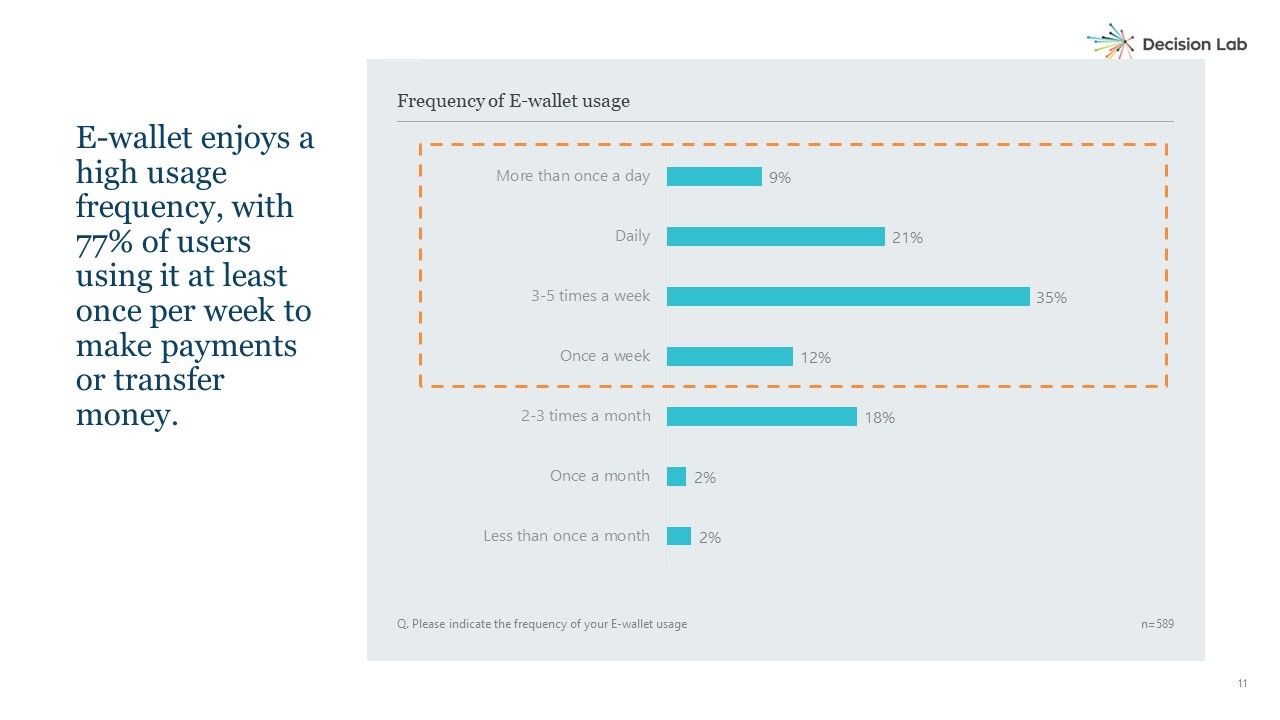 Top E-wallet providers
Momo, ShopeePay (AirPay), and ZaloPay are the top three most popular E-wallets in the market, based on penetration rates. That these E-wallets are different in nature makes their popularity all the more intriguing. While Momo is an independent E-wallet, ZaloPay and ShopeePay partner up with established platforms (Zalo and Shopee). With the most familiar name on the scene, Momo retains its market leader position both in terms of active customer base (86%) and most used E-wallet for 56% of users. Although ZaloPay is more popular than ShopeePay, the latter is better at encouraging transactions and usage among current users.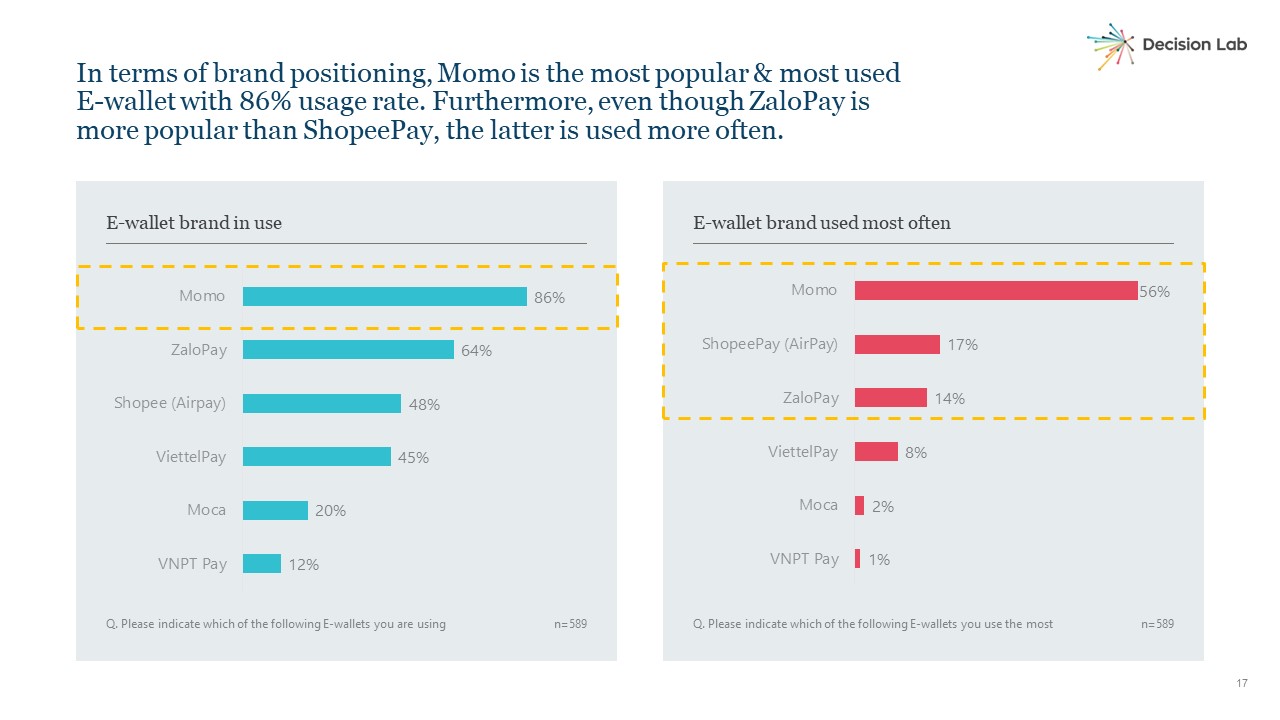 Key differentiating factors among top E-wallets
As an independent e-wallet, Momo's success comes from its superior delivery of key functions, such as fast transactions and a wide acceptance network. On the other hand, ShopeePay as an e-wallet for e-commerce shopping is most used by consumers for promotions and convenience in making online purchases. As for ZaloPay, this e-wallet's aggressive acquisition strategy by offering a myriad of promotions has clearly been effective, as most users turn to ZaloPay for its convenient payment services (fast, accepted at many retailers) and promotions. For ViettelPay, brand reputation is the most important trigger for adoption.

So far, it seems difficult for e-wallets to differentiate themselves beyond easy money transactions, convenient bills payment & attractive promotions. However, knowing that more and more people will use e-wallets and the current users will use e-wallets more frequently, we can expect that customers' needs will grow beyond the basic features. That said, as more e-wallet providers enter the scene, we believe the key to success lies in providers' ability to identify and address their target customers' needs.
For more insights into Vietnam's E-wallet landscape download Decision Lab's FREE report on "The rise of E-wallets in Vietnam" here. For a consultation about how your brand can tap into this market, reach out to one of our expert consultants today.