A

ccording to Brands Vietnam, a 30-second spot during the 2nd leg of the 2018 AFF Cup Final between Malaysia and Vietnam cost about 950 million VND ($40,000). This sets a new record for any football game shown on free-to-air television in Vietnam, bettering even the most recent World Cup Final between France and Croatia (shown on the same network) by 15%.


Given the fact that around 30 ads were part of the Saturday night coverage, total investment by advertiser's on what was one of the most watched events in Vietnam's recent history amounted to approximately 30 billion VND ($1.2Mil). Certainly, not since the country won the same competition in 2008 have the Vietnamese been as transfixed by an individual sporting event.

However, despite the almost unprecedented number of eyeballs to reach out to, and the vast majority of households glued to their television screens, the question remains; how well did these ads perform, especially when they are mostly condensed into one halftime period, and surrounded by thirty others?
The Television Event
Comparable in many ways to the Super Bowl in America, one of the few events in a country of over 400 million people that stops the nation, a study by Decision Lab has revealed that 97% of those who identify as online users in Vietnam watched the match, and 90% of those did so on TV.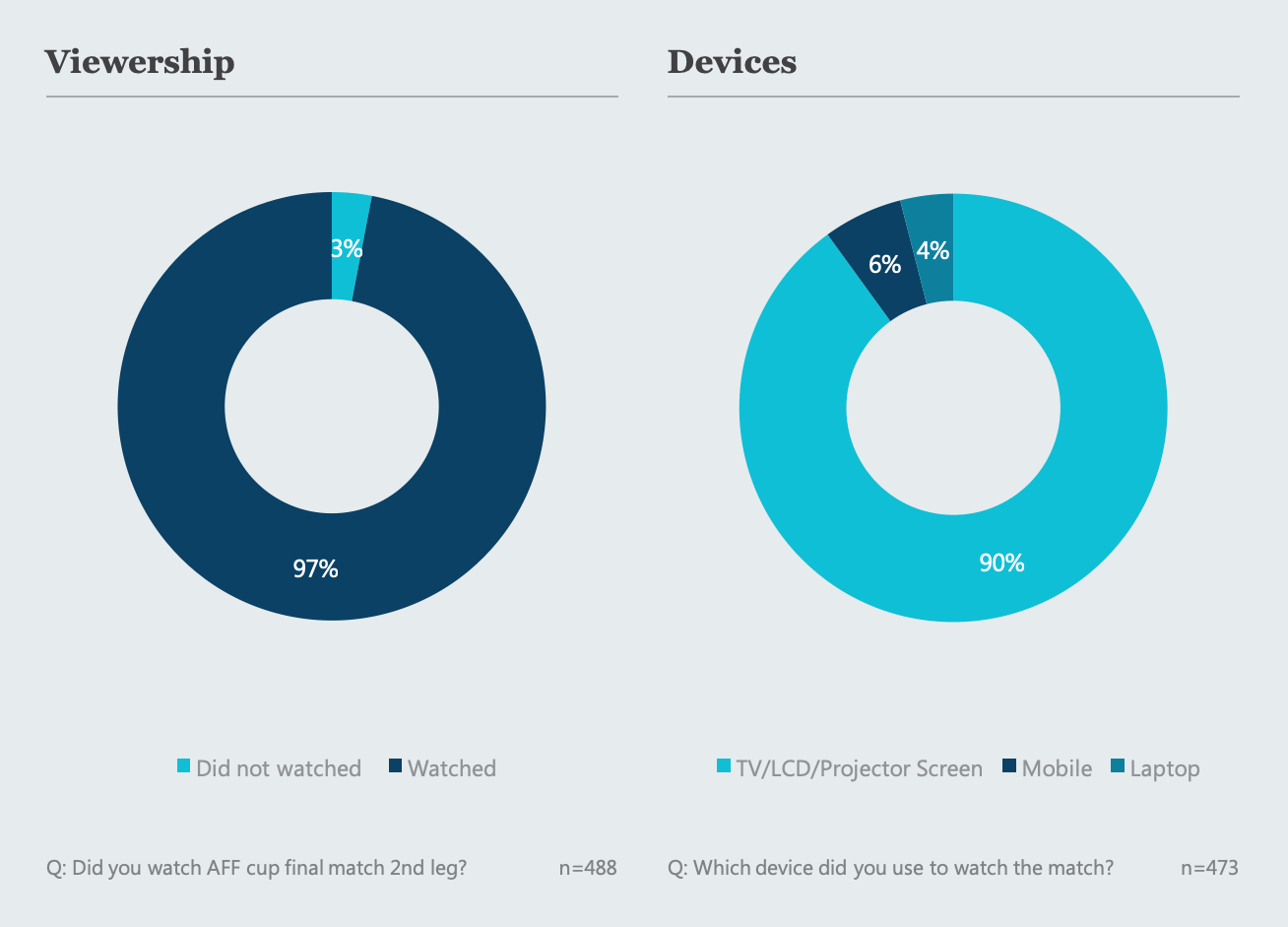 With those kinds of viewership numbers, it's no surprise that networks take the opportunity to increase the cost of airtime during major sporting events. To justify their investment, advertiser's point to both the huge number of people watching and the high level of audience engagement for the duration of the coverage.
According to Decision Lab's survey results, as few as 7% of viewers switched channels or used their devices for other purposes during the commercial breaks of last Saturday's match. The remaining 93% stayed tuned to the TV channel (or website in the case of those streaming it online) on which the match was being broadcast. And of those, as many as 70% said they never left the screen.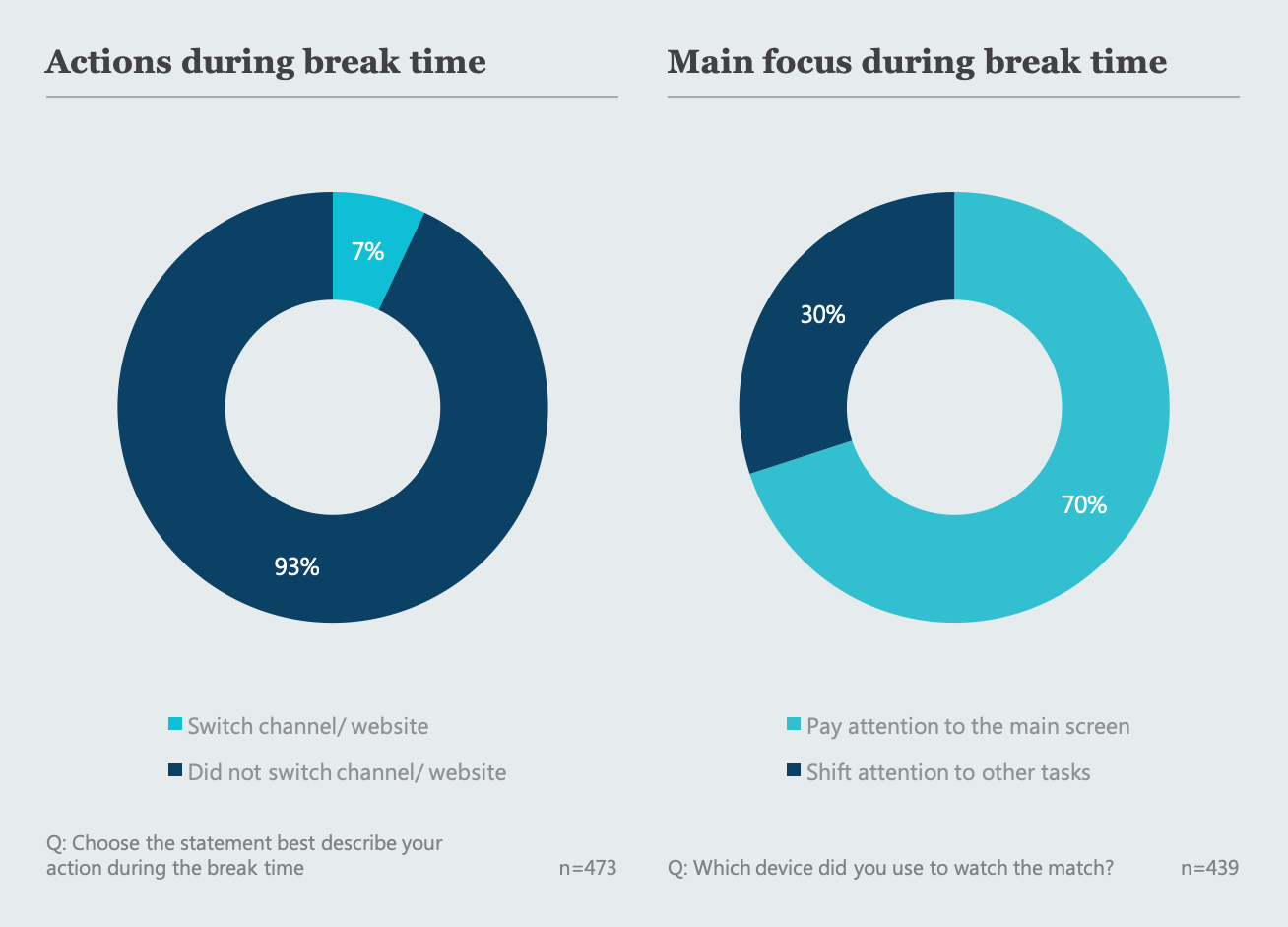 Effectiveness
With over 30 ads in just over 15 minutes of commercial breaks during the coverage, the challenge advertisers faced during the AFF Cup Final 2nd leg was similar to that of American advertisers during the annual Super Bowl; it's a risk that your ad will fail to cut through the significant clutter and make any kind of impact on your target consumer.
In 2017, research agency Communicus released a report that revealed that on average, only 10% of consumers remembered ads that aired during the most recent Super Bowl. For the AFF Cup Final in Vietnam on Saturday, that figure is a little higher at 15%; however, it is based on the 30 ads Vietnamese audiences were exposed to, compared to the 51 ads that screened during Superbowl LI in 2017.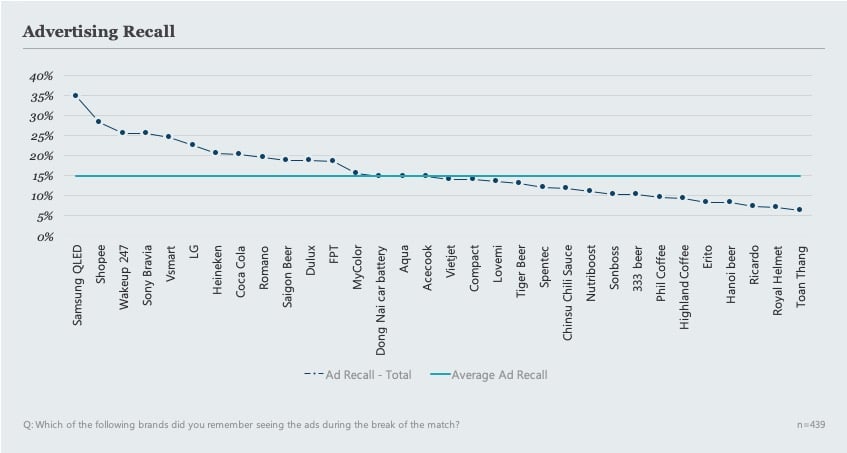 The Super Bowl vs. Vietnam
It's true that the Super Bowl is unlike any other television event when it comes to advertising. US viewers literally expect to be entertained by brands each year, with Super Bowl ads becoming a genre all of their own. Therefore, with so many eyes watching, for advertisers, the Super Bowl has long been the best viewing occasion to release a new piece of content that promotes their brand and product offer in a unique way.

In Vietnam, things are not there yet. While the AFF Cup is not an annual event, nor guaranteed to feature any one side, even still, the majority of ads that screened during the halftime break on Saturday were regular commercials that had already been aired for some time. In our opinion, given the immense popularity of football in this country, it was an opportunity missed.

So although we didn't see it this time, don't be surprised in the future by more savvy marketers beginning to leverage events like the AFF Cup Final to introduce their brand in a new way or launch a significant promotion. We think that would be a better investment than, as was the case last weekend, buying a whole bunch of impressions at a greatly inflated price.
Want to find out if your ad cut through the clutter, or if your campaign was effective? Reach out to us now for a free product demonstration