W

ith a population of more than 93 million, that's increasing both in size and purchasing power, Vietnam is an extremely attractive market to the food and beverage sector.

In fact, the beverage industry alone turned over 30 trillion VND (1.3 billion USD) last year, according to the Vietnam Beer, Alcohol and Beverage Association (VBA).

But while it is well known that Vietnam is a lucrative market for alcoholic beverages and beer specifically, a new report from Decision Lab has shown that a big opportunity for brands in Vietnam could lie in healthy soft drinks.

Whilst men are responsible for the majority of out of home beer consumption, to women healthy drinks such as juice, smoothies and milk are more appealing.

Decision Lab's Report also showed that the CSD/capita in Vietnam in 2016 is now at 7.2 liters per year, an increase from previous years.

For brands, the opportunity lies in the decreased price sensitivity Vietnamese have towards soft drinks in comparison to food: 7% of drinks are chosen because of value for money considerations compared to 12% of food items and for drinks, health is a bigger driver for choosing than for food, with 13% of drinks chosen for this reason compared to just 7% of food chosen because of health considerations.

Decision Lab Research Director Katrin Roscher said:
"While Vietnamese will perhaps not feel comfortable splurging on a lunch or snack, they'll happily part with money on a premium coffee from a coffee shop chain, bubble tea or drinks perceived to have health values."
When is comes to healthy drinks, a specific area of interest is lactose free milk. The report demonstrates that in a nod to Western consumer habits, milk is increasingly being consumed with dessert and snack items such as ice cream, cake, yoghurt and cookies. Given many Asian consumers find it difficult to digest lactose, the market for lactose-free milk has a lot of potential.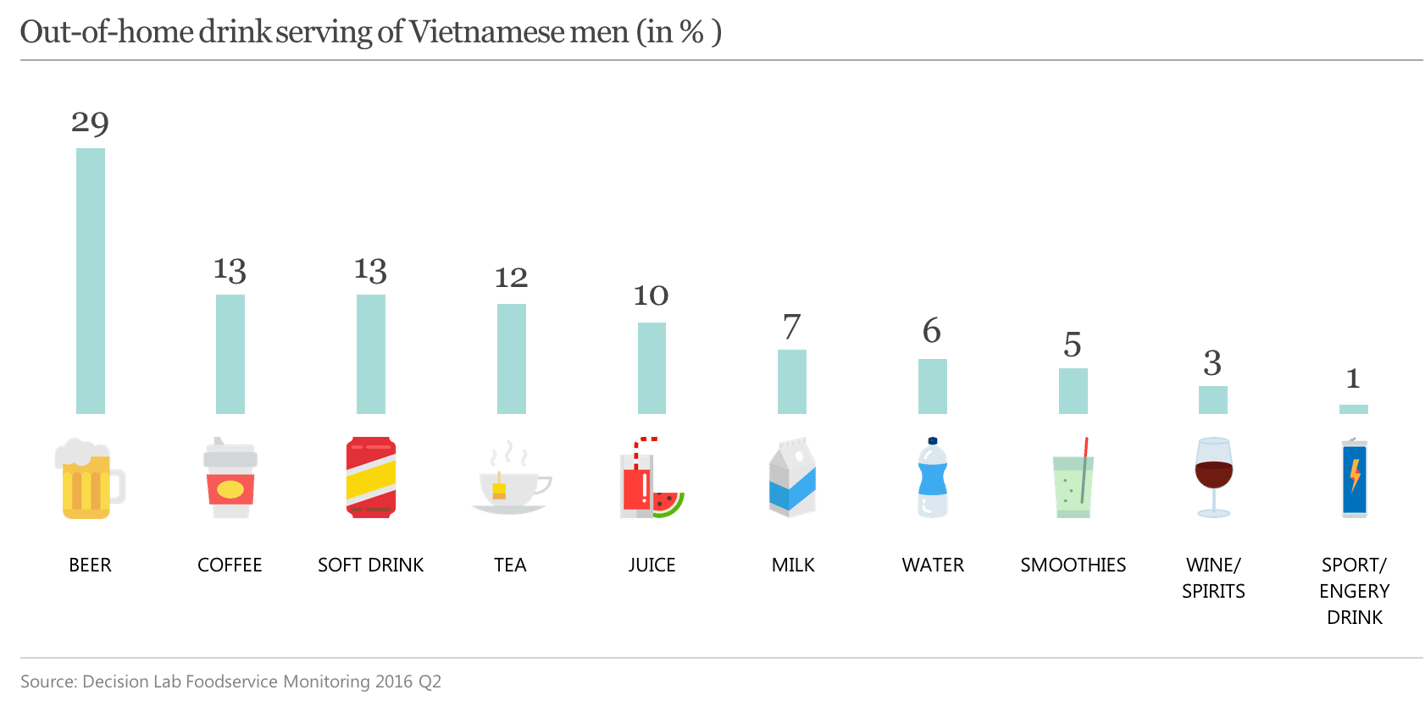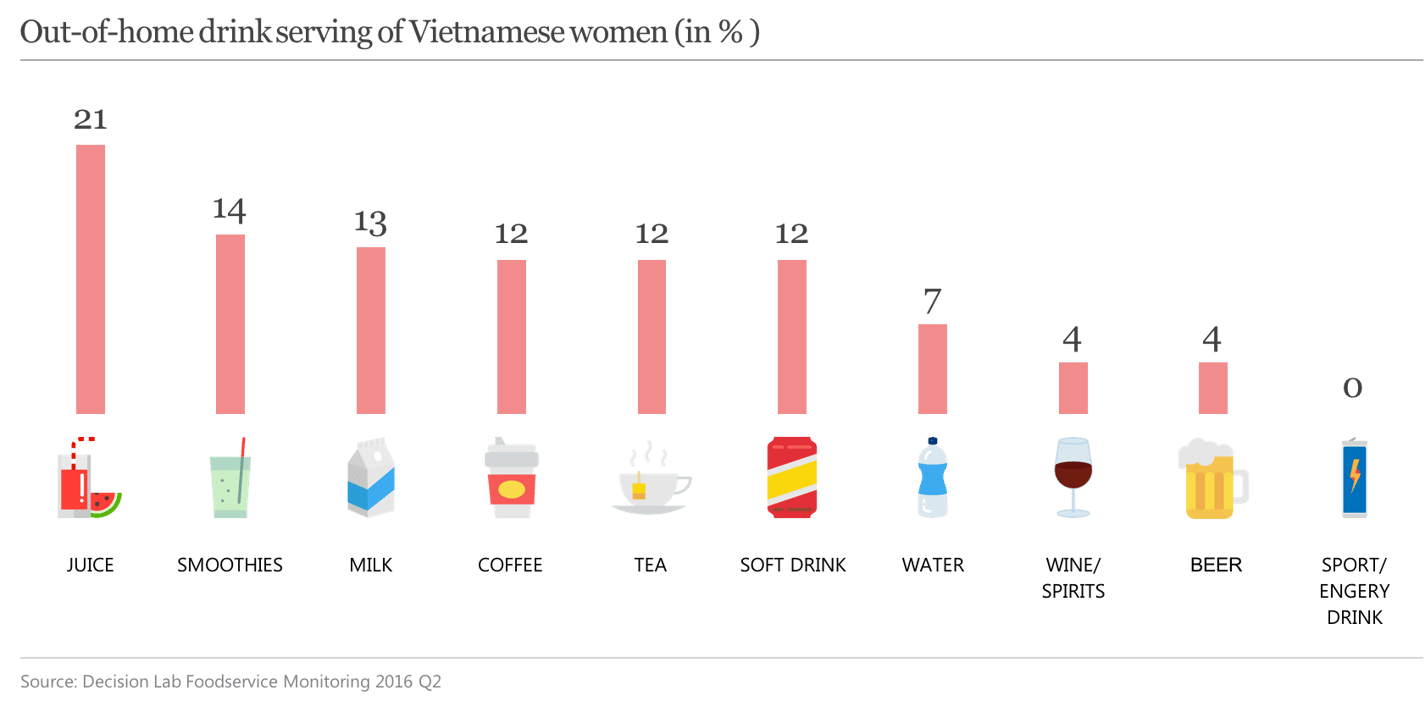 Download the full report here and learn more about the Out-of-home market in Vietnam.
This topic has been covered extensively in industry news. You can read more here:
WHY IS DECISION LAB TRACKING FOODSERVICE CONSUMPTION?
Extensive and growing out-of-home consumption
Entrance of global chains and mushrooming of new local F&B concepts
One of world's most interesting beer markets
Professionalization and inflow of capital for operators
No existing gold standard in data: Decision Lab's Foodservice Monitor is essential for creating common ground between manufacturers and operators
HOW DOES DECISION LAB TRACK FOODSERVICE CONSUMPTION?
Decision Lab's Food Monitor Service tracks the out of home eating and drinking market in the key cities of Hanoi, Ho Chi Minh City and Da Nang. The report cited in the above article refers to data collected in Q2 2016.
The Foodservice Monitor tracks all food & drink consumed out of home on a daily basis with an annual sample size of 16,000 completed interviews.
The respondents are Vietnamese consumers aged 15+ who also report on the consumption by children (under 15 years) who were present at the eating out occasion.
Decision Lab is an agile, data driven research agency based in Vietnam. It operates the largest online research community in Southeast Asia from which it can advise clients on a multitude of marketing decisions.