T

here's been a shift in the way Vietnamese spend their money when it comes to eating out. A report from Decision Lab has revealed that growth in visitor traffic to Western restaurants plummeted by 61% in the four quarters to Q3 2018, and that the fast food segment as a whole suffered a drop of 17%. Stepping in to fill the gap have been three increasingly familiar faces: Japanese, BBQ and Hotpot.


While Vietnamese food still dominates the out-of-home dining market in Vietnam, over the last 12 months diners looking for something different have increasingly turned away from Western options in favour of Asian flavours; and what it really comes down to is experience.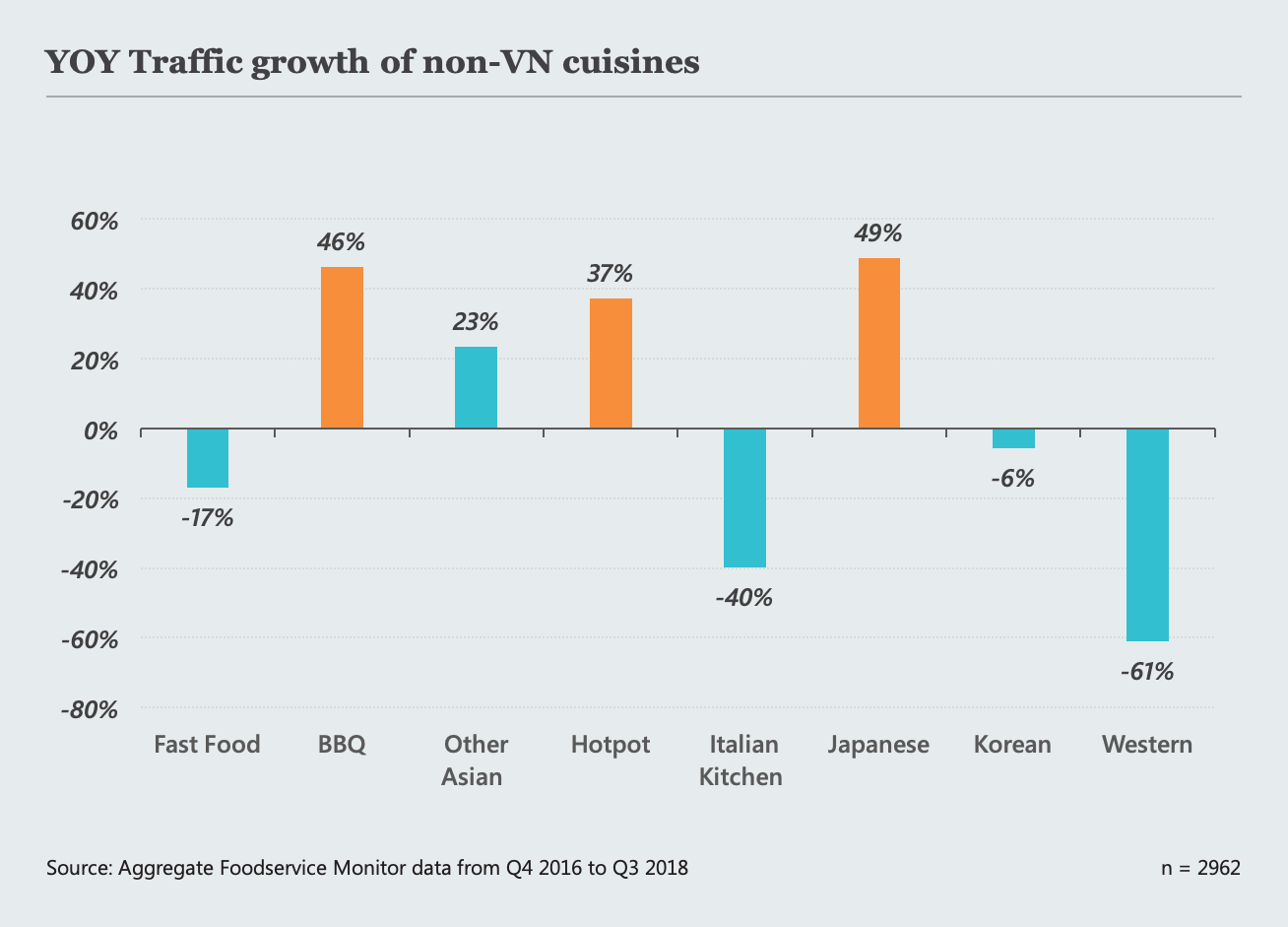 BBQ, Hotspot and Japanese Restaurants enjoyed the strongest traffic growth in 2018
The up-and-coming players
There's no doubt that Vietnamese food occupies a special place in the hearts of the Vietnamese. Its' diversity, affordability and ready availability means it currently accounts for up to 80% of all out-of-home dining experiences in Vietnam.

That said, the impact of new cuisines on Vietnam's food & beverage market shouldn't be discounted. In the past year alone more than 15 new franchise concepts have entered the country, from Japanese cheese tarts to Cantonese desserts and Singaporean seafood.

In addition, existing chains specializing in non-Vietnamese options have expanded their presence, with Golden Gate Group (owner of brands Gogi House, Kichi Kichi, SumoBBQ, etc.) and Redsun-ITI (owner of brands King BBQ, Hotpot Story, ThaiExpress, etc.) setting the pace.

In the past 12 months, while the growth in popularity of Fast Food and Western outlets has been on the decline, the big winners have been Japanese, BBQ, and Hotpot locations, where year-on-year visitor traffic growth has increased by 49%, 46% and 37% respectively. Notably, it's also been these three cuisines that have commanded the highest average spend per visit in the market.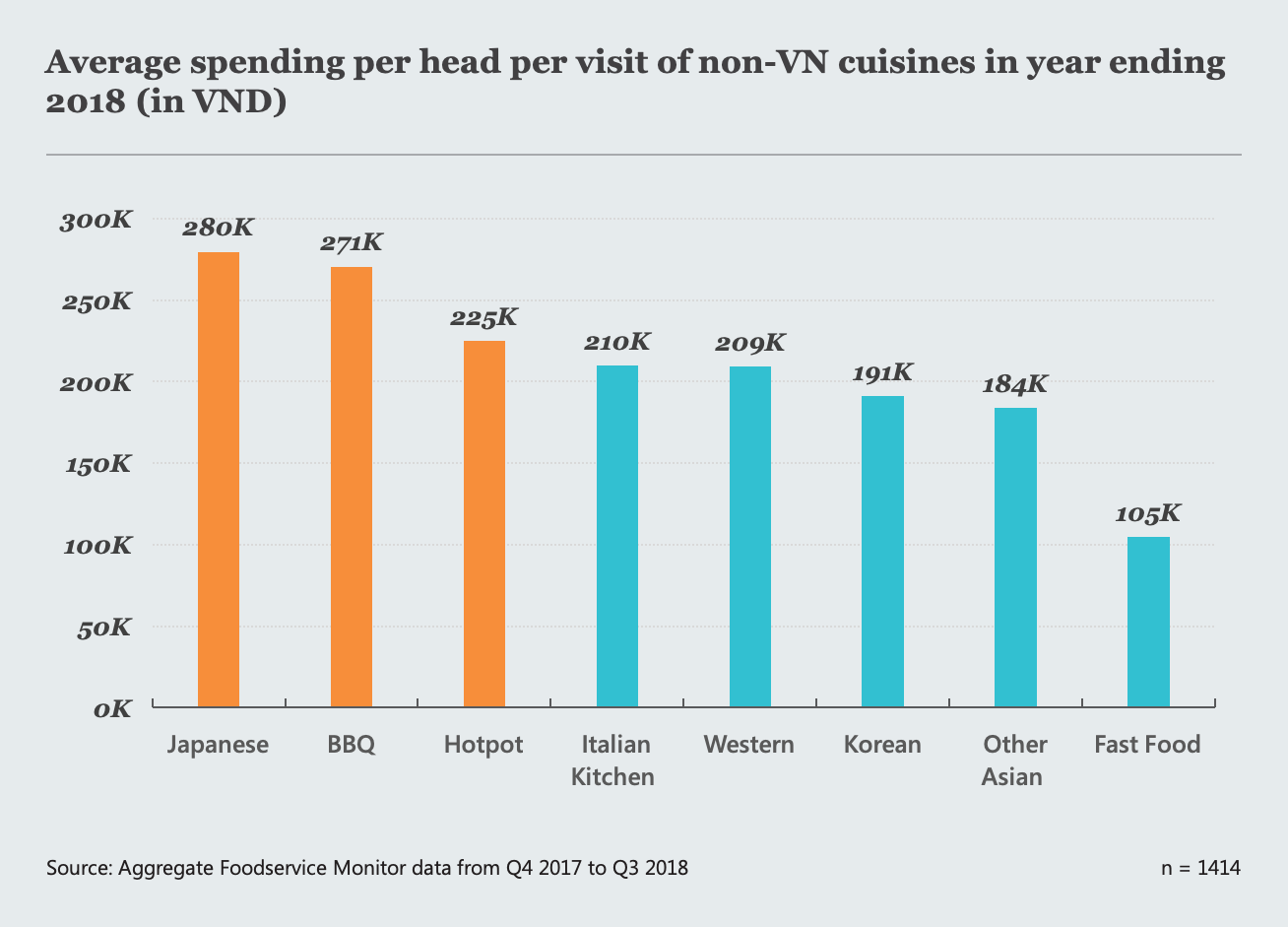 Consumer spending in these 3 cuisine are the highest among all foreign cuisine outlets
So what does it mean?
What the decline in traffic growth to both Fast Food and Western-centric Quick and Full Service restaurants has meant, is that cuisines with either a more familiar flavour profile, namely BBQ and Hotpot, or a strong association with quality, ie. Japanese food, have found room to thrive.

While it should be noted that Fast Food still occupies the top spot when it comes to market share of non-Vietnamese cuisine (39%), clearly, Vietnamese tastes are shifting away from what might previously have been Western curiosities, like burgers and pizza, for example, and back toward a more Asian-centric, high-quality offering.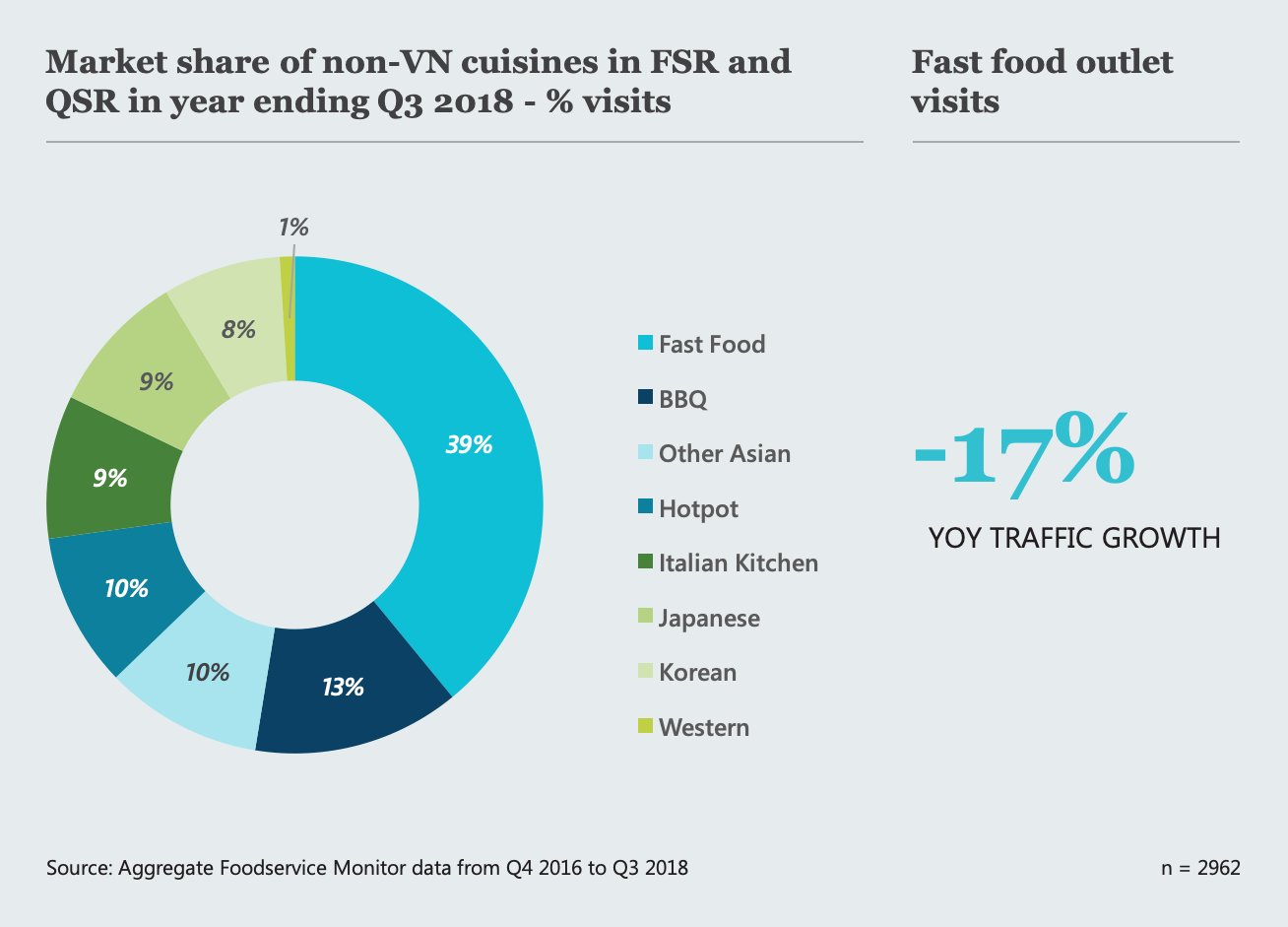 Fast-food, the biggest type of non-Vietnamese cuisine consumed, has been suffering from a significant lost of traffic year over year.
But why?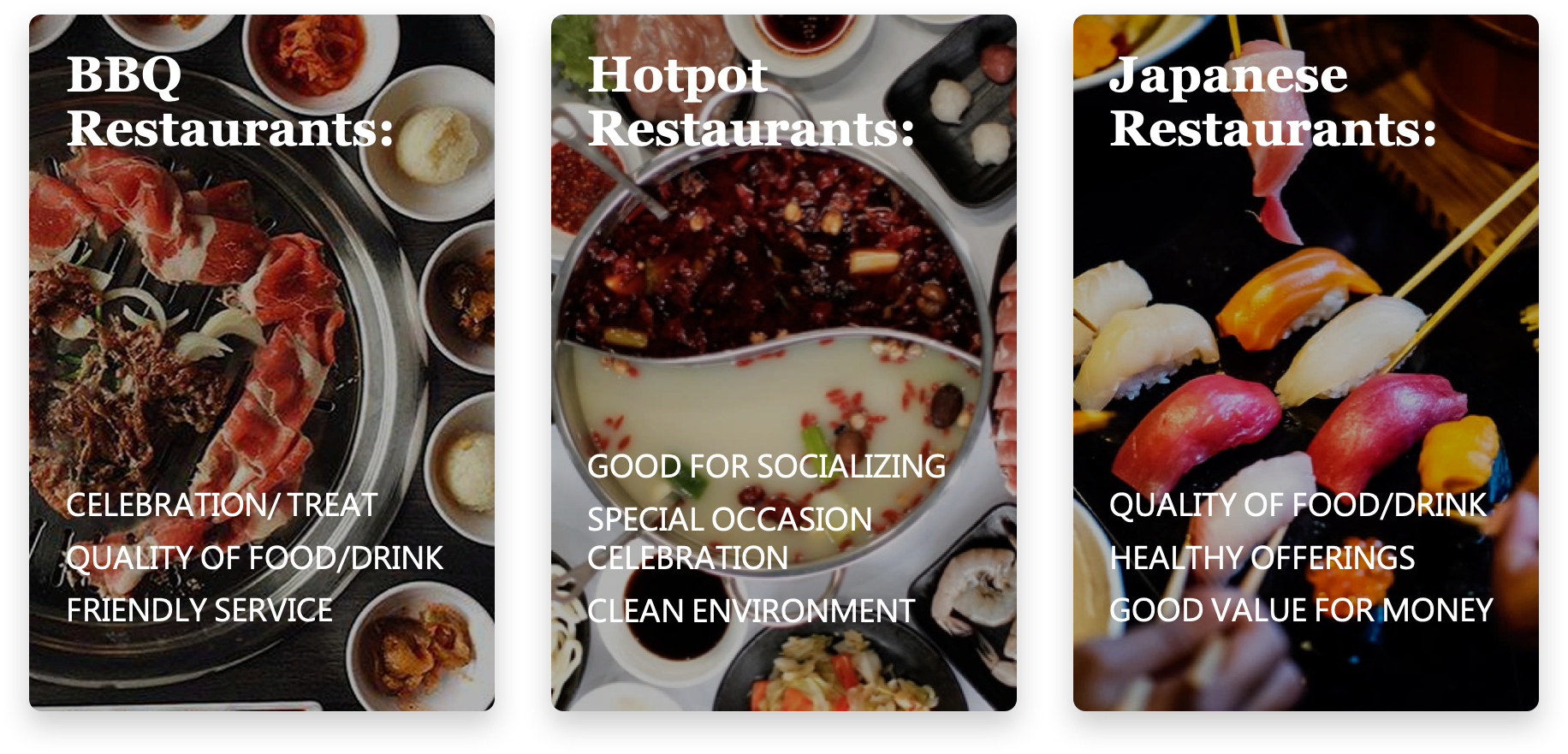 The drivers of consumer choice for these cuisines may differ, but all hint at Vietnamese' underlying expectations toward a dining destination
Explaining the shift boils down to a number of factors, all of them about Vietnamese diners preferred eating experience. In general, Vietnamese appreciate the ability to share, socialize and celebrate with high-quality food and beverage at the center of any occasion. So whether it's partying with colleagues at a BBQ restaurant, chatting with close friends over Hotpot or enjoying the premium experience of a Japanese meal, there is a clear preference for dining destinations that allow these things to happen.

When you think about the sizzle of a grill, or the aroma of a Hotpot broth, it's not hard to understand why BBQ and Hotpot outlets in particular have been so successful. They create a natural interaction between customer and food and thereby provide a sensory experience that diners want to revisit again and again. Japan's special relationship with Vietnam, and reputation for quality, whether it be in manufacturing, engineering or food, means that 'brand Japan' has also remained strong, with more and more entrants looking to take advantage.
Food for thought
For any restaurant operator, however, competition remains fierce. Even for those operating a BBQ, Hotpot or Japanese outlet, there are no guarantees of success. Vietnamese consumers today have more choice than ever and if outlets in any category fail to listen or adapt to their needs, it's unlikely that they will remain in business for long.

If you are an operator in the foreign cuisine segment, we recommend you ask yourself the following questions:
Will Vietnamese diners want to host their special occasion in my location and is my service great?
Am I fostering a natural interaction between my customers and my product?
What else am I doing to elevate the experience from 'ordinary' to something else?
For food and drink manufacturers looking to grow in the medium-term, it should be obvious where their effort should be best spent; the rising number of BBQ, Hotpot and Japanese chains.