The European Chamber of Commerce Vietnam's (EuroCham) quarterly Business Confidence Index (BCI) has regained its upward trajectory in Q3 2023, offering a glimmer of hope for the Vietnamese business environment after a turbulent year. The BCI, which is conducted by Decision Lab, has provided a periodic pulse check on Vietnam's economy since 2011.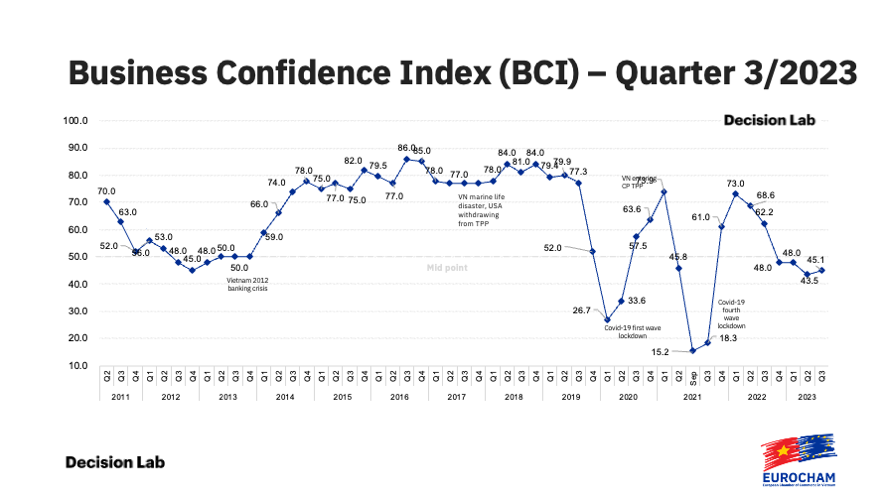 To read the full Q3 2023 Business Confidence Index report, click here.
An overview of the BCI's findings
The BCI nudged up to 45.1 in Q3 2023 from 43.5 the previous quarter. While still below the 50-point threshold for four straight quarters, this small rise indicates emerging positive economic momentum.
Click here to access the full BCI report.
Business sentiment appears to be in flux. Between Q2 and Q3, there was a three percentage point drop in pessimism regarding the current situation, while positive and neutral perspectives increased by six and four percentage points, respectively.
Furthermore, the Q3 survey revealed a shift in projections for the quarter to come. Compared to responses in the Q2 survey, there was an 11 percentage point rise in businesses anticipating economic stabilization and growth for the upcoming quarter. On the other hand, businesses projecting a negative trend reduced by five percentage points.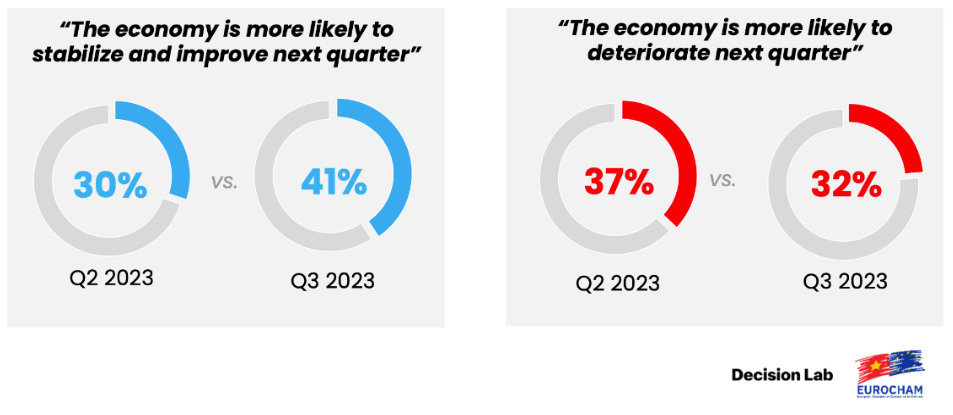 Approaching year-end, hope and caution persist. Though Vietnam's Q3 GDP grew a promising 5.3% year-on-year, companies continue to be cautious. Expectations regarding increased revenue or orders remained stable, with no change from the previous quarter. Just 22% of companies plan to expand their teams in Q4. Only 16% expect an increase in investments.
Vietnam's FDI outlook: bright spots and areas for improvement
Vietnam's global investment appeal remains strong. A notable 63% of surveyed businesses positioned Vietnam within their top 10 FDI destinations. Even more striking, 31% ranked Vietnam among their top three, while an impressive 16% hailed it as their foremost investment destination. Reflecting this confidence, over half of those surveyed plan to increase their foreign direct investment in Vietnam by the end of the year.
Yet hurdles persist. A substantial 59% cited administrative difficulties as their main challenge when operating in Vietnam. Challenges such as uncertainties in rules and regulations, hurdles in permit acquisition, and strict visa and work permit requirements for foreign workers also stood out as prominent barriers.
To improve the nation's FDI attraction, 58% of respondents said streamlining bureaucracy is key, 48% advocated for enhancing the regulatory environment, one-third called for upgrading transport infrastructure, and 22% emphasized easing visa and work permit requirements for foreign experts.
Sustainability in Vietnam: high priority, high hurdles
Sustainability is rising as a priority for European companies in Vietnam, with 80% citing ESG alignment as highly or moderately important.
However, major obstacles remain when translating priorities into practice. Regulatory uncertainty, infrastructure gaps, and insufficient government support were cited as hindrances to implementing sustainability measures locally.
Additionally, only 20% of firms are proactively preparing for impending EU green regulations, such as the Carbon Border Adjustment Mechanism. Meanwhile, 38% currently have no plans for alignment. This distinct lack of preparedness not only poses challenges domestically but can hinder international competitiveness, especially in the crucial EU market.
EuroCham's 2023 Green Economy Forum (GEF) provides a timely opportunity to address these challenges on 2 November in Hanoi. Expanding on the success of EuroCham's 2022 Green Economy Forum & Exhibition (GEFE), this forum promises to be a hotspot for knowledge-sharing, helping businesses and policymakers to stay abreast of EU green regulations and other pressing issues related to sustainability. By attending, companies can gain invaluable insights into how to navigate these evolving challenges and capitalize on opportunities for green growth.
The EU-Vietnam Free Trade Agreement's dual impact: opportunities and obstacles
More than two years after its implementation, the EU-Vietnam Free Trade Agreement (EVFTA) is continuing to have a strong positive impact on Vietnam's business landscape. Over 60% of companies called the deal beneficial, citing tariff cuts as the top perk, followed by improved competitiveness in Vietnam, reduced trade barriers, expanded partnerships with local firms, and increased access to the Vietnamese market.
However, challenges persist. Discrepancies in customs valuations for imports, opaque and protracted customs clearance procedures, technical obstacles to trade, and an overarching uncertainty or lack of clarity concerning the agreement stand as barriers that curb its full effectiveness.
EuroCham Chairman Gabor Fluit's comments:
"It's clear: Team Europe stands firmly behind Vietnam," said EuroCham Chairman Gabor Fluit, commenting on the BCI. "Nearly one-third of our members ranking Vietnam as a top-three investment location sends a powerful message about our faith in this partnership."
However, he noted challenges remain. "While we saw promising Q3 GDP and FDI growth, issues persist – especially with exports and real estate. To progress, addressing administrative burdens, unclear regulations, and permitting hurdles is crucial. We remain committed to open dialogue to effectively tackle these issues together."
Fluit emphasized sustainability as a standout finding. "Seeing that 80% of our members prioritize ESG alignment underscores a genuine commitment to responsible growth among businesses. By integrating green practices into business strategies, we pursue both development and progress."
He said the alignment between European firms and Vietnam on sustainability objectives is commendable and pivotal. "This shared commitment will be highlighted at EuroCham's 2023 Green Economy Forum (GEF) on 2 November. We'll discuss actionable paths to a greener future. I urge all stakeholders to join us."
Decision Lab CEO Thue Quist Thomasen's perspective:
"After weathering challenges, Vietnam now shows signs of recovery and resilience," said Decision Lab CEO Thue Quist Thomasen. "Retail and tourism have grown strongly, helping drive the economy forward. Resumed FDI growth also offers optimism, reinforcing Vietnam's status as a global business hub."
He noted that while exports and real estate still face hurdles, cautious optimism prevails. "This sentiment signals a possible turnaround in the country's economic narrative."
"While the BCI still indicates a slightly negative sentiment, it is positive to note the continued stability in the quarterly measurement. Following a three-year period of high volatility, this new stability indicates that European business leaders can now predict the year ahead and better plan for future investments. This is a positive development in itself."
About the Business Confidence Index
The quarterly Business Confidence Index (BCI), which is conducted by Decision Lab, serves as a vital tool for understanding the perceptions of European and Europe-related companies and investors in the Vietnamese market. Conducted since 2011, the BCI collects feedback from EuroCham Vietnam's extensive network of 1,300 members across a diverse range of sectors. This survey provides valuable insights into the current business landscape in Vietnam and offers a glimpse into future expectations.
Decision-makers, media, and business professionals see the BCI as a key indicator of economic activity in the country. It is a trusted source of information on the business environment in Vietnam, and its findings are widely used to inform government policies and investment decisions.