W

ithin the past one year, Vietnamese out of home consumption saw a slight growth of 9% in terms of footfall. Some main channels lost up to 34 million visits, yet Convenience stores (CVS) enjoyed an enviable growth of 24%.
No matter how the market fluctuated, CVS managed to keep their share stable
The most recent industry report from Decision Lab pointed out that total out of home sales dropped by 5.4 trillion VND. However, CVS is amongst the very few channels to maintain their market share fairly consistent in terms of sales value. In Quarter 3 2017, CVS sales reached 4.5 trillion VND thanks to a 66% growth in visits compared to the same quarter last year.

This steady growth of CVS means that this channel has not only attracted new consumers but also successfully taken footfall from other channels.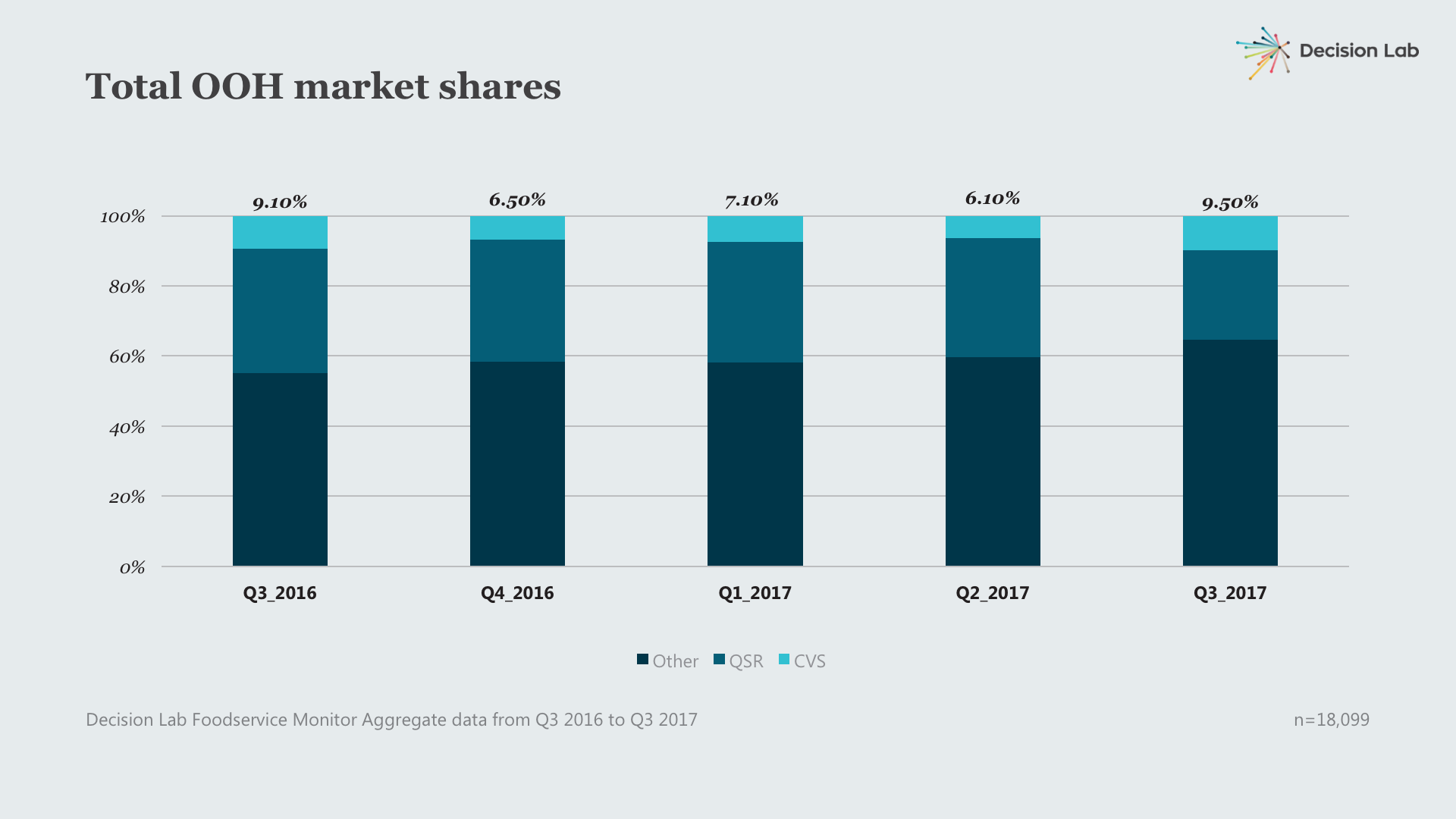 Moreover, due to its convenience and affordability, CVS earned massive attention from Generation Z (Gen Z). Born between 1994 and 2002, Gen Z visits to this channel had been growing consistently throughout the last 5 quarters.
These youngsters were accountable for 53.5% of CVS footfall, as 34 million Gen Z flocked to CVS in this Quarter. Each Gen Z visited a CVS 2.58 times on average, compared to 1.75 in Quarter 3 last year.
Convenience stores officially became the No. 1 alternative for Quick service restaurants
Modern-day CVS not only sell packaged snacks and ready-to-go beverages but also push for hot, affordable foods in air-conditioned, Wi-Fi covered dine-in areas. CVS brands, such as Family Mart, Circle K, and 7-Eleven, have been actively adding lots of food options from microwaved sandwiches to cooked meals, hotpot and other local snacks to their menu to adapt to Vietnamese consumers.
Quick service restaurants consist of coffee/tea/juice/smoothie shops, bakeries, fast-food chains, and outlets with no table service. Their market share, both in terms of sales and visits, has always been amongst top 2 in the market, but it has shrunk consistently quarter by quarter since the expansion of CVS. Quick service restaurants used to attract consumers for their convenience, affordability and modern facility. Now, CVS can do whatever these mid-range outlets can do – and sometimes, even better at it.
Sustained flow of investment will continuously fuel Convenience stores' expansion
Within the past two years, the number of Convenience stores in Vietnam has been increasing steadily and this trajectory is to continue due to great ambitions from both local and international investors. According to an estimation by Decision Lab in our latest market update, by 2020, there will be one convenience store per 17,815 Vietnamese citizens. Soon, CVS will be the most available and accessible channel for consumers of all ages and income levels, at all hours of the day.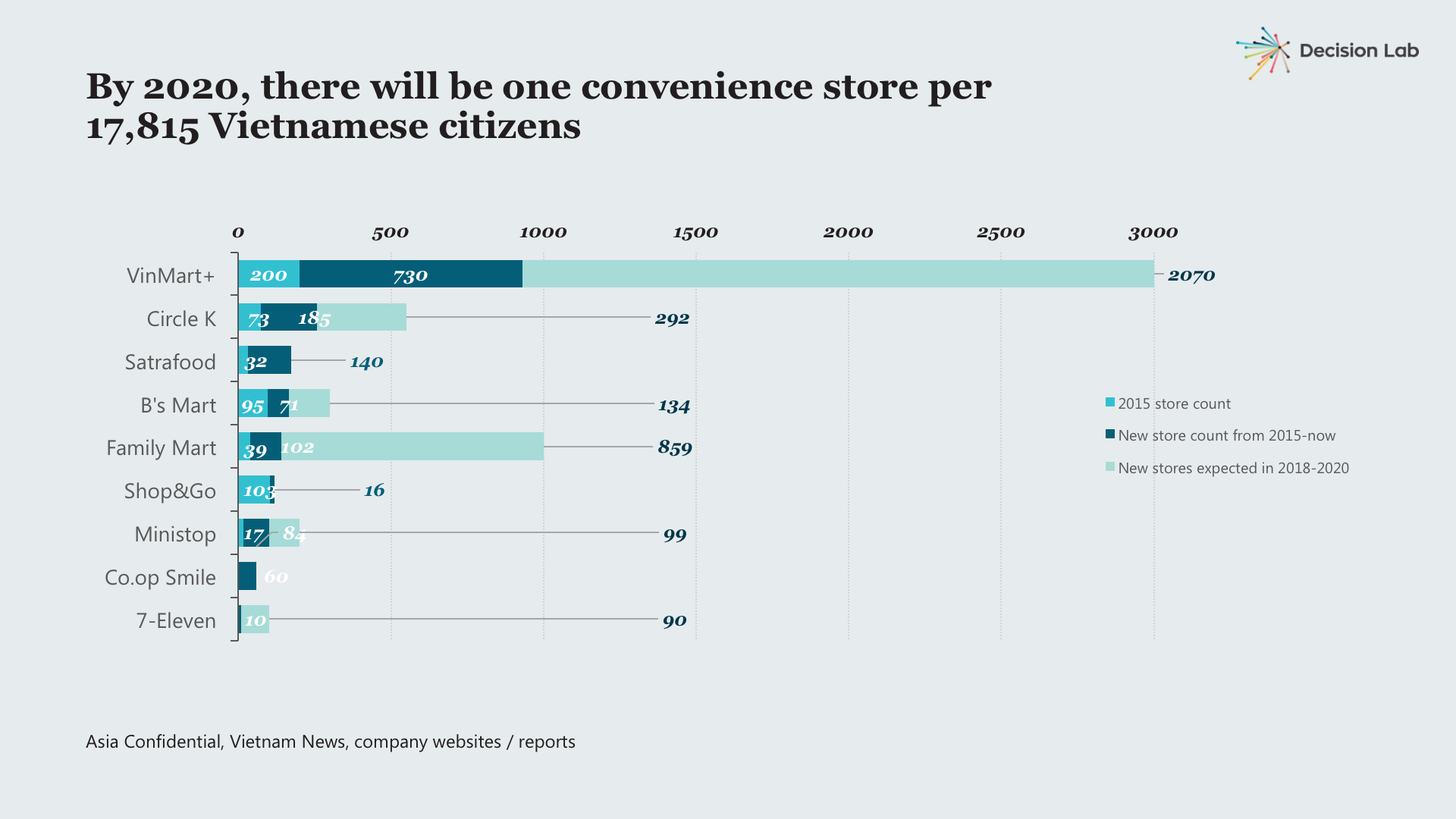 Backed by huge investments, CVS has the potential to continue disrupting Vietnam's out of home F&B market. Their aggressive improvement means only one thing for other foodservice operators:
Accept it, and get your game plan ready.
Hungry for more? Get our latest report here.