A

s 2020 is coming to an end, it is the perfect time to pause and reflect on the year's ups and downs and take out learnings for the year ahead. A look back on Decision Lab's Connected Consumers survey carried out between December 2019 and February 2020 provides just the needed reminder, that amidst the mind-blowingly fast digital transformation in Vietnam, Tet is still the time for reunions, be it around the dinner table, or in front of a smart TV screen.
Decision Lab's report, Consumer behaviors before and during Tết 2020, compares the results of the nationwide survey on Vietnamese social media users collected from December 2019 to January 2020 with those collected during the 2 weeks of Tet to identify the shift in online behaviors associated with holiday times.
Tet is for reunion
It is no surprise that Tet is a time to be surrounded with loved ones, but it is also a time to reach out to friends and acquaintances that one loses touch with because of the year's hustle and bustle. Gen Y, born between 1980 and 1996 and makes up the majority of Vietnam's workforce, understands this all too well, as 92% of those surveyed claimed that they reached out to their friends and family on social media at least once per day during Tet, an increase from 86% during the period before.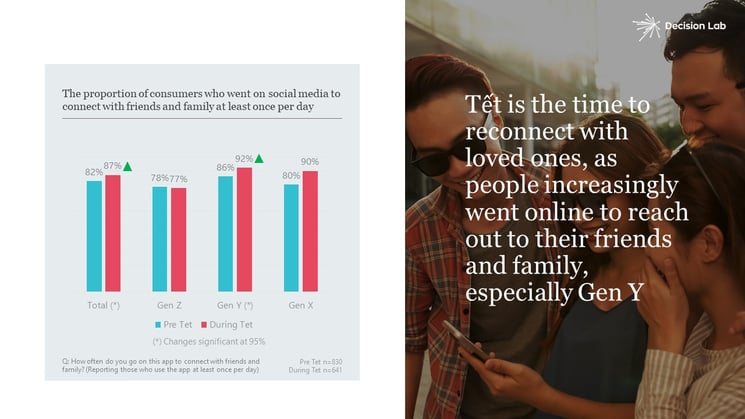 The study also identifies where consumers prefer to go on and reach out to people they care about. Facebook held on to its position as the most-often-used platform for connecting with friends and family both before and during the Tet period, with 4 out of 10 claiming that this was their top choice. In total, Facebook and its Messenger are chosen by 63% of respondents as their preferred method during the festive occasion.

The modern Tet has its own kind of gathering
Reuniting with loved ones aside, Tet is also a time for slowing down and relaxation. Again, the key group of Vietnam's workforce, Gen Y, truly appreciated this opportunity and it reflected in their online movies watching habits. 68% of Gen Y watched movies at least once per day on online platforms during Tet 2020, a dramatic increase from 47% during the period right before.
This perhaps is not a surprise to the movie industry, which every year enters a race to churn out movies specifically produced for the occasion. These movies focus on showcasing family values in a fun and light-hearted way through relatable characters resembling the average person, and although romantic comedies at heart, earn themselves their own sub-category "Phim hài Tết" (or Tet comedy, the equivalent of Christmas movies).

Not only did people come out to cinemas for new Tet movies, they also took advantage of the holidays to catch up with what they missed during the years and re-watched those they love. This is shown in the rise of popularity for local movies streaming sites during the holiday time.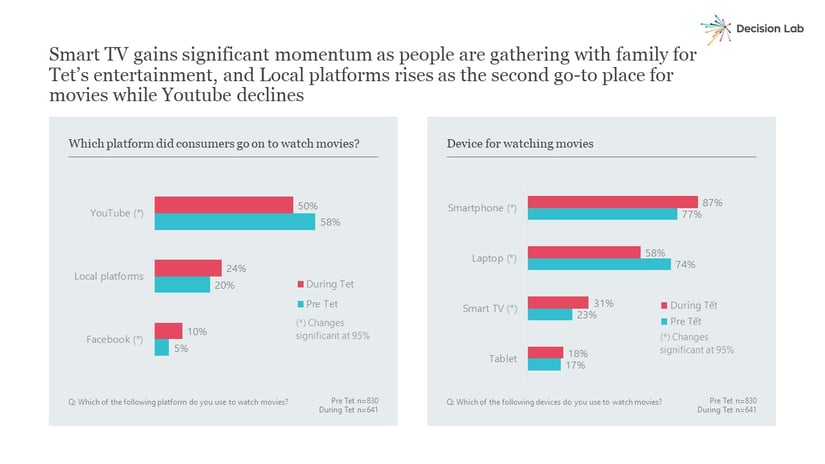 A notable shift in consumers' behaviors during Tet is their preferred device for movies watching. While laptops were being closed, people gravitated towards either the small screen of their smartphones for some me-time, or in front of the big screen of smart TVs, partly for a better experience, and partly to share the experience with the ones they love.
For more details on how consumers' online behaviors shift during the Tet holiday, download the full report Consumer behavior before and during Tết 2020. For more insights about Tet, visit Decision Lab's Tet-dedicated site here.