T

he fast-growing e-wallet market in Vietnam is not without its problems, such as low customer loyalty and limited monthly average balance. A recent report by Decision Lab provides some indications for areas which providers should improve.


The e-wallet market in Vietnam is saturated with 40+ providers. Clear front-runners, such as MoMo, ShopeePay, and ZaloPay, distinguish themselves by providing fast and convenient online payment methods for Vietnamese consumers. Yet, besides the fierce competition inherent in a crowded market, e-wallet providers still need to face tough barriers to win over customers' hearts.
The user loyalty problem
With the wide variety of e-wallet services, Vietnamese users naturally have many options. According to Decision Lab's latest report on E-wallet usage in Vietnam, most people use more than one e-wallet app in Vietnam, and only 35 percent of Vietnamese users plan to stick with their current e-wallets. As a result, e-wallet providers must spend significant efforts on retaining their customer base to combat users' lack of loyalty.
Vietnamese users don't keep a high balance in their e-wallet accounts either, with 46% maintaining a usual balance of less than VND500,000. Low balances may reflect smaller values of transactions, which may typically reach up to VND1,000,000. It is, thus, important for providers to encourage users to maintain higher balances and, in a sense, spend more through e-wallet apps.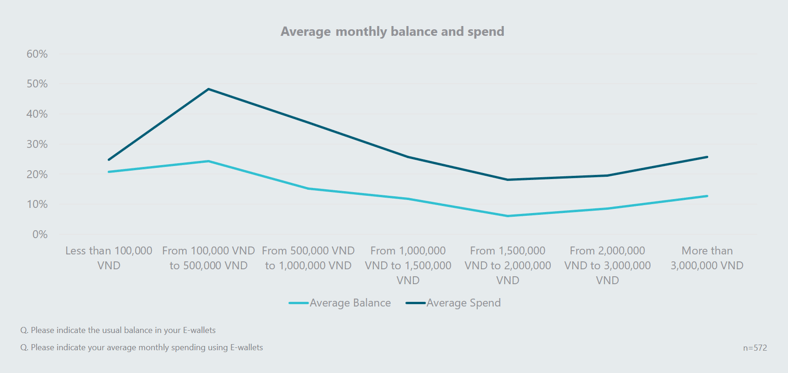 Addressing users' unmet needs may boost loyalty
Vietnamese users' lack of loyalty might be due the fact that they find e-wallets' point collection scheme unsatisfactory. For 57 percent of e-wallet users in Vietnam, one of the biggest downsides to e-wallets is their unattractive point collection system.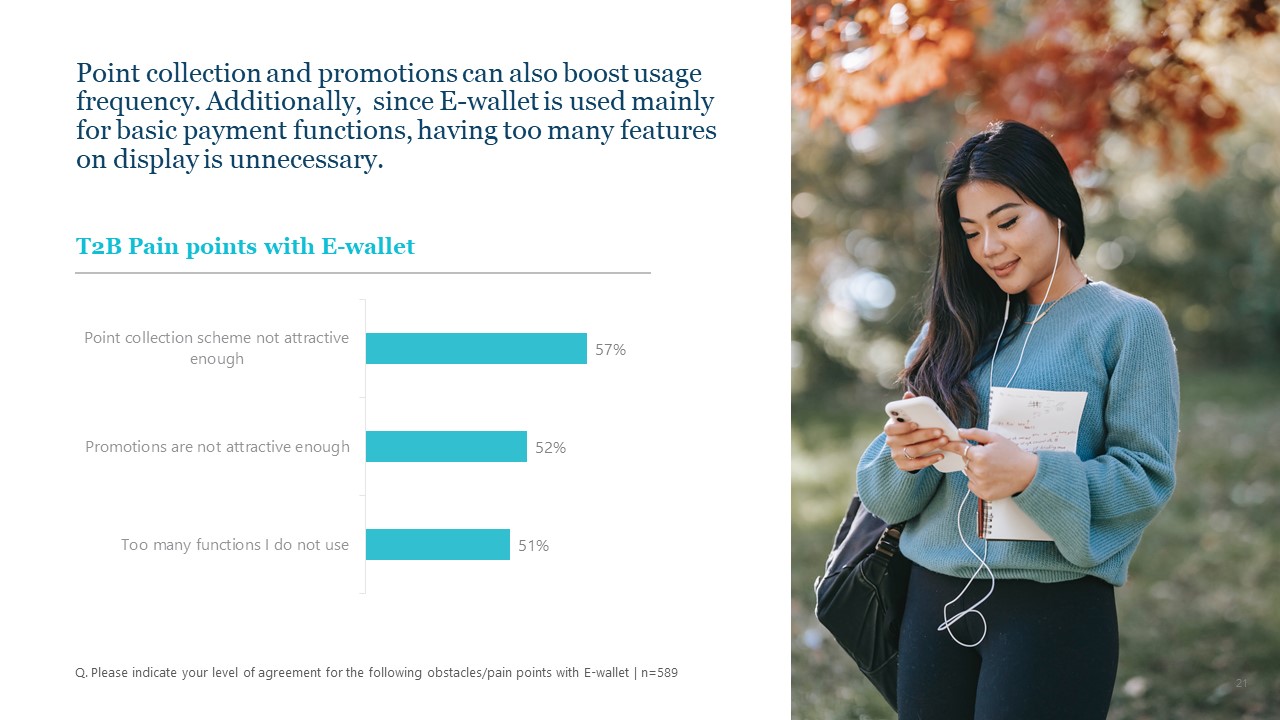 An obvious solution is to give users higher rewards for their point collection within e-wallets. This method may be especially useful for millennials, since 58 percent of users of this age group regarded poor point collection as damaging to their experience while using e-wallets. Gen X and Z users also share the same concern, to a slightly lesser extent (56%).
In the same breath, e-wallet providers should consider designing higher-value promotions. While promotions are the main driver of adoption among Vietnamese e-wallet users, 52 percent of them regard unattractive promotions as a thorny issue.
E-wallets in Vietnam typically aim to capture customers' every need by providing a wide variety of services. However, having too many functions in one app may create negative experiences for users. According to Decision Lab's report, people often use e-wallets for 4 main purposes: mobile top-up (77%), paying bills (74%), receiving/transferring money (67%), and shopping online (66%).
Including extra functions outside of these four main purposes seems to be a pain point for half of the e-wallet users in Vietnam, especially for those within the Gen Z age group (57%). In fact, having too many unnecessary functions is what Gen Z consumers dislike most about e-wallets.
For more insights into Vietnam's E-wallet landscape download Decision Lab's FREE report on "The rise of E-wallets in Vietnam" here. For a consultation about how your brand can tap into this market, reach out to one of our expert consultants today.