T

he end of lockdowns in the third quarter of 2021 in Vietnam has resulted in a reduction in the amount of time spent by users on the country's favourite social media platforms - bar one.

Decision Lab's Connected Consumer Report for the third quarter of 2021 has confirmed what most observers would've expected: Following a surge in Q2 when strict lockdowns were enforced in major population centers, as soon as lockdowns were gradually lifted at the end of September, people have put down their mobile phones.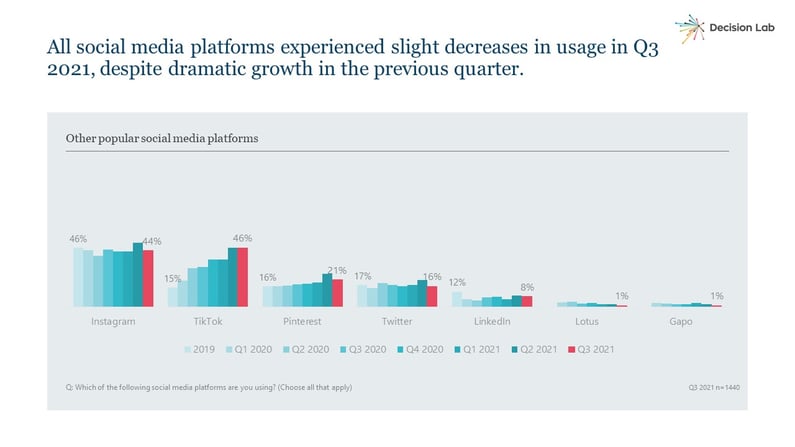 Among the social media platforms consumers were using in Q3 2021, only TikTok maintained the ground they had gained during Q2, when it surged to 46 percent.
The biggest "losers" were Instagram (which dropped from 50 to 44 percent), Pinterest (from 26 to 21 percent), and Twitter (from 21 to 16 percent). These declines in use are at least partly attributable to loosening restrictions and consumers' ability to leave their homes and perform daily tasks for the first time in months.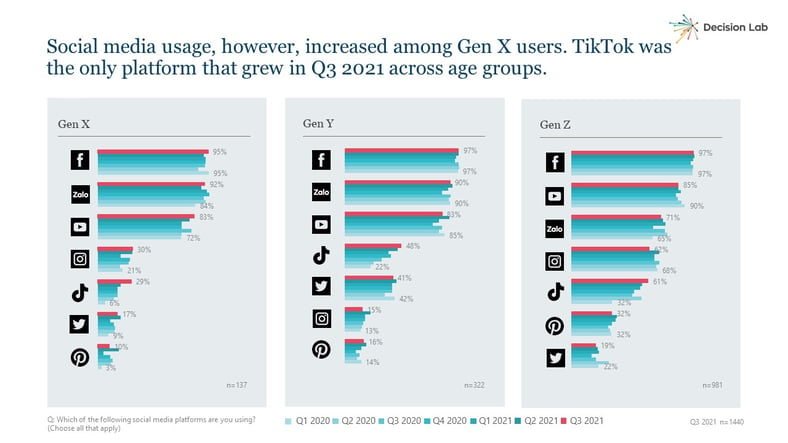 Notably, it was the younger generations who dropped off Instagram with the most speed, while Gen X users have largely maintained the momentum they rediscovered during lockdown. As mentioned, TikTok was the only app to grow across all age groups during the third quarter, and this was particularly true among Gen X, who have maintained their increased usage of social media overall.
Facebook remained mostly unaffected, with 52 percent of Vietnamese users still rating it the platform they'd prefer not to live without. Although this number has slipped from a reported high of 63 percent since the end of 2019, overall it still dominates the social media landscape, despite strong competition from the local alternative Zalo.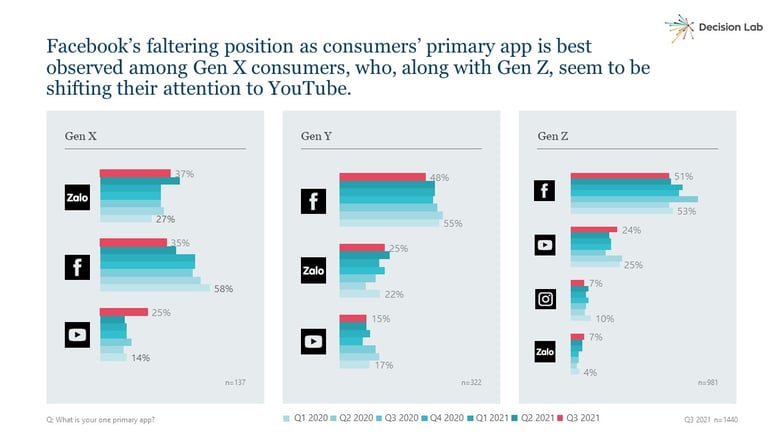 That said, Facebook's position as Vietnam's 'primary app' remains under threat from the likes of YouTube, who have gained share at Facebook's expense, particularly amongst Gen X and Gen Z users.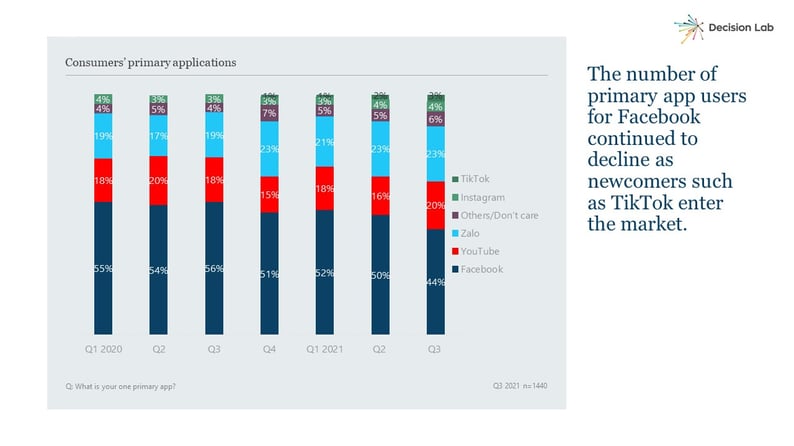 Although still a small number in comparison, 3 percent of Vietnamese users now consider TikTok their 'primary app', up from 0 percent in the same report just 12 months ago.
For more insights from Decision Lab's Connected Consumer Report, download the full Q3 report for FREE here. To get in touch about our entire suite of agile marketing products, reach out to one of our expert consultants today.