D

riven by Gen X and Gen Y readers, Vietnamese consumers have reduced their reliance on Facebook as a primary source of news in 2020. Since beginning the year in top spot, the social network's popularity as a news platform has now dipped below Google Search, which rose in Decision Lab's Connected Consumer Report for Q3 2020.

Content
2020 has seen Vietnamese consumers diversify where they get their news from online.
A global trend away from clicking on articles posted on Facebook has meant an end to its reign as Vietnam's dominant source of news.
According to the results of Decision Lab's latest Connected Consumer Report, Google has benefited most, with the search giant gaining share across all age groups in each quarter this year.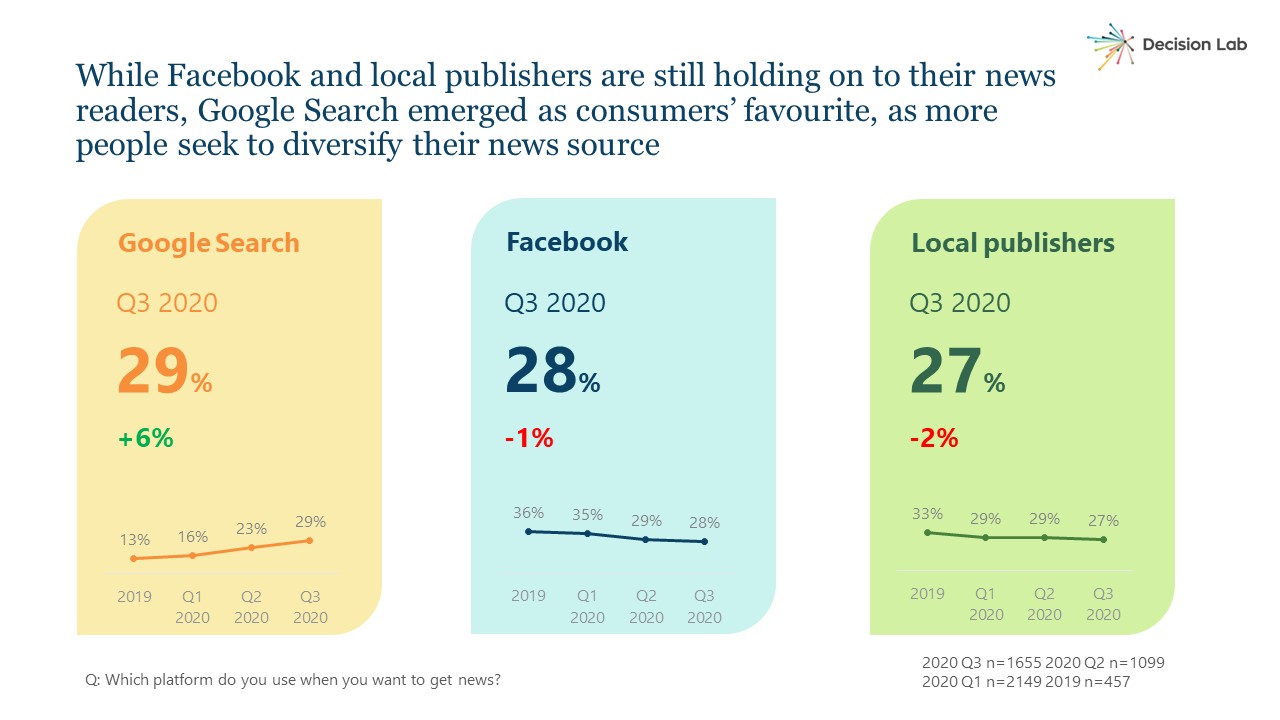 Although the decline of Facebook as a news source in 2020 suggests that Vietnamese users have made an effort to access information not fed to them by their feeds, the popularity of the world's biggest social network has not changed. Sixty percent of all respondents to Decision Lab's third-quarter survey still said that Facebook was one of the apps 'they couldn't live without', while 56 percent labelled it their 'primary app' when asked to choose just one.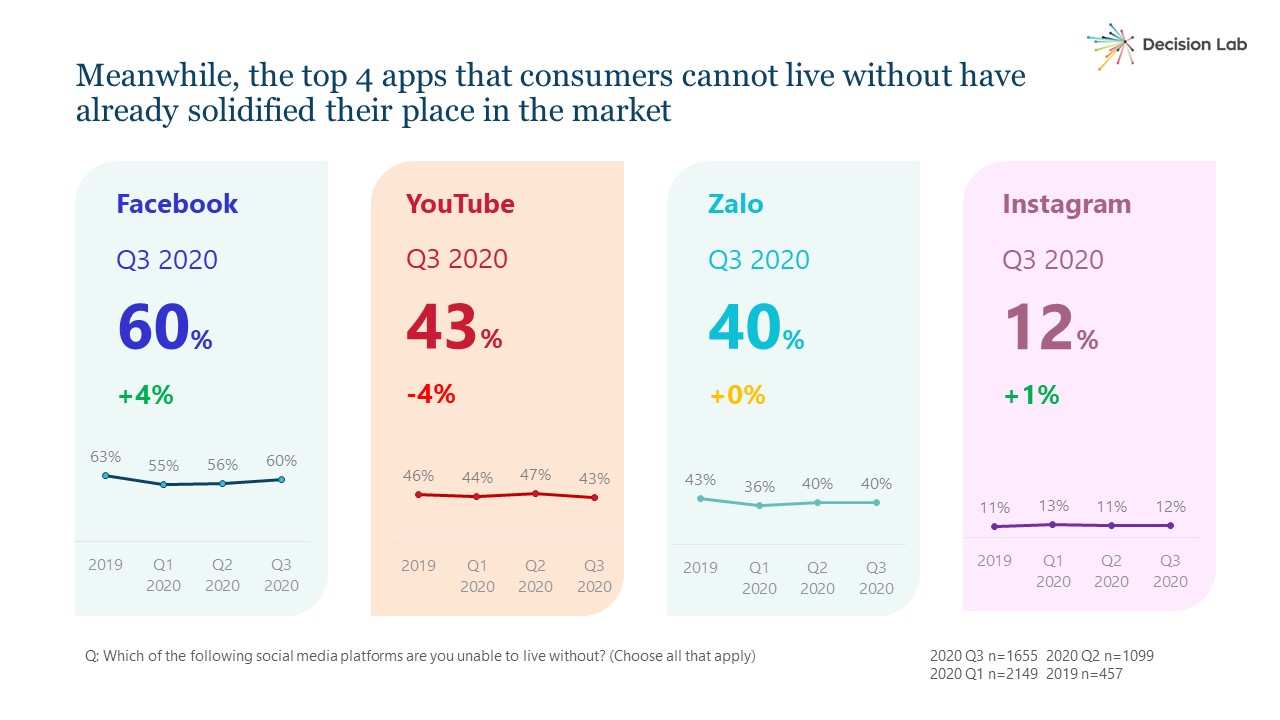 Furthermore, despite widespread reports of untrustworthy content, and massive fines for privacy and data breaches, Facebook remains a popular place to 'hang out' and keep in touch, as well as a significant source of news for Vietnamese young people. In Q3, forty percent of 15-23 year-old respondents (Gen Z) said they still used the social networking platform whenever they wanted to get news.
By comparison, in 2020 Gen X users have rejected Facebook's incursion as a 'global news aggregator,' preferring to 'do their own research' via Google, on local news sites or through Facebook alternative Zalo. Potentially motivated by a global pandemic, conspiracy theory fatigue and a confusing U.S. Election, in Q3 only 14 percent of Gen X respondents said they still used Facebook to source news, down from 32 percent in Q1.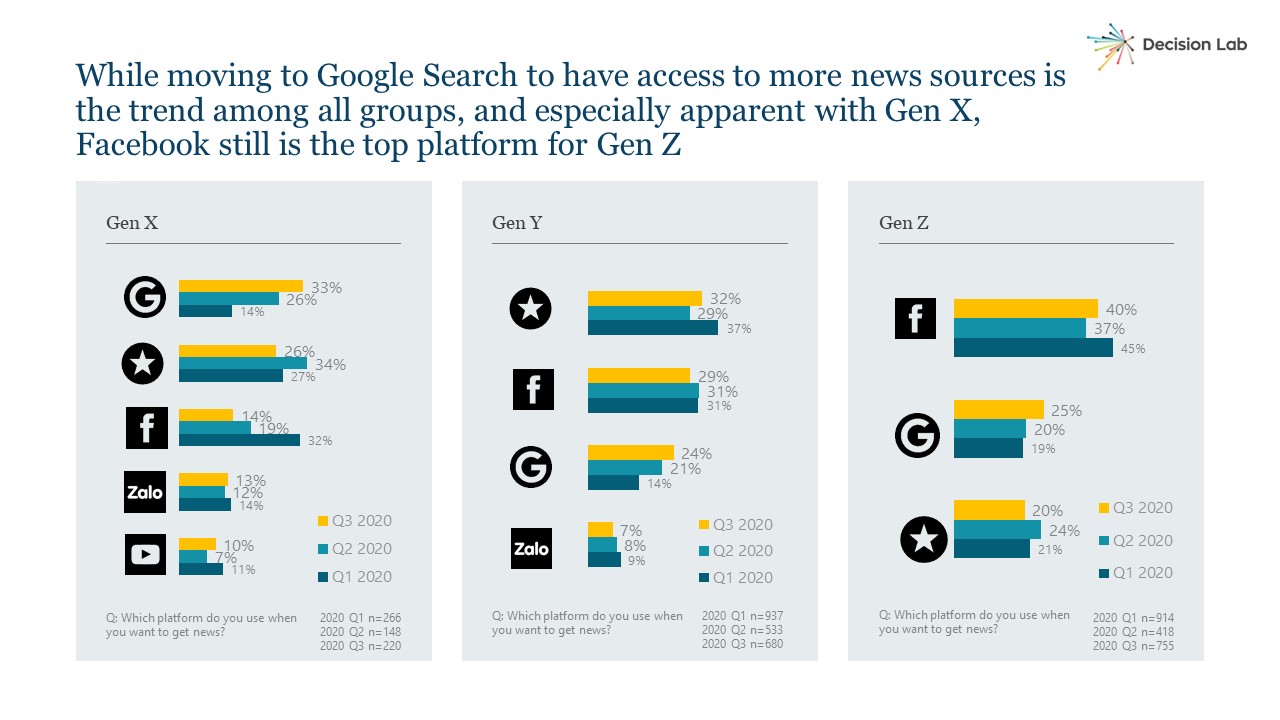 Displaying the smallest fluctuation between platforms, Gen Y is the generation most likely to access local news publishers first, including popular sites like Zing, VNExpress.net and Tuoi Tre, but haven't been as quick to disregard their favourite app (yet).
Notably, despite competition, YouTube has maintained its relevance amongst users of all ages in Vietnam. TikTok's growth, which stalled for the first time since its launch in Q3, has not diminished the potency of Google's video platform. It continues to dominate the local market for music/entertainment videos, movies, and is creeping up on Facebook when it comes to short videos of any genre.
Mainstream broadcast networks have jumped on this popularity over the last few years, launching their own channels where they play clipped content from their shows, including news. HTV's Vie Channel is one of the most popular with over 8.5 million subscribers and 3.8 billion combined views.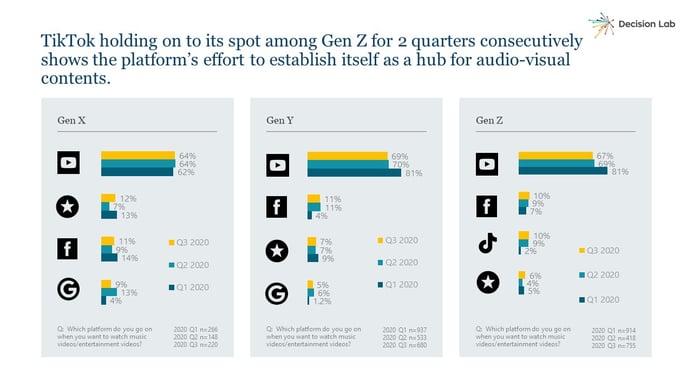 For more insights from Decision Lab's Connected Consumer Report, download the full Q3 report for FREE here. To get in touch about our entire suite of agile marketing products, reach out to one of our expert consultants today.