V

ietnam's 15–23-year-olds are omnipresent on social media, staying online for longer and using more apps at one time than any other group. Despite the distraction, as Decision Lab's latest Connected Consumer Report confirms, it's an audience giving international platforms a foothold in the country.


While Facebook and YouTube have maintained their spots at the top of the list of what Gen Z considers their primary mobile app, on any given day 74 percent of them are now active on four or more social media apps.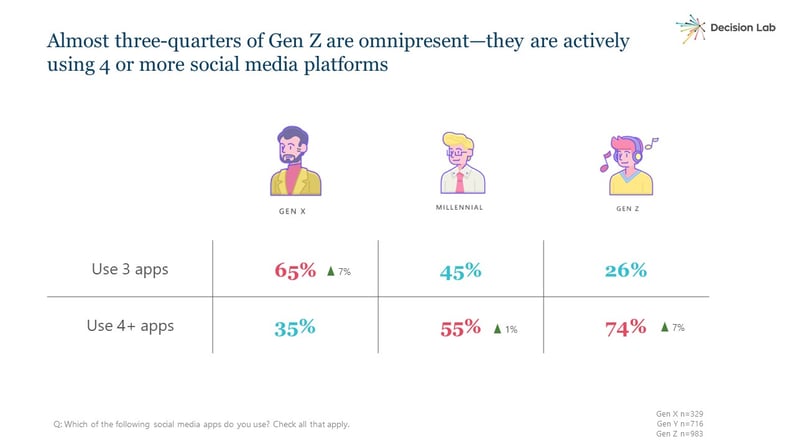 Asked which platforms they were using on a regular (daily) basis, 97 percent confirmed that Facebook was still very much a part of their mobile lives. YouTube (87%) was almost as important, while Vietnamese messaging app, Zalo (75%) had earned its spot as the country's 2nd most popular overall. Instagram (66%) and TikTok (55%) were in fourth and fifth spot, respectively.
Highlighting Gen Z's social media appetite, no other age group chose as many apps with the same level of frequency as Gen Z, with only the top three apps (Zalo, Facebook and YouTube) registering responses above 50 percent in Gen Y and Gen X.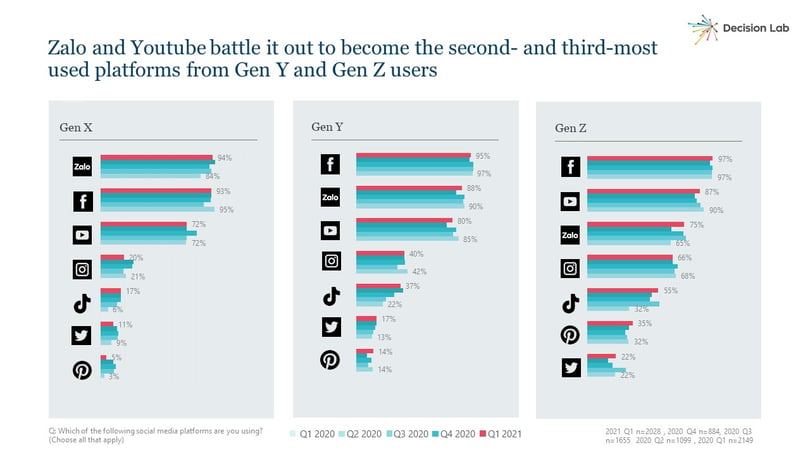 In the music, short video and entertainment categories, Gen Z is clearly driving opportunity for new foreign entrants. TikTok remains the most obvious example, with the short video app now gaining popularity amongst older users, and now the same can be said for music apps Spotify and Soundcloud, which are yet to make an impact on Gen X or Gen Y, who continue to prefer local options Zing or NhacCuaTui (NCT) as alternatives to YouTube.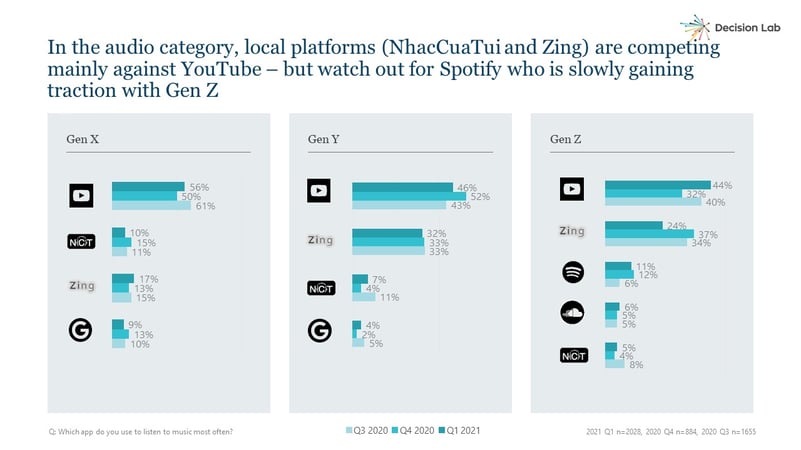 Netflix is another case in point, with eleven percent of Gen Z respondents saying it was the app they used most often when they wanted to watch movies. This compared to 7 percent of Gen Y and only 4 percent of Gen X for a streaming service that launched locally in 2016.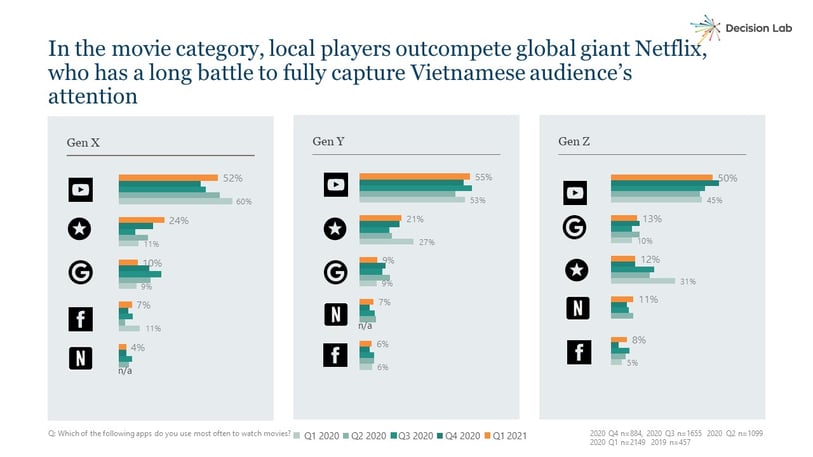 Notably, although Netflix is the 2nd most subscribed paid streaming service in Vietnam, Vietnamese movie-watchers willingness to find free alternatives online, seems to know no limit — a concern for anyone in the content-for-subscription business in Vietnam.
In terms of mindless browsing, or 'doom-scrolling' as it has been labelled, Facebook remains the undisputed champion. However, as an alternative, Gen Z are much more likely to spend their downtime on Instagram or TikTok than their older counterparts, who use Zalo and other local apps.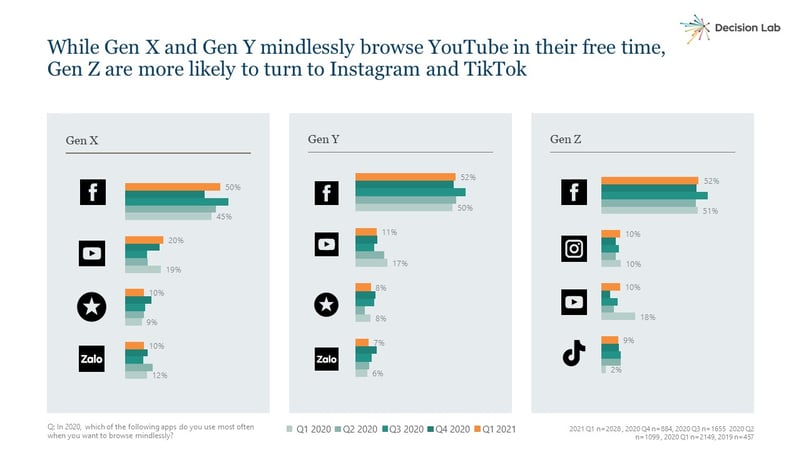 For more insights into Vietnam's social media and mobile app landscape download Decision Lab's FREE Connected Consumer Report for Q1 2021 for here. For a consultation about how your brand can tap into this market, reach out to one of our expert consultants today.