O

ne of the most prominent recent trends in Vietnam's retail landscape has been the shift to online and e-commerce. This snowballed in 2021 as people across Southern Vietnam in particular were locked down in their homes and unable to shop in stores or markets. Even in less-affected areas, public health measures and social distancing meant that millions of people spent more time at home.


Therefore, throughout the third quarter of 2021, e-commerce platforms that had been considered a convenience became more important as consumer staples became scarce commodities. However, not all brands performed the same during the pandemic.

Lazada saw the fastest growth among consumers in Q3 2021, rising 3% compared to the previous quarter. Lazada's 'fast-shipping' offer could have been one of the reasons behind its competitive edge. Being able to receive goods on-demand was an attractive selling point in lockdown. And Lazada's AI-optimized logistics helped customers to receive products faster than other e-commerce platforms.

Penetration rates of top E-commerce platforms
Market leader Shopee managed just 1% consumer growth during that time. However, it remains far ahead of the competition. Sitting on 75% market share, the Singaporean e-commerce platform remains a clear 20 points above second-placed Lazada with consumers. Meanwhile, Tiki saw no change in Q3 2021, remaining in third-place with 31% penetration.

However, when we break the data down, interesting trends emerge between different demographics. Shopee saw its penetration rate among Gen X - those born between the late 1960s and the late 1970s - jump 13% compared to the previous quarter. The platform recorded smaller growth among Millennials. However, it lost ground among Gen Z - those born after 1997 - while still maintaining a considerable lead over its competitors.

Likewise, Lazada saw modest growth across all age ranges. Meanwhile, Tiki saw a significant drop in penetration among Gen X, losing 12 months of growth among older consumers, with smaller falls across other demographics.
Penetration rates of E-commerce platforms—by age groups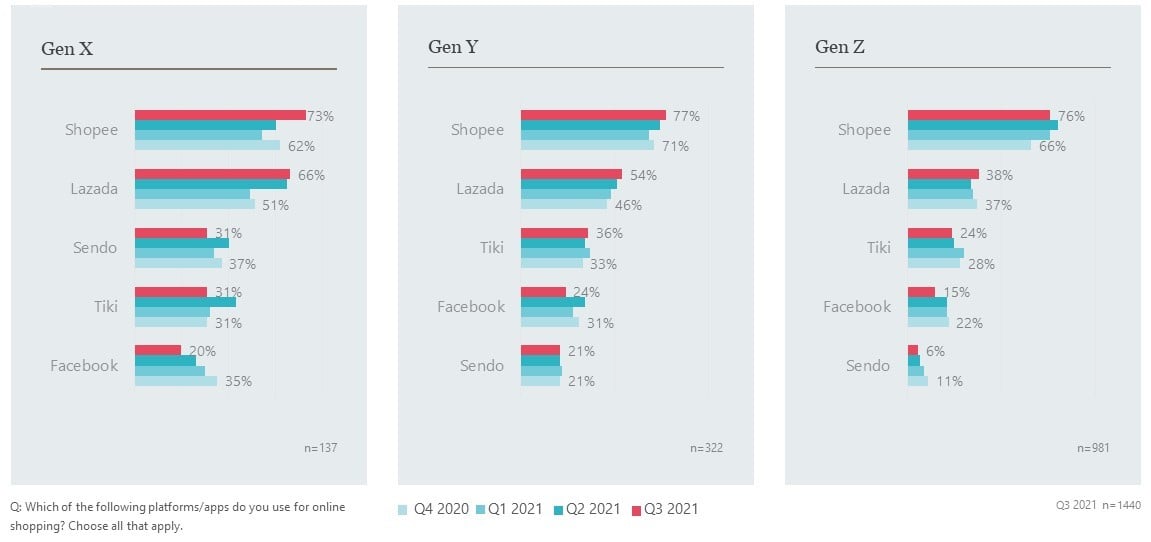 There was also regional variation in the growth of e-commerce platforms in Q3. This is not surprising, since some areas were harder-hit during the pandemic and suffered harsher lockdowns as a result. Just one brand achieved growth in all regions, with Lazada recording a slight increase across the board compared to Q2 2021. Shopee and Sendo also saw growth in the last quarter. However, this was restricted to areas outside of Hanoi and HCMC.

Our data also uncovered another interesting trend in Q3 2021. Social commerce, or retail through social networking sites like Facebook and Instagram, became less popular amongst consumers. One possible reason for this is that social media retailers are often micro and small enterprises. These businesses would have had trouble shipping their goods during the pandemic period, with travel restrictions between provinces - and even wards and streets - hampering small-time sales.
Penetration rates of E-commerce platforms—by location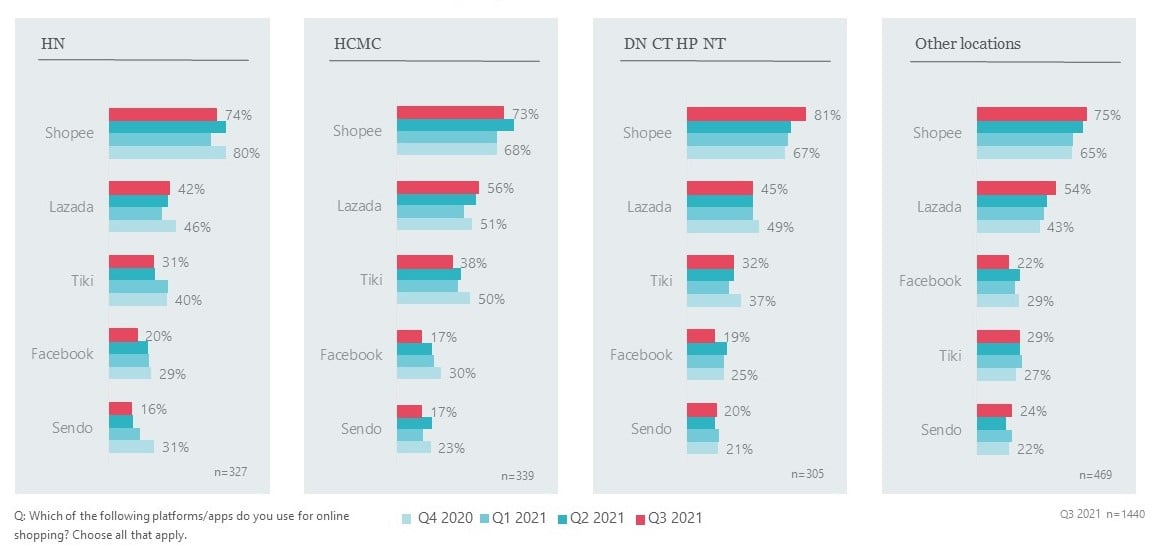 For more insights from Decision Lab's Connected Consumer Report, download the full Q3 report for FREE here. To get in touch about our entire suite of agile marketing products, reach out to one of our expert consultants today.