S

trict lockdowns and work from home orders during the second quarter of 2021 have forced Vietnamese consumers online. The result has seen e-commerce favourite, Shopee, pull away from its nearest competitors.


Decision Lab's Connected Consumer Report for Q2, 2021 has confirmed Singaporean e-commerce giant, Shopee, as Vietnam's favourite place to buy online. With large parts of Vietnam living under strict lockdown conditions since May, including in the commercial capital Ho Chi Minh City, Shopee's dominance over its rivals has surged.

Asked which platform they used most often when shopping online, a staggering 51 percent of Decision Lab's mobile survey respondents said Shopee, confirming its status as the go-to e-commerce platform for a majority of Vietnamese consumers.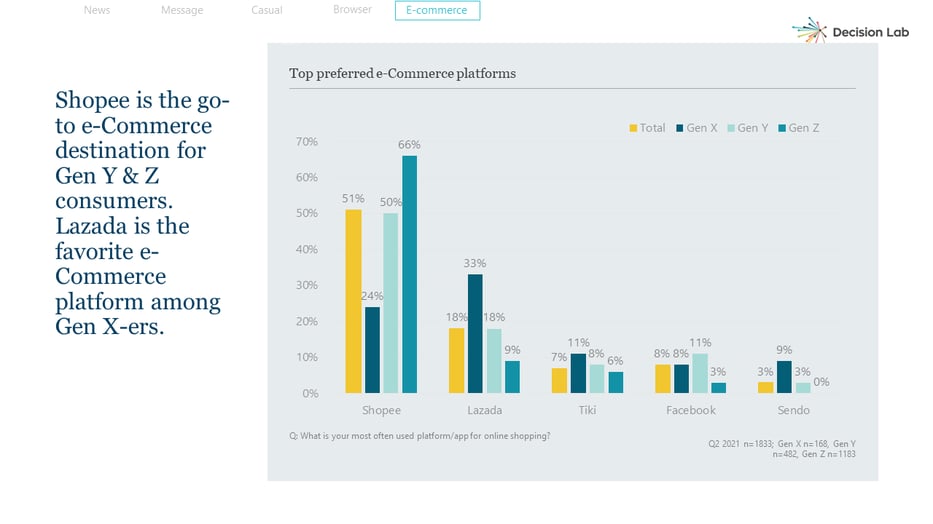 The result is the first time any e-commerce player has crossed over 50 percent in this category since Decision Lab began publishing the Connected Consumer Report in 2019. During this time online shopping has exploded among Vietnam's growing middle class, accelerated by the global pandemic. Along with a host of its competitors, including China's Alibaba Group, Shopee's parent company, Sea Ltd., has invested heavily in the potential of the Vietnamese market. As reported by Bloomberg, the e-Conomy SEA 2020 study by Google, Temasek & Bain, revealed that between 2016 and 2020, $1.9 billion had been invested in the Vietnamese online sector.
Drawn in by a range of promotions designed to counter mistrust —including what Shopee calls "hunting hours" — the massive spend has worked for the Singaporean company. For the first time ever, Vietnamese shoppers are being seduced by customer-centric retail offers common in the west for years.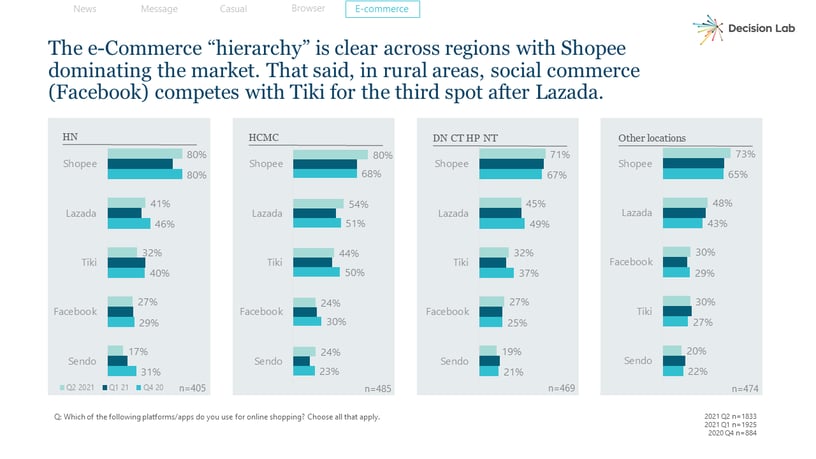 When broken down into urban and regional centres, Shopee's dominance is even clearer. Asked to choose from a selection of e-commerce platforms used when shopping online, in both Ho Chi Minh City and Ha Noi, 80 percent of all respondents chose Shopee, casting a long shadow on even their nearest rivals.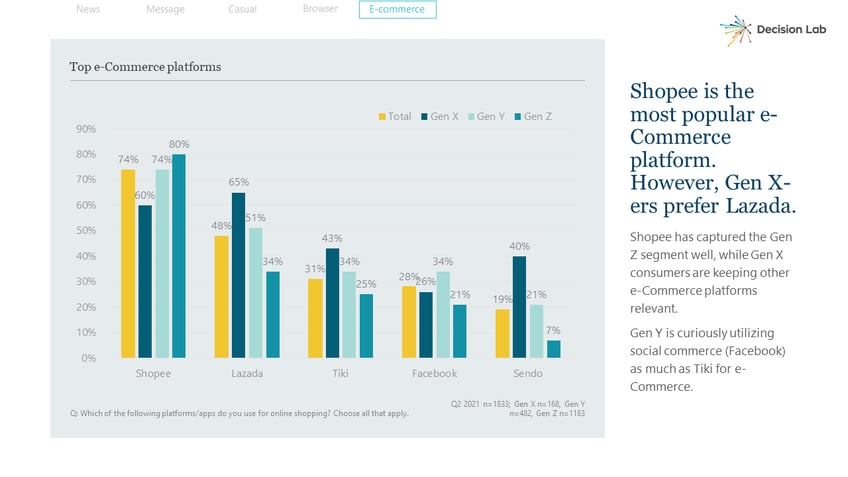 By age group, the narrative remains the same, with the exception of one apparent anomaly; Gen Xers still prefer Shopee's main competitor, Lazada. Having been first to arrive in Vietnam in 2012 (Shopee did not launch until 2015) and then been purchased locally by the powerful Alibaba Group in 2016, this response may not be a surprise in what could be considered a more change-averse segment of the population.
For more insights into Vietnam's social media and mobile app landscape download Decision Lab's FREE Connected Consumer Report for Q2 2021 for here. For a consultation about how your brand can tap into this market, reach out to one of our expert consultants today.