V

ietnam is officially one of the most hotly contested battlegrounds in Southeast Asia's $100 billion e-commerce market. By offering free delivery and low fees during the pandemic, SEA Ltd's Shopee is continuing to win the war.


Research Decision Lab in Vietnam has confirmed that the country's growing number of online shoppers — currently estimated at around 50 percent of a population of over 92 million based on whether they had purchased online in the last 12 months — are still choosing Singaporean owned Shopee as their preferred destination to buy.
Asked which platform or app they used most when shopping online, 40 percent of respondents across the country chose Shopee, which according to Nikkei Asia, drew 62 million monthly visits in the third quarter of 2020, up by more than 80 percent from 2019.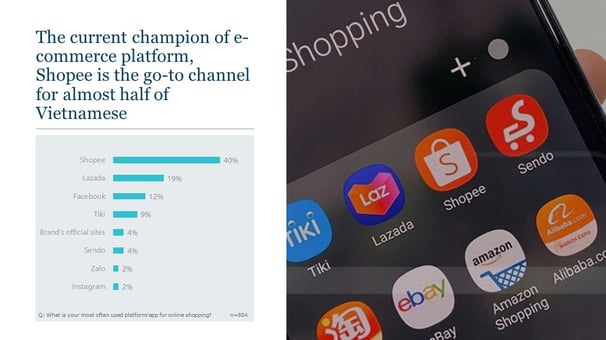 Clear vindication of Shopee's aggressive marketing strategies during the pandemic — which has supercharged the country's digital transformation — the brand has become synonymous with free delivery and lower-than-the-competition fees.
Also driving growth has been the need for more and more small-to-medium enterprises and retailers to buy in to the online shopping experience during the COVID-19 emergency, adding value and convenience to a marketplace more inclined to stay home.
In comparison to Shopee's response of 40 percent, its next nearest rival, Lazada — owned by China's Alibaba — was less than half of that at 19 percent. Facebook was next at 12 percent — an indication that social commerce still has an important role to play in Vietnam — and brands own sites were at 4 percent.
As a result, Lazada, which was previously one of the most visited sites in the entire Southeast Asian region, has moved to partner with Grab, the dominant ride-hailing app in the country, to boost its profile and point its users to their platform.
Local competitor Tiki, which was showing positive signs of growth before the pandemic, is still struggling to match the offers of the bigger players.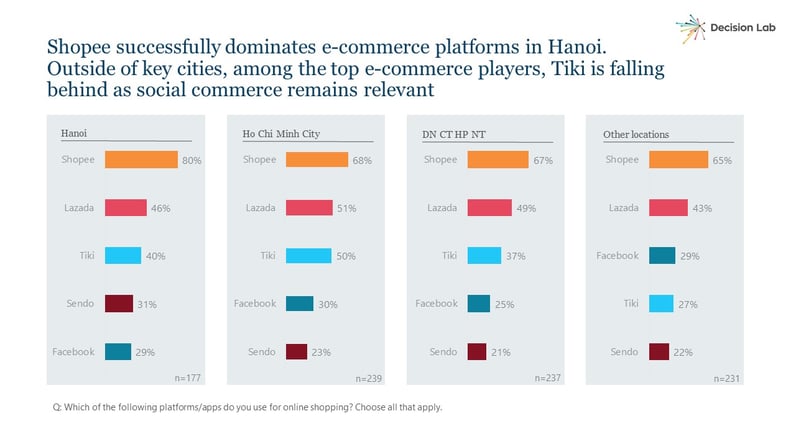 Notably, it's inside Vietnam's major economic centers where the dominance of Shopee is even more pronounced. Asked to respond to a list of e-commerce platforms that they used, a staggering 80 percent of Hanoi residents chose the Singaporean brand, while in the same location, Lazada was only chosen by 46 percent of the same audience.
In Ho Chi Minh City, the reduced gap between Shopee and its major competitors could be a reflection of greater brand recognition in a location most still consider the country's true commercial capital.
Also noteworthy is the continued position of Facebook as a popular means of transacting online, particularly in rural areas where delivery times for goods are likely to be stretched and trust in non-local suppliers may be diminished.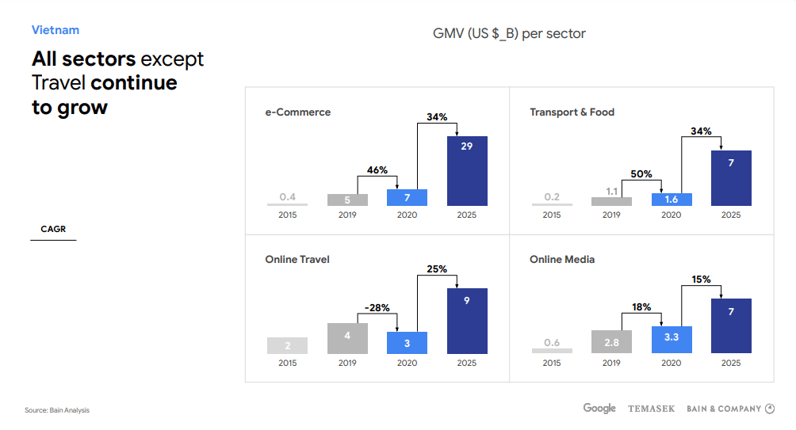 Currently, e-commerce accounts for approximately 8 percent of total retail sales in Vietnam. Overall, however, Vietnam's youthful, mobile-first population, whose desire for cost-effective convenience knows no end, will continue to make it a market e-commerce players will look to invest in, despite the impact of a global pandemic.
Already considered a digital progressive by global analysts, and with a national e-commerce development plan put in place by the Vietnamese Government, the online sector is expected to reach $29 billion in revenue by 2025, although others think these numbers are conservative.
For more e-commerce insights from Decision Lab's Connected Consumer Report, download the full Q4 report for FREE here. To find out how your business stands to benefit from Vietnam's digital transformation, reach out to one of our expert consultants today.