T

he latest figures from Decision Lab's Connected Consumer Report for Quarter 1, 2021 confirms that room for growth still exists in Vietnam's surging e-commerce industry. Shopee is by far the most popular platform overall, but fragmentation at the margins has emerged during the global pandemic.

Although online sales revenue is still dominated by foreign conglomerates Shopee and Lazada, their concentration of users in the major urban centres has meant that social commerce providers, like Facebook Marketplace, have remained relevant in Vietnam.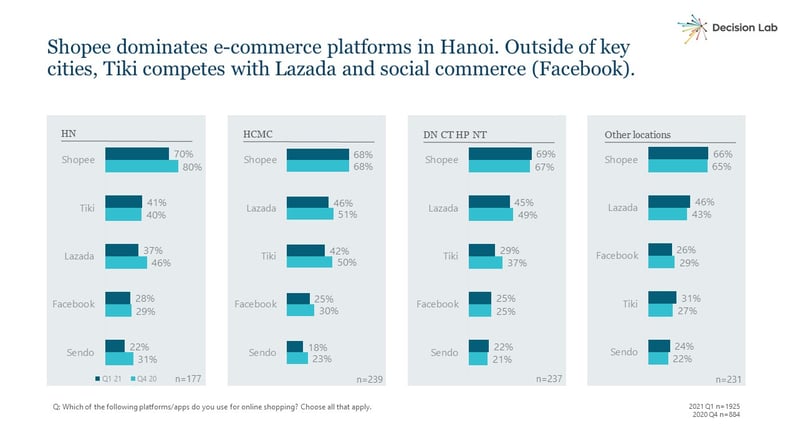 Already a popular concept across the region, research company Bain & Co. has estimated that around 44 percent of last year's US$109 billion Southeast Asian e-commerce market was attributable to some form of social commerce.
In Vietnam, Shopee dominates the two major capitals, but investment in social start-ups focused on low-cost distribution models in regional areas, has started to gain traction.
By allowing shoppers to purchase via their favourite social media platforms, like Facebook and Instagram (where they spend hours every day) social commerce facilitates direct negotiation with sellers, and brings back a human touch in an otherwise contactless world.
As a potential disruption in an already disrupted market, apps like Mio, pictured above, will be interesting to watch going forward. While they do embrace the entrepreneurial spirit of Vietnam, in the short term, they are unlikely to challenge the dominance of the incumbent platforms, who drive massive volume through heavily discounted deals that smaller players can't match.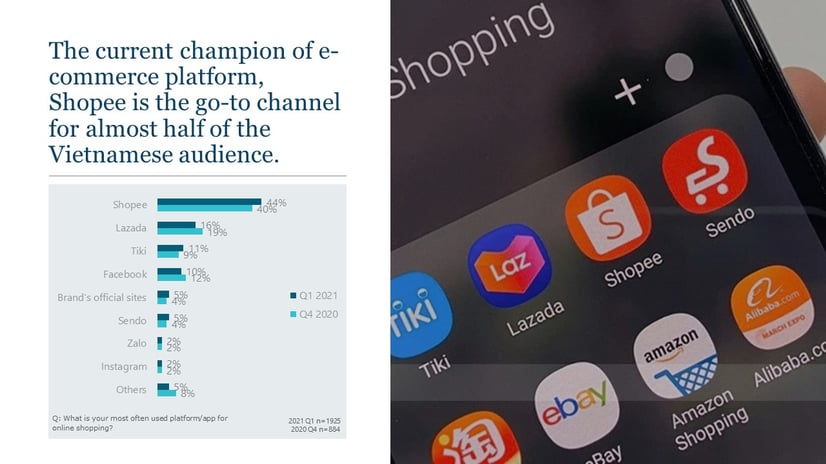 To put Shopee's dominance into perspective, according to Decision Lab's Q1 report, it is now the most used platform of almost half of all Vietnamese who shop online. Last year, the e-commerce market grew in the country by 18 percent to reach US$11.8 billion, and accounted for 5.5 percent of total retail sales.
Lazada is a long way back at 16 percent, followed by local entity Tiki, which challenges Lazada in both big city markets.
Facebook (10%), Instagram (2%), and popular Vietnamese messaging app Zalo (2%) are further evidence of social media's influence over an increasingly addicted audience.
Another local alternative, Sendo (5%), has struggled to make an impact against the larger players, while brand's official websites (5%), have been unable to match the discounts and delivery options of the two major players.
For more insights from Decision Lab's Connected Consumer Report, download the full Q1 report for FREE here. To get in touch about our entire suite of agile marketing products, reach out to one of our expert consultants today.