Tracking brand perceptions is essential to marketing strategy. However, daily monitoring and audience segmentation make it even more powerful. With Decision Lab's exclusive partnership with YouGov, clients can utilize the YouGov BrandIndex platform that allows companies to evaluate their brand's health across 16 key metrics, leveraging daily data from thousands of consumer interviews every day across 55+ markets.
This article explores three ways YouGov BrandIndex clients maximize their consumer insights budgets and save on custom research.
Monitor brand crises and PR events;
Measure advertising campaigns and sponsorships
Identify unknown competitive threats
1. Crisis and PR Monitoring
Although this is not a scenario any brand wants to encounter, PR teams and agencies can use YouGov BrandIndex to assess the impact of a reputational crisis. YouGov BrandIndex's daily surveys allow for timely brand health monitoring and crisis response evaluation.
Let's look at the impact of Vietnam Airlines' cabin crew scandal in March 2023.
YouGov BrandIndex clients can analyze brand health using 16 metrics, some of which support crisis and PR monitoring. Two specific metrics immediately quantify the scale of a possible crisis:
Word of Mouth, the overall percentage of people talking about a brand, shows that Vietnam Airlines saw a rapid spike as news coverage escalated.
Net Buzz aggregates positive and negative conversations over the preceding two weeks, dipped sharply as the crisis unfolded, then regained as Vietnam Airlines spoke out about the incident and resolved the crisis.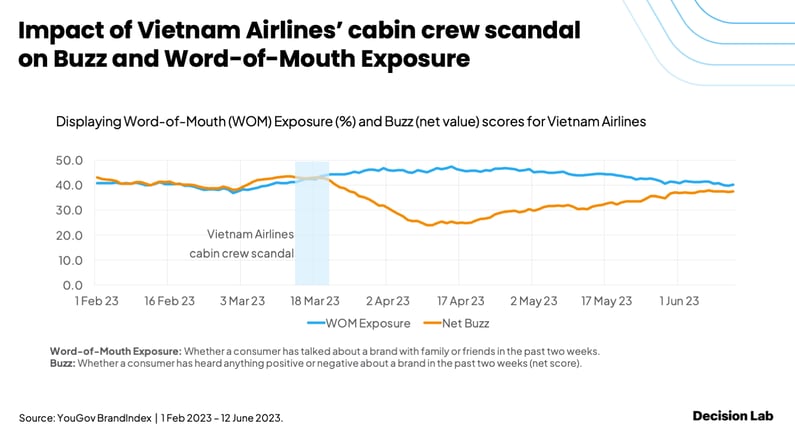 In addition to media-focused metrics like Word of Mouth and Buzz, YouGov BrandIndex users also look at lower-funnel measures such as Consideration, Purchase Intent, or even Current Customer % to understand the true impact of a crisis on a brand's bottom line.
With historical data in the Vietnam market going back 6+ years, YouGov BrandIndex users can easily compare the severity of a brand health crisis and path to recovery with the trajectory of other brands who have experienced similar challenges.
2. Ad and Sponsorship Effectiveness
Campaign managers, sponsorship leads, and media agencies can use YouGov BrandIndex to evaluate the return on advertising and sponsorship investments at scale without commissioning pre- and post-campaign brand lift surveys for every campaign.
Let's look at Kinh Do's Tet campaign in 2023. Tet is an important time for confectionery brands. This Lunar New Year, Kinh Do continued their message "Seeing Kinh Do is Seeing Tết" (Thấy Kinh Đô là thấy Tết) with a TVC.
Of the 16 brand health metrics YouGov BrandIndex monitors daily, Ad Awareness, which tracks whether a consumer has seen or heard an advertisement in the past two weeks, most directly allows YouGov BrandIndex users to understand the immediate success of a campaign.
YouGov BrandIndex shows a substantial increase in Ad Awareness among consumers after the campaign. A similar story appears when looking at Purchase Consideration, which asks if a consumer would consider a brand the next time they are in the market for a purchase from the category.
The Kinh Do campaign team could easily prove the return on investment given their target audience's significant Ad Awareness and Purchase Consideration increases.
3. Identifying Your Biggest Competitive Threats
Another use case for YouGov BrandIndex is uncovering competitive threats with the rankings feature. This enables companies to identify which competitors they may be losing customers to so they can refine their business growth strategy.
In Vietnam alone, YouGov BrandIndex monitors 430 brands in 10 business sectors. Brand data does not exist in a vacuum. Instead, it can be compared to any other insight in YouGov BrandIndex's connected data ecosystem.
Let's see where KFC's former customers are now eating instead. Ranking former KFC Customers by the percentage who have dined at a competitor last three months, from 15 March to 14 June 2023, it's easy to see that 20.1% headed over to Jollibee's, and another 17.2% went to Lotteria.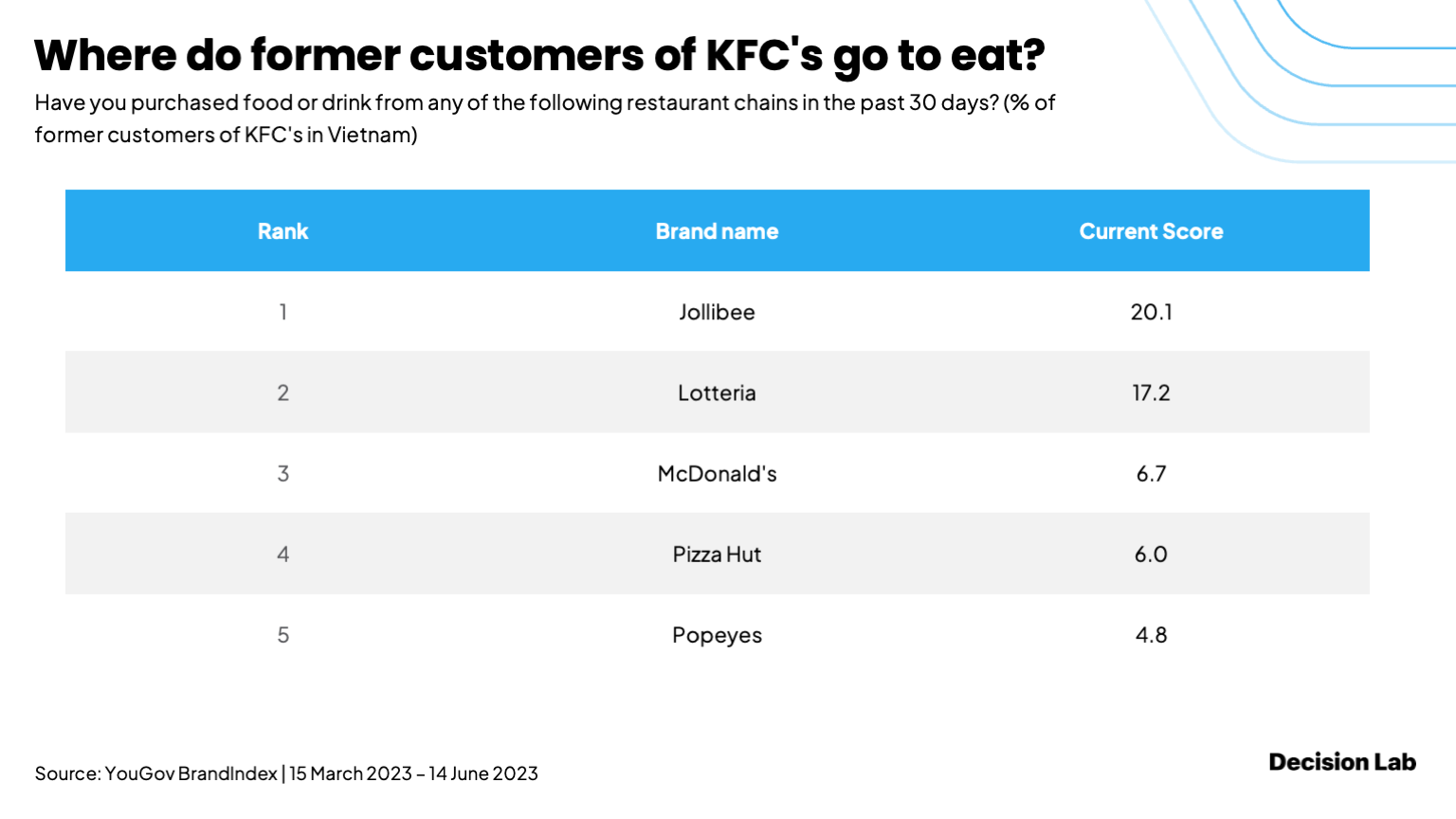 Again, like any analysis in YouGov BrandIndex, this can be further filtered by various other essential attributes.
These are just a few of YouGov BrandIndex's most popular uses, but with nearly unlimited filtering options, it's just the beginning.
Contact us to explore these use cases further or to discuss how YouGov BrandIndex can help generate insights for you.