Q

uarter 2/2021 witnessed the continued growth of TikTok and surging popularity of Zalo. The rise of these platforms reflect a changing digital landscape in Vietnam.


It goes without saying that Facebook is Vietnamese consumers' go-to platform for a variety of purposes, from watching short videos and communicating with friends and family to searching for new information. Facebook is so famous that 96% of the population in Vietnam are Facebook users.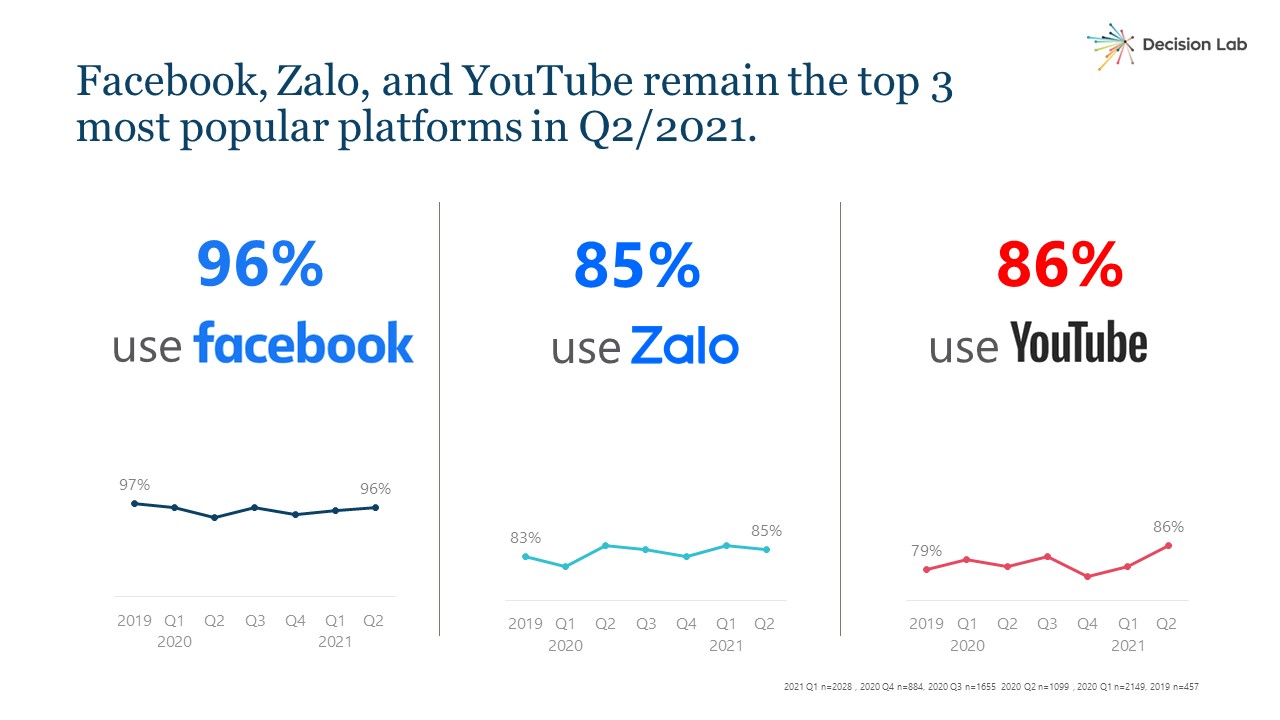 However, the Connected Consumer in quarter 2/2021 report also captures the increasing popularity of platforms such as TikTok and Zalo.
In the news category, Google and local news websites became the first sites Vietnamese consumers think of when searching for news. This is especially interesting considering the fact that Vietnam experienced its fourth and worst outbreak of COVID-19 for most of quarter 2/2021.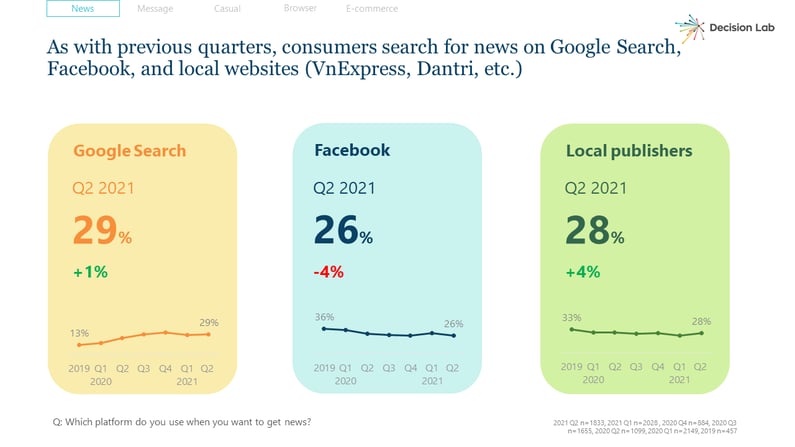 Gen X-ers made the most dramatic switch from reading news on Facebook to reading news of local websites and Google search. Compared to the previous quarter, in quarter 2/2021, only 16% of Gen-X consumers chose to get news from Facebook, down 10%. On the other hand, 29% and 35% of Gen X consumers regarded Google search and local news websites as their preferred news sources respectively.
Millennial consumers also shied away from Facebook as a news source, while endorsing local Vietnamese news websites more. Such a change in preference may be attributed to consumers' sensitivity towards misinformation issues on social media websites. That said, the young generation (Gen Z) still searched for news on Facebook (32%), even though an equal proportion of Gen Z consumers (32%) would visit Google Search as their first destination to learn about what's new in the world.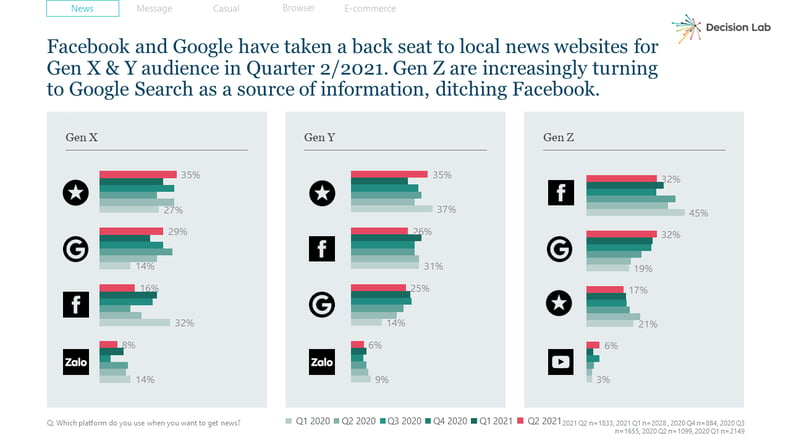 TikTok is fast approaching YouTube and Facebook as the go-to platform for watching short videos. Twenty-four percent of all surveyed respondents identified Tiktok as the platform they visit most often to watch short videos, up 5% from the previous quarter. In quarter 2/2021, TikTok came close to YouTube at 27% (down 3% from quarter 1/2021). Facebook, while experiencing some 2% decrease, is still the ultimate destination for consumers to enjoy short video content.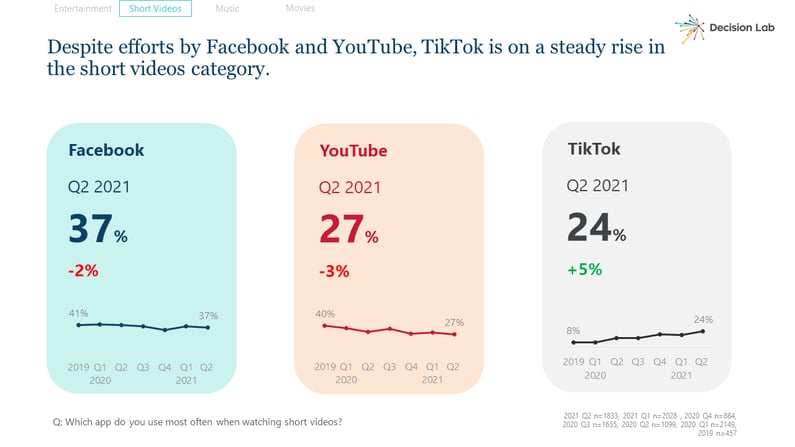 In more detail, the percentage of Gen Z consumers choosing TikTok (35%) as their go-to platform for short videos was close to that for Facebook (36%). For the young generation, while TikTok consumption has been on a steady rise since 2019, Facebook's popularity is facing a general decline over the same period.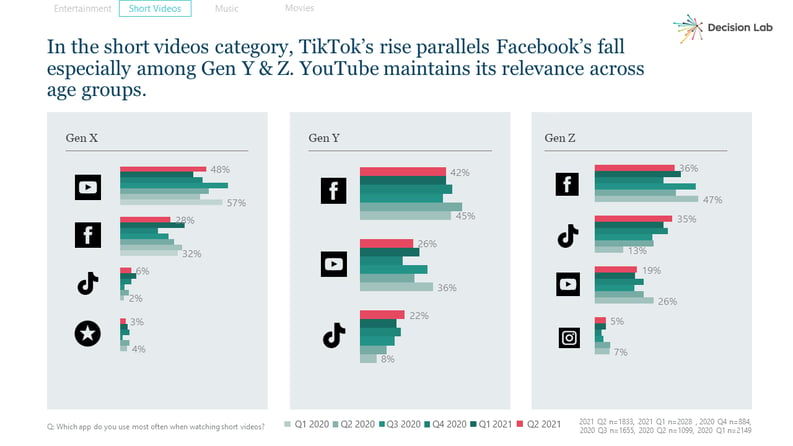 TikTok's position as the favorite short video platform increased among millennials (Gen Y) at 22% in quarter 2/2021, up 4% compared to last quarter. That said, YouTube and Facebook were still more prevalent among this age group. Similarly, YouTube dominated as Gen X's short video platform of choice, followed by Facebook.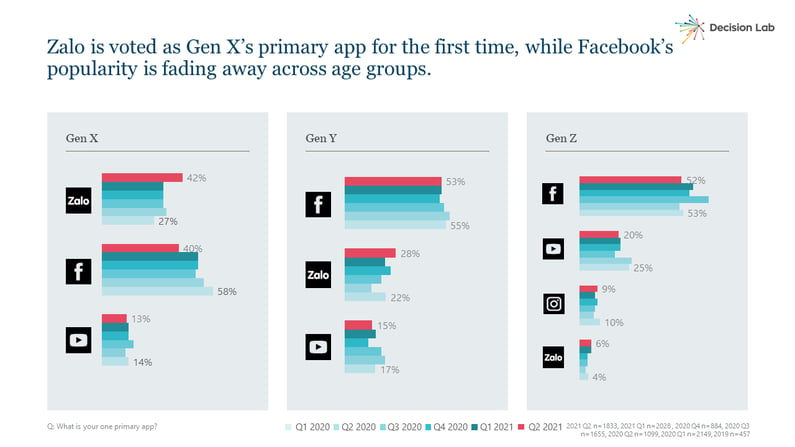 Forty-two percent of Gen X consumers identified Zalo as their primary app, making Zalo the top primary app of an age group for the first time, surpassing Facebook. Zalo's top position in the primary app category for Gen X consumers serves as further evidence that Facebook's dominance in Vietnam may be shaky given the growth of other platforms. That said, Facebook is still Gen Y & Z consumers' primary app, far exceeding competitors.
Facebook is still deeply integrated into Vietnamese consumers' thinking and habits. However, for some quarters now, other competitors have steadily surged in popularity which highlights how consumer habits are changing in Vietnam. Facebook is unlikely to be replaced in Vietnam, but it may lose some grounds to competitors in the future.
For more insights into Vietnam's social media and mobile app landscape download Decision Lab's FREE Connected Consumer Report for Q2 2021 for here. For a consultation about how your brand can tap into this market, reach out to one of our expert consultants today.