A

fter a fairly sluggish quarter at the start of the year, Vietnamese consumers resumed their normal daily lives and carried on with visits to foodservice outlets in Quarter 2.

The latest data from Decision Lab's Foodservice Monitor indicated that Out of Home visits in Vietnam's three biggest cities picked up in Quarter 2-2017 with a slim growth of 0.7% compared to same period last year.

Though traffic improved overall, this did not benefit the various channels equally. Most of the growth actually happened in the lower range of the market, especially for Street food, Convenience stores, and Canteens.
The rising popularity of low-range channels brought down average spending significantly
The rise of lower-priced channels and continuous decline of up-market channels (Full service restaurants in particular) is a good explanation on the decreased average spend per head per visit in the market recently.
According to the latest report from Foodservice Monitor, average spending dropped by 15% compared to Quarter 2 last year as consumers flocked to more affordable yet satisfying foodservice outlets for Out of Home consumption.
Moreover, as Full service restaurants struggled to attract customers from an increasingly crowded and competitive market, more voucher schemes/ promotion campaigns were launched aggressively contributing to a reduction in average spending per head.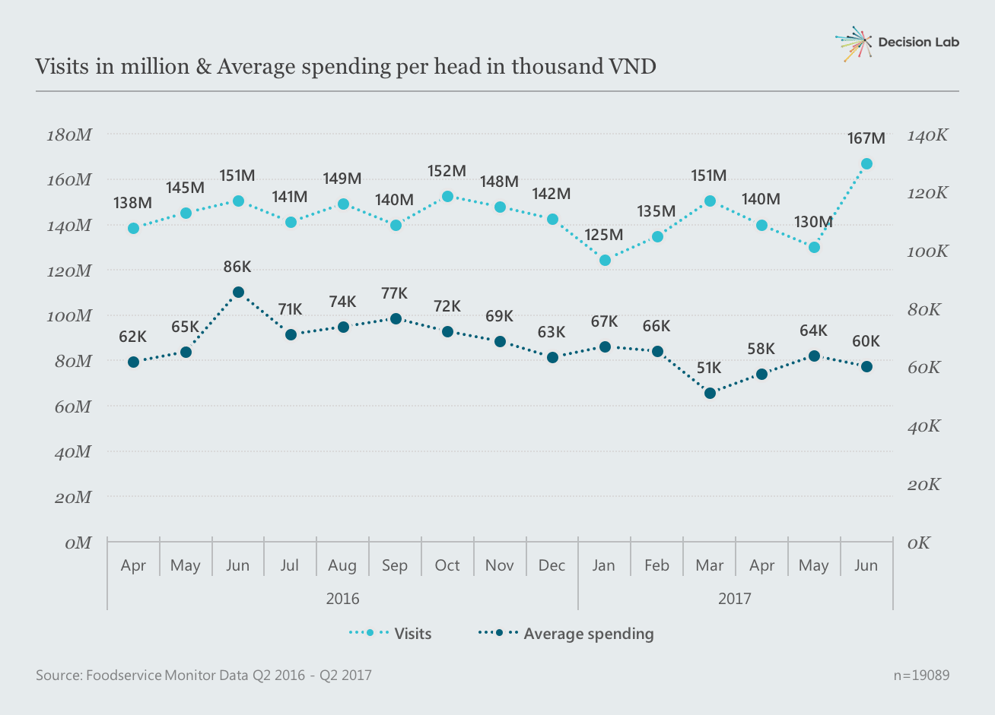 Afternoon snack continued to grow despite market fluctuation
Another significant trend observed by Decision Lab in their syndicated study Foodservice Monitor was the growing importance of afternoon snack as an eating/drinking out occasion in urban areas.
For Convenience store alone, Afternoon snack finally outpaced Breakfast by the end of Quarter 2 this year and officially became the busiest occasion, accounting for more than a quarter of total visits to this channel.
All the aforementioned developments signify an increasingly competitive and dynamic Out of Home market in Vietnam's urban areas. Particularly for Full service restaurants and up-range chains, the entrance of new mid-range concepts and diversification of low-range players have not only intensified the competition, but also stimulated significant shifts in consumer behavior.
Within this context, independent operators and established chains alike need to proactively innovate and adapt to thrive or they all risk getting irrelevant and perish eventually.