Data from YouGov BrandIndex shows that awareness of ACB's advertisements rose by 7.6 percentage points in June 2023.
ACB has registered the highest increase in ad awareness in Vietnam for June 2023 of over 400 brands we track in the market. Ad Awareness, tracked by YouGov BrandIndex, measures the proportion of consumers that have seen an advertisement for a given brand in the past two weeks. The bank's ad awareness score increased by 7.6 points from 12.4% to 20.1%.
The bank's improved metric can be from its marketing campaign commemorating its 30th anniversary. ACB chairman Tran Hung Huy's name is "storming" all over social networking sites and the press following the Gala Night celebrating the 30th anniversary of ACB's establishment.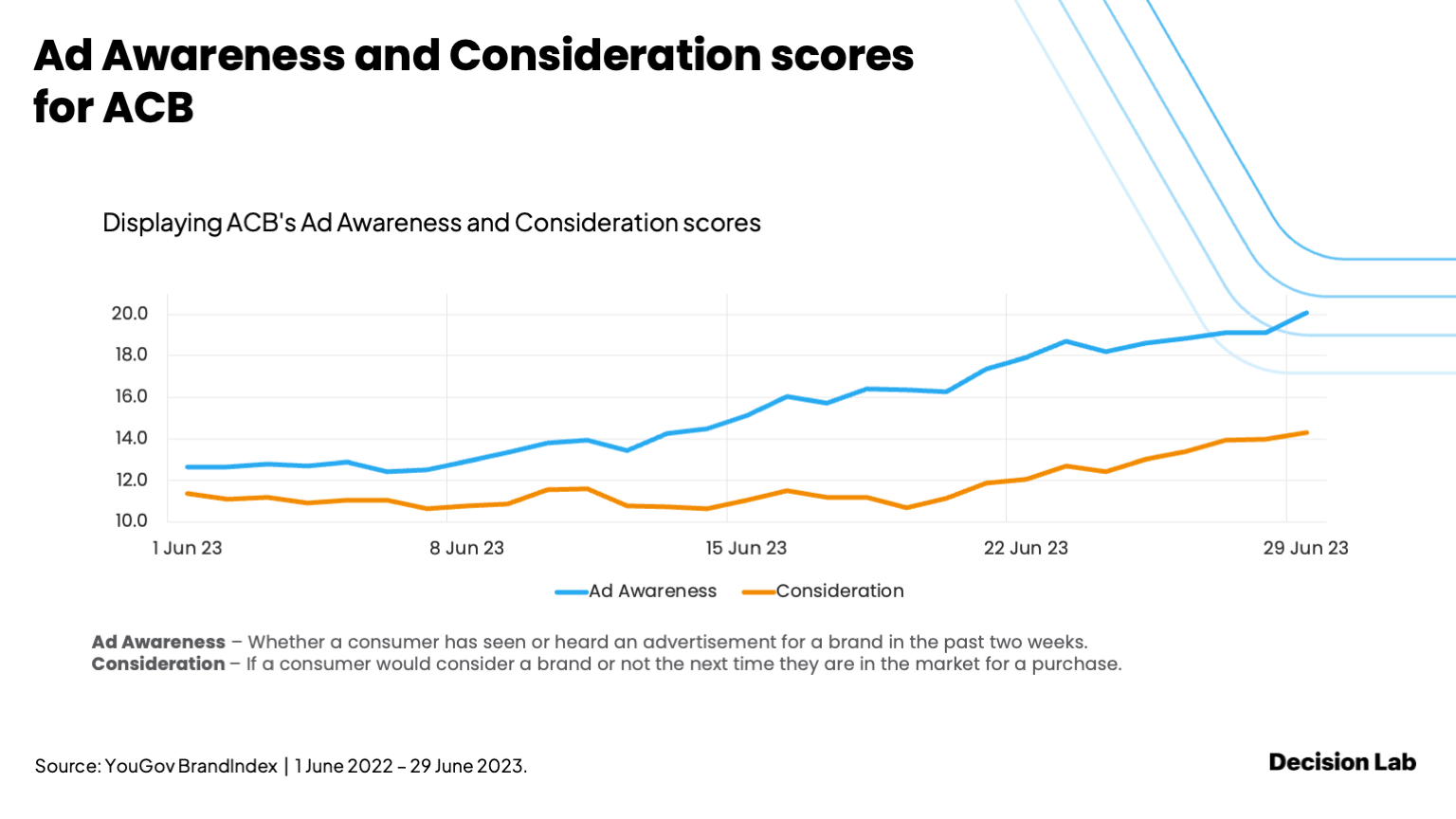 Even the brand's Consideration score, which tracks the percentage of consumers who say they will consider a certain brand when they are next in the market for a service, rose from 10.6% to 14.3%. The ACB marketing team could easily prove ROI with increased Ad Awareness and Consideration.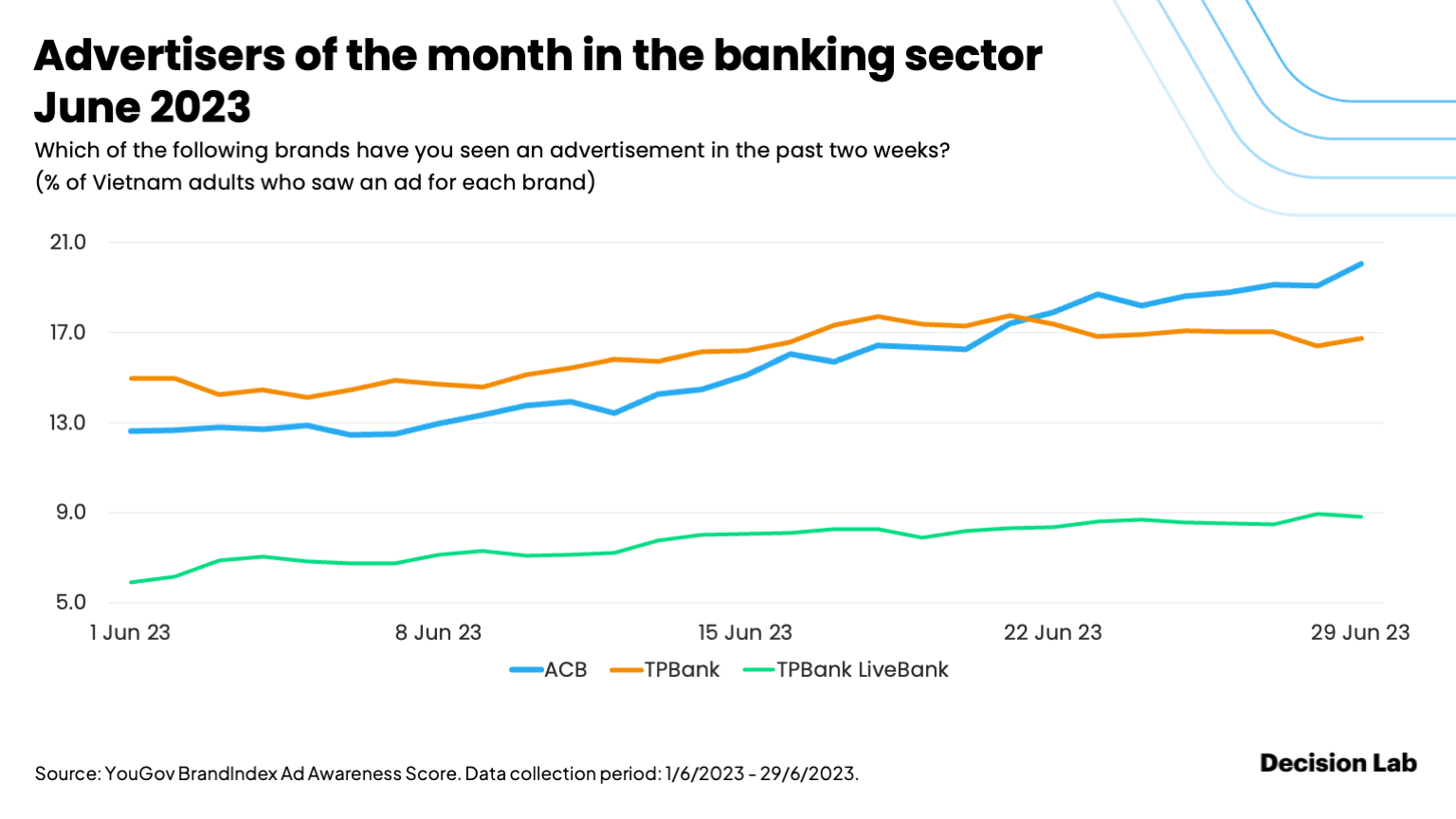 In the banking sector, ACB has the highest score increase in ad awareness, followed by TPBank and TPBank LiveBank. TPBank is also celebrating the 15th anniversary of its founding. The ad awareness score of TPBank increased by 3.7%, from 14.1% to 17.8%. This campaign also raises TPBank LiveBank's score by 3%.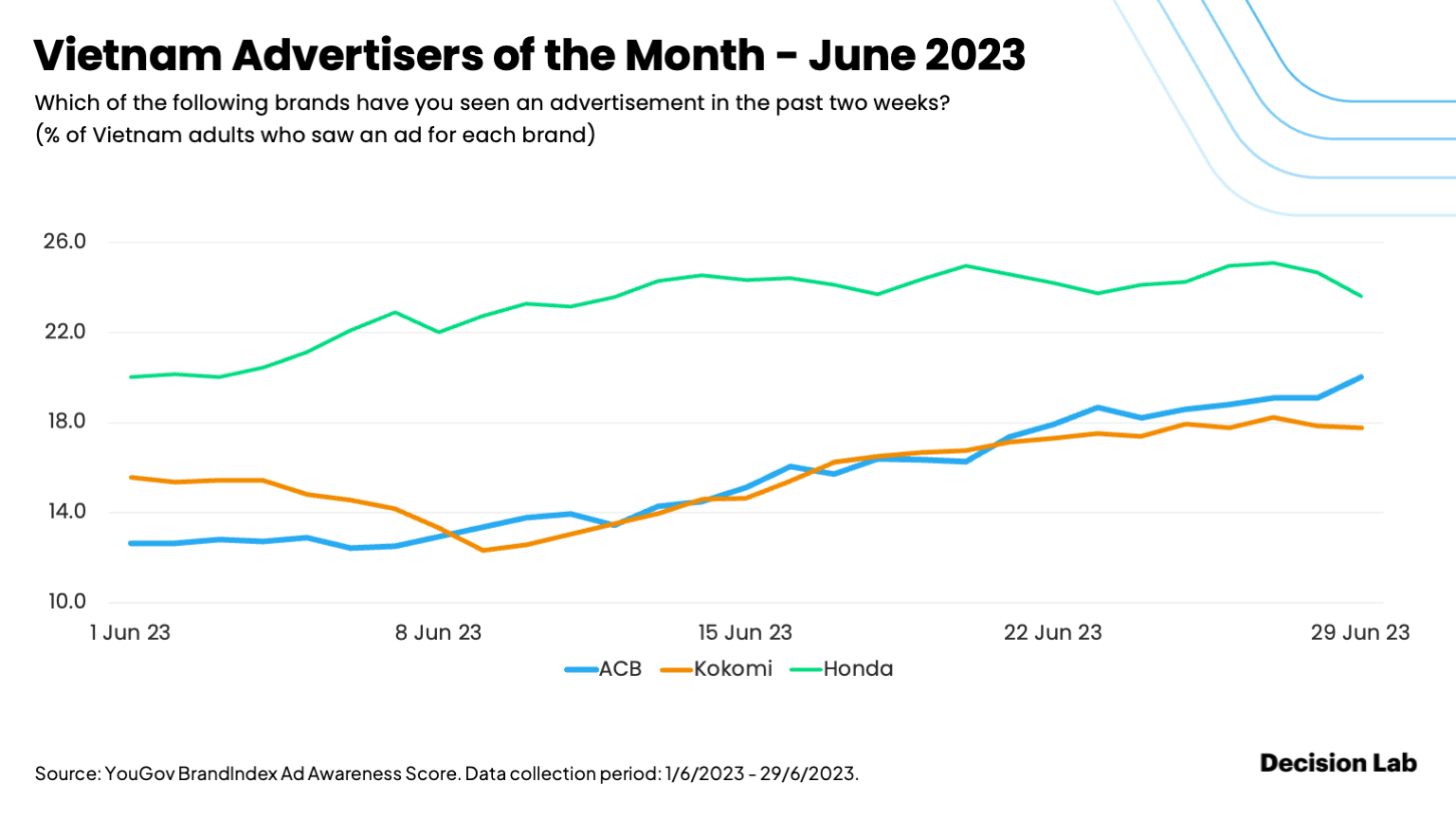 All brands in the advertisers of the month are ranked based on their score change. In all categories, Kokomi and Honda are the month's second and third advertisers, respectively. The instant noodle brand increased its Ad Awareness from 18.3% to 12.3%, a 5.9-point increase. Kokomi is actively marketing its new one-and-a-half-pack product. Honda's summer promotion program has increased its ad awareness score by 5.1 points, from 20% to 25.1%.
These are just a few of YouGov BrandIndex's most popular uses, but with nearly unlimited filtering options, it's just the beginning.
Contact us to explore these use cases further or to discuss how YouGov BrandIndex can help generate insights for you.
Methodology: YouGov BrandIndex collects data on over 400 brands every day. A brand's Ad Awareness score is based on the question: "Which of the following consumer brands have you seen an advertisement for in the past two weeks?" Data from surveys of over 600 adults aged 18 years and above residing in Vietnam from June 1, 2023, and June 29, 2023. Ad Awareness scores are based on a four-week moving average. The score change for each brand is calculated by taking the difference between the highest and lowest scoring days within the period.