A

recent study by Decision Lab revealed the wide-ranging influence of Facebook on Vietnamese consumers' online and offline consumer journey.


Over the years, Facebook has become an increasingly popular e-commerce platform in Vietnam. In Q4 2021, per Decision Lab's "Connected Consumer" report, Facebook was the fourth-most popular e-commerce channel in the country.

In a recent survey of 1835 Vietnamese respondents, Decision Lab painted the full picture of Facebook's influence on commerce in the country. While a popular social media platform, Facebook has extended its influence beyond the digital world. Indeed, Facebook plays an important role in shaping the Vietnamese customer journey both online and offline.
Vietnamese consumers use Facebook for online and offline shopping
In the initial stage of the consumer journey, Facebook acts as the first touchpoint for discovering and learning about products. On average, 40% of Vietnamese consumers first learn about products through Facebook.
Penetration rates of top E-commerce platforms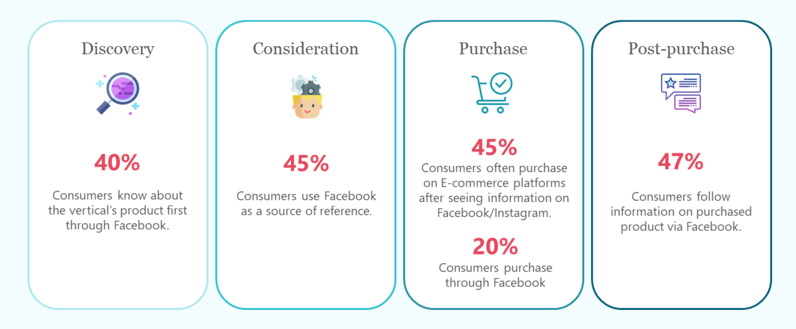 This result is unsurprising, given Vietnamese's high level of engagement with online media. Features and products native to Facebook such as Facebook groups, Facebook Marketplace, and Facebook Advertising also make it easier for consumers to discover new products.
In the consideration phase, Facebook also plays an outsize role in helping consumers choose the best products. Our data suggest that, whether consumers plan to buy products on Facebook, on other e-commerce websites, or in offline stores, 45% of Vietnamese consumers rely on Facebook to evaluate among different product options.
Similarly, Facebook is also effective at driving sales in both online and offline channels. While only 20% of consumers buy products directly via Facebook, close to half of the consumers go on to buy products that they see on Facebook on e-commerce sites and in offline stores.
Facebook affects consumer journey differently for different product categories
Facebook is most potent as a discovery and consideration tool for products in the financial services industry. In the discovery phase, 46% of consumers are first introduced to financial products (such as banking services, digital wallets, etc.) through Facebook. 43% of consumers utilize Facebook to evaluate different financial products offerings.
In terms of making purchases, close to half of the consumers buy CPG products through e-commerce sites after learning about them on Facebook. In comparison, only 31% of consumers make direct purchases for CPG products through Facebook. The percentage of consumers buying electronic & financial products through Facebook is slightly higher at 34% and 33% respectively.
Our study may baffle brands and advertisers who only consider Facebook as a source of online sales. The results of our research emphasize the importance of using Facebook as an important channel at every point of the customer journey in order to get products discovered and considered.
For more insights, download the full "Facebook Commerce report" for FREE here. To get in touch about our entire suite of agile marketing products, reach out to one of our expert consultants today.