H

aving surged in popularity as a platform for short video entertainment throughout the pandemic, the success of Vietnamese TikTok creators in keeping consumers watching beyond the end of lockdowns has seen the app grow its share of voice across multiple categories.

Decision Lab's Connected Consumer Report for the third quarter of 2021 has revealed that fifteen percent of Vietnamese consumers cannot live without TikTok. Asked which social media platform they were unable to live without, the ByteDance-owned app has continued to eat into Facebook's dominance of this segment in Vietnam, and is now challenging Instagram for overall popularity.
Previously reliant on Facebook's wide eco-system for short video, music and entertainment content, the growth in TikTok's popularity has been pronounced across all age groups, particularly over the last twelve months.
Social media platforms' penetration rates by age groups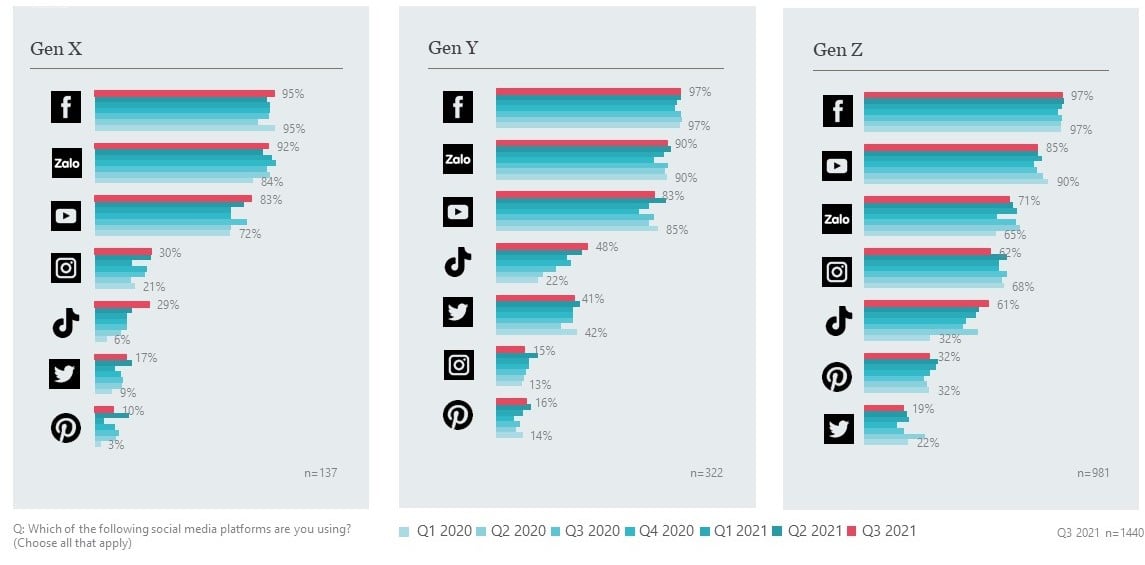 As noted previously, while social media usage dipped overall in the third quarter of 2021 as lockdowns caused by the COVID-19 pandemic lifted, this was not the case for TikTok. Particularly among older users, Gen X and Gen Y, this growth has continued at the expense of Instagram and other apps like Pinterest.
While likely a result of this age groups new 'addiction' to scrolling the limitless amount of content available on TikTok, this is also a reflection of the growing number of Gen X and Gen Y users who according to Decision Lab's research, are now more likely to be using more apps on their mobile phones at any one time.
In the short video category, TikTok is now closing in on YouTube, and Facebook continues to fall where it used to be the go-to platform.
This is especially clear amongst Gen Z and Gen Y, where TikTok was quick to make an impact, although even Gen Xers are now making the switch.
Favorite short-video platforms by age groups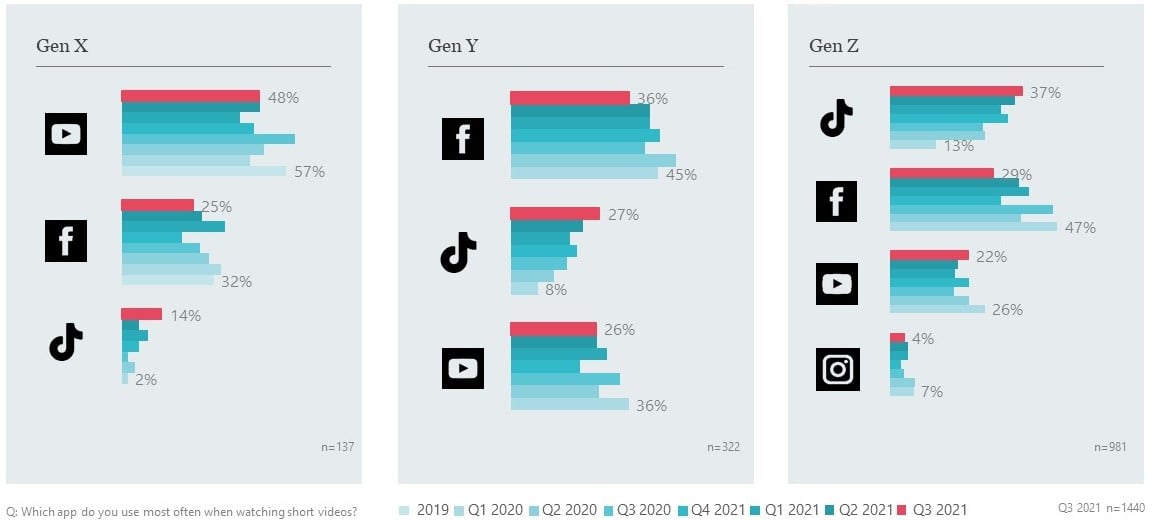 For music, YouTube retains its number one position across all age groups. In the category of casual scrolling, TikTok has made significant gains.
Intrigued by the relentless output of local stars like makeup tutorial creator Linh Barbie, who now has over 17.5 million followers, saigonspringroll (2 million), and singing cow-herder Ytietofficial (2.2million), when the younger generation mindlessly 'scroll' their feeds now, it's unlikely to be one of the 'traditional' social media platforms that have previously dominated the landscape.
Favorite casual scrolling platforms by age groups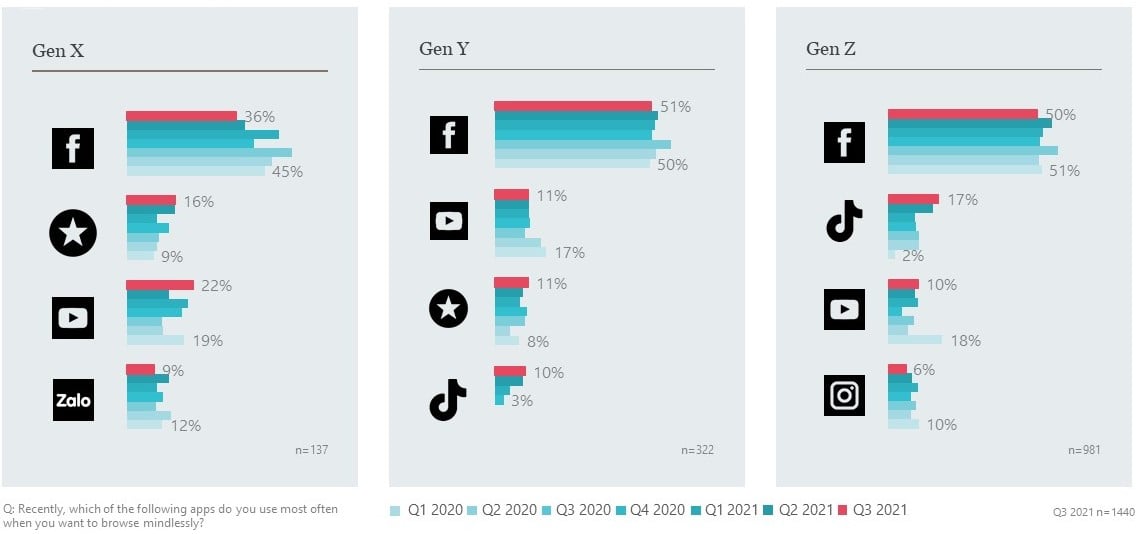 Spurred on by more and more collaboration with major stars overseas, who are now paying attention to the potential of a growing Vietnamese audience online, it seems unlikely that the growth of the platform has hit its ceiling yet.
For more insights from Decision Lab's Connected Consumer Report, download the full Q3 report for FREE here. To get in touch about our entire suite of agile marketing products, reach out to one of our expert consultants today.