Vietnam's Biggest Brand Movers is the monthly report by Decision Lab. The report highlights ten brands that have improved their consumer perception metrics. These metrics are in three categories, Media and Communication, Brand Perception, and Purchase Funnel. Following this ranking, brands can get valuable insights and feedback on their performance and strategy.
The data is taken from YouGov BrandIndex, a syndicated brand tracker that continuously collects data on hundreds of brands in Vietnam daily.
Bách Hoá Xanh (BHX) is Vietnam's Biggest Brand Mover in April 2023.
Mobile World Group's (MWG) retail chain improved in 10 out of 13 categories: Media and Communication (Buzz), Brand Perception (Impression, Value, Reputation, Satisfaction, Recommendation, and Quality), and Purchase Funnel (Consideration, Purchase Intent, and Current Customer).
Early in April, Mr Pham Van Trong became the new acting CEO of BHX. The appointment ended the time when Mr Nguyen Duc Tai, chairman of MWG, directly ran BHX. During Mr Tai's time in charge, the chain underwent a thorough restructuring process. This included changing the layout and arrangement of stores, reviewing and getting rid of ineffective products, and repositioning the brand from a modern grocery store to a mini supermarket.
The top spot on the Biggest Brand Mover chart shows that Bach Hoa Xanh's strategy to restructure has so far been successful. After reorganising, the number of BHX stores dropped by nearly 20%, to 1,728 by 2022, but its first-quarter sales went up by 5% from the same time last year. Mr Tai said that BHX would promote its online channel to attract young and busy customers. BHX's online channel grew by 19%, making up 3% of the chain's revenue.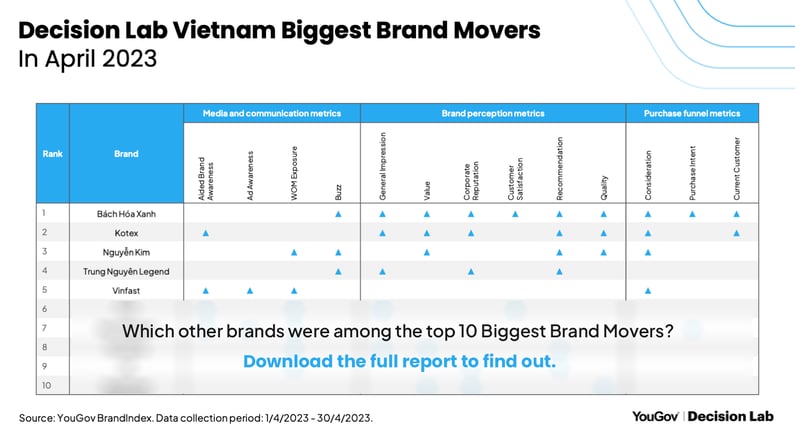 Which other brands were among Vietnam's top 10 Biggest Movers in April 2023? Download the full report to find out.
Kotex is the runner-up, with the personal care brand scoring upticks in eight metrics across the Media and Communication, Brand Perception and Purchase Funnel categories. Nguyễn Kim takes third place, with the retail chain seeing improvements in six metrics across all three categories.
Was your brand one of Vietnam's Biggest Movers in April? Downloading the full report to find out.
Contact us and sign up for a brand health check today!
Methodology
Biggest Brand Movers for April 2023 ranked brands according to the statistically significant score increases they achieved across the following YouGov BrandIndex metrics between March and April 2023. All brands must have a minimum sample size of 500 responses. The metrics considered are:
Media and Communication Metrics
Aided Brand Awareness – Whether or not a consumer has ever heard of a brand
Ad Awareness – Whether a consumer has seen or heard an advertisement for a brand in the past two weeks
Word of Mouth Exposure – Whether a consumer has talked about a brand with family or friends in the past two weeks
Buzz – Whether a consumer has heard anything positive or negative about a brand in the past two weeks (net score)
Brand Perception Metrics
General Impression – Whether a consumer has a positive or negative impression of a brand
Customer Satisfaction – Whether a consumer is currently a satisfied or dissatisfied customer of a particular brand
Quality – Whether a consumer considers a brand to represent good or poor quality
Value – Whether a consumer considers a brand to represent good or poor value for money
Recommendation – Whether a consumer would recommend a brand to a friend or colleague or not
Corporate Reputation – Whether a consumer would be proud or embarrassed to work for a particular brand
Purchase Funnel Metrics
Consideration – Whether a consumer would consider a brand or not the next time they are in the market for a particular product
Purchase Intent – Whether a consumer would be most likely or unlikely to purchase a specific product
Current Customer – Whether a consumer has purchased a given product or not within a specified period of time