Asked which ride-hailing service they were most likely to use when travelling short distances, 47 percent of Vietnam's 40-60 year-old respondents — Generation X — chose Grab. Gen Y 's 24-39 year-olds were close behind at 46 percent, while Gen Z (15-23 year-olds) were much more likely to find their own way - for free.

The nationwide survey also revealed Gen X as the group most likely to keep using traditional taxis. This includes via apps developed by established brands like Vinasun and Mai Linh, who were among those caught in the crossfire when both Uber and then Grab launched locally in 2014.
A growth industry
Four years later, Grab's purchase of Uber's entire Southeast Asian operation was expected to create room for new players to take share, however, despite high profile launches and huge investment, it hasn't quite happened — at least not to the extent that some would have hoped.
According to research conducted last year, Grab's army of drivers completed 146 million rides in Vietnam in the first six months of 2019. This placed it well ahead of nearest rivals Be, at 31 million, and GoViet (which recently re-branded back to its Indonesian parent name GoJek) at 21 million.
That said, these numbers haven't stopped more new players from entering, encouraged by the size of the potential market and the anticipated growth of Vietnam's overall Internet economy, which is projected to reach $4 billion by 2025.

Still room to grow.
Source: Google, Temasek / Bain, e-Conomy SEA 2019 (GMV = Gross Merchandise Value)
A city-by-city examination of Decision Lab's results supports further investment too, with GoJek making headway in Ho Chi Minh City and locally-funded Be doing the same in Hanoi this quarter.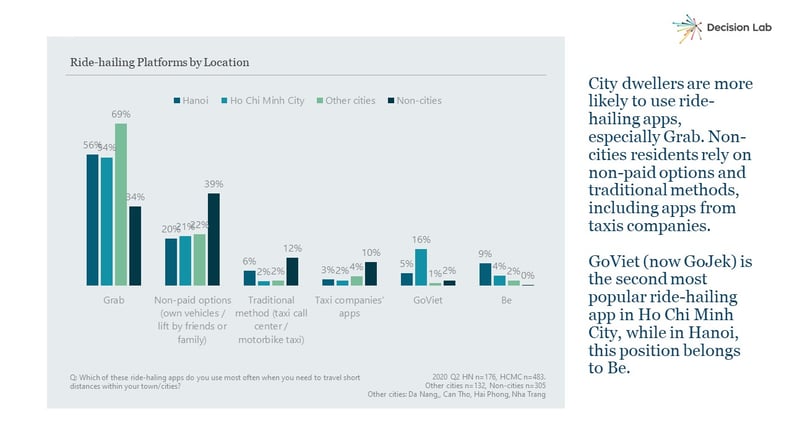 Looking ahead, Decision Lab's global data partner Statista has predicted the highly competitive ride-hailing market to grow by 19.4% (CAGR) annually over the next three years in Vietnam, driven largely by opportunity in non-metro areas where Internet penetration is yet to hit its peak.
Average revenue per user is expected to reach $106.89 by the end of 2020, which will put total revenue from its estimated 19.5 million users at $2.08 billion. By 2024, this is predicted to more than double to $4.24 billion. To add more perspective, China, the world's biggest ride-hailing market, will reach $55.56 billion this year.
Commenting on the lack of profitability in the market despite these numbers, Decision Lab Co-Founder and CEO Aske Østergård highlighted the strategy behind brands like Grab and Uber, which maintains a huge presence in overseas markets.
"Since its inception, the ride-hailing market has been unsustainable as it has been driven by promotions based on price in order to make it cheaper than using a traditional taxi. As a result, unless you can monetize users in other ways, the business model won't work.

"Like Uber before them, Grab and GoJek have been successful in Southeast Asia because they have been prepared to expand into other parts of the digital economy. Although we know that mobility is at the heart of what they do, their goal is to become a so-called 'super app', with digital payment and a variety of other products offered around the original ride-share component."
- Aske Østergård, CEO and Co-founder of Decision Lab
Download Decision Lab's Connected Consumer Report for Q2 2020 for FREE here. For more information on how we can help your business be more digital, get in touch with one of our consultants today.