D

ecision Lab's "The Connected Consumer Q4 2021" report saw big winners among the crowded social media landscape in Vietnam. The country's very own superapp Zalo was among the clear breakout stars of the quarter.


Rounding out 2021, Zalo came in as the second-most widely used application in Vietnam, with 88% of Vietnam's total online population using this app. With wide-spread usage and popularity, Zalo is the only local platform to rub shoulders with international giants.

Zalo ranked just after Facebook at 94% and appears to be on an upward growth trajectory in terms of penetration rates. However, among Gen X Vietnamese, Zalo was the most popular app with 96% of people in this age group reported using it.

PRIOR TO Q4 2021, Zalo Became...
Vietnamese's go-to messaging app in Q1 2021.
The most popular app among Gen X for the first time in Q1 2021.
Gen X's primary app in Q2 2021.
Vietnamese's tool for fighting COVID-19 through features such as Zalo Connect and health declaration throughout Q2 & Q3 2021.
In Q4 of 2021, Zalo also found significantly more relevance as Vietnamese consumers' primary app. One third (33%) of the Vietnamese online population currently consider Zalo to be their primary platform. That said, Facebook still takes precedence over other apps for 39% of the people.
Close to half of the consumers (48%), when asked which apps they cannot live without, mentioned Zalo. This demonstrates Zalo's increasing indispensability for consumers' everyday lives.
Furthermore, as the only local platform among international behemoths, Zalo holds itself as the go-to platform for connecting with friends and family. This platform became Gen Z's second-favorite messaging platform for the first time in this quarter.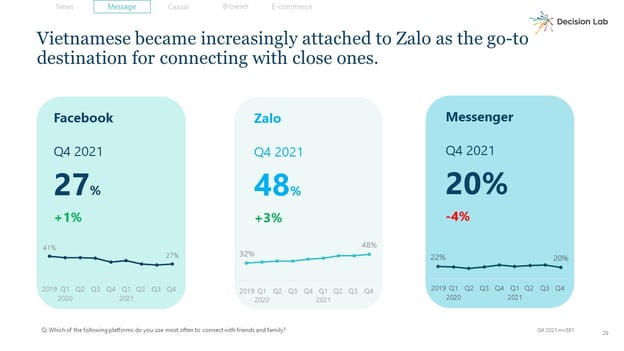 For more insights from Decision Lab's Connected Consumer Report, download the full Q4 report for FREE here. To get in touch about our entire suite of agile marketing products, reach out to one of our expert consultants today.