YouGov annually releases Global Best Brand Ranking, celebrating brands with the best brand health worldwide. This article is a field guide for brand managers seeking to understand brand health metrics better and improve their brand performance.

Brand health is integral to a brand's performance and commercial viability. A strong brand may allow firms to connect better with their consumer base, garner positive brand associations, and enjoy more consumer actions (such as motivated company and product research, consideration, and purchasing) that benefit the company's bottom line.
Yet, what are the secrets to having a solid brand? Which metrics should brands choose to represent their brand health performance? And, How can brands orchestrate their marketing and communications better to achieve more favourable brand outcomes?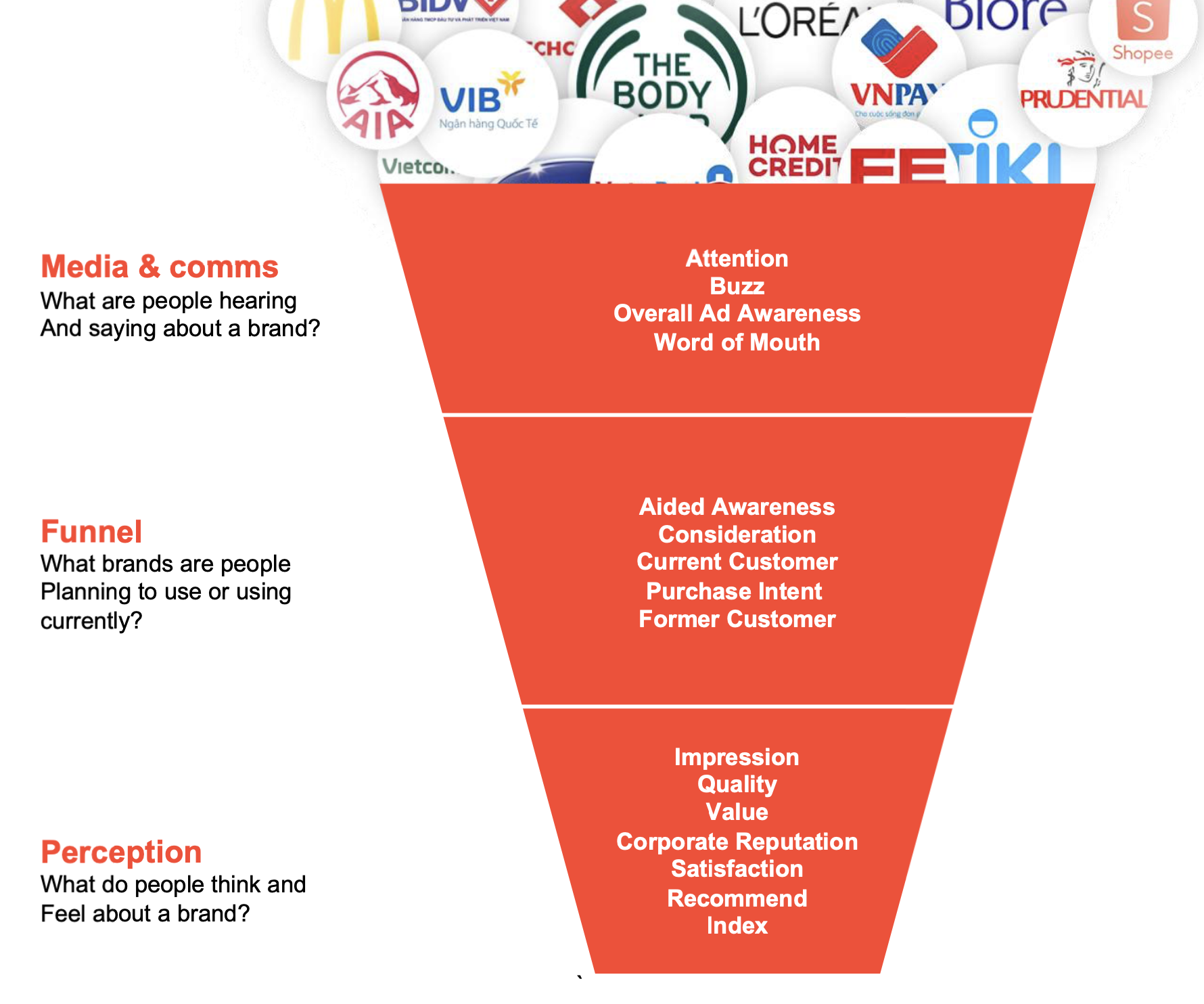 Index score: A brand health metric
The anchor metric of YouGov's Global Best Brand Ranking 2022 and YouGov BrandIndex product is the Index score, a composite metric derived from how consumers perceive brands' impression, value, quality, and reputation and how willing consumers are to recommend brands.
The listed dimensions of the Index score form the six core brand health metrics of YouGov BrandIndex: Impression, Value, Quality, Reputation, Satisfaction, and Recommendation. Excellent performance in these metrics would result in a strong brand health performance.
The six pillars of brand health: How to master them
The Impression is the broadest metric, contextualising brands' position in consumers' minds. Which brands do consumers have POSITIVE vs NEGATIVE impressions towards? Since evaluating impressions about brands requires high-level thinking, a good impression score may reflect the long-term effects of brand-building and other communication activities. As such, some level of investment in brand campaigns and public relations capability is recommended for building a good Impression.
Quality and Value are metrics applicable only to consumers aware of the brands in question, which includes the brand's current customers/consumers may evaluate. These metrics ask consumers to evaluate whether brands represent HIGH vs POOR quality and whether they offer GOOD vs BAD value for money. Different product categories would guarantee different consumer approaches to Quality and Value, depending on the nature of the category offerings (e.g., credit card vs powder milk). So, deeper analyses are needed to determine how brands should improve their Quality and Value performance.
The Reputation metric asks consumers whether they feel PROUD or EMBARRASSED about working for brands. The question prompts consumers to evaluate the organisation in question from the inside out, not just from the outside in, so a high reputation score may indicate consumers' self-identification with brands. On the other side of the coin, problems that could tarnish a brand's reputation may range from product-level or service-level inadequacies to higher-level faults, such as a lack of environmental concern or human rights violations from the brands.
The Satisfaction metric is crucial for brands to understand because it directly measures consumers' experiences with a brand's products or services. The metric asks consumers if they would say they are a "SATISFIED CUSTOMER" or "DISSATISFIED CUSTOMER" with the brand. It provides valuable insight into how well the brand meets customer needs and expectations. Brands that score highly on the Satisfaction metric can use this information to reinforce customer loyalty and drive repeat business. Additionally, tracking changes in satisfaction scores over time can help brands identify areas where they may need to improve their products or services to meet customer needs better. A strong Satisfaction score can indicate a healthy and successful brand that delivers high-quality products and services to its customers.
The last metric, Recommendation, represents the consumer action-oriented aspect of brand health, evaluating consumers' willingness to RECOMMEND vs DISCOURAGE the brand to friends and family. Consumer perceptions all trickle down to the actions - to buy, learn more, recommend - that consumers may take. A brand with a high Recommend score may also score high on consumer perceptions of value and quality. A low score, in contrast, may indicate frequent ailments of the brand that steer consumers and their close ones away from the brand.
Take the first step to level up your brand
Evaluating brand equity can be complex, incorporating intangible brand performance metrics and financial data. Thanks to its longitudinal nature, the YouGov BrandIndex's Index score represents a trusted reflection of how consumers perceive brand health. The Index score is a comprehensive indicator of the long-term efficacy of brand-building initiatives, distinct from other cut-and-dry performance-driven tactics. Observing brand health via the Index score requires a framework for targeted actions. The Index score helps brands focus their resources on growing or improving brand health areas that matter.
How can brands access Index data? YouGov BrandIndex is the engine that powers the Global Brand Ranking. YouGov BrandIndex is a true living consumer intelligence dataset that interviews thousands of consumers in Vietnam daily for their opinions on 430+ brands across ten sectors. YouGov BrandIndex allows brands to understand their performance at a deep level and benchmark relevant metrics with competitors' for a fuller picture.
We can help you improve brand health metrics and win over consumers. Contact us for more information. Gain access to YouGov BrandIndex data for FREE HERE.
Learn more about YouGov BrandIndex HERE.
To get in touch about our entire suite of agile marketing products, reach out to one of our expert consultants today.