U

p until Q2 2017, Quick Service Restaurants* (QSR) had always been a top 3 sales channels of non-alcoholic Ready-To-Drink (RTD) beverages in Vietnam's Out of Home market. But according to latest market update from Decision Lab's Foodservice Monitor, the trend had reversed.
The demise of Quick Service channel
Together with a consistent negative footfall, QSR has also suffered from a significant drop in its RTD beverage sales in terms of servings. During the year between Q4 2016 to Q4 2017, the channel's share in total non-alcohol beverages servings shrunk dramatically from 43 to 21 index point.

The decline is even more worrisome considering how the overall consumption of non-alcoholic RTD beverages in the Out of Home market jumped by 24% during the past year. In other words, QSR failed to benefit from increased consumption and compete against the rising players of Convenience stores and Canteens.
The rise of Canteen
As the continuous tracking data from the Foodservice Monitor shows, by the end of 2017, Canteens had officially taken over QSR to become one of the top 3 channels with the highest servings of non-alcoholic RTD beverages (the other 2 channels are Full service restaurants and Convenience stores).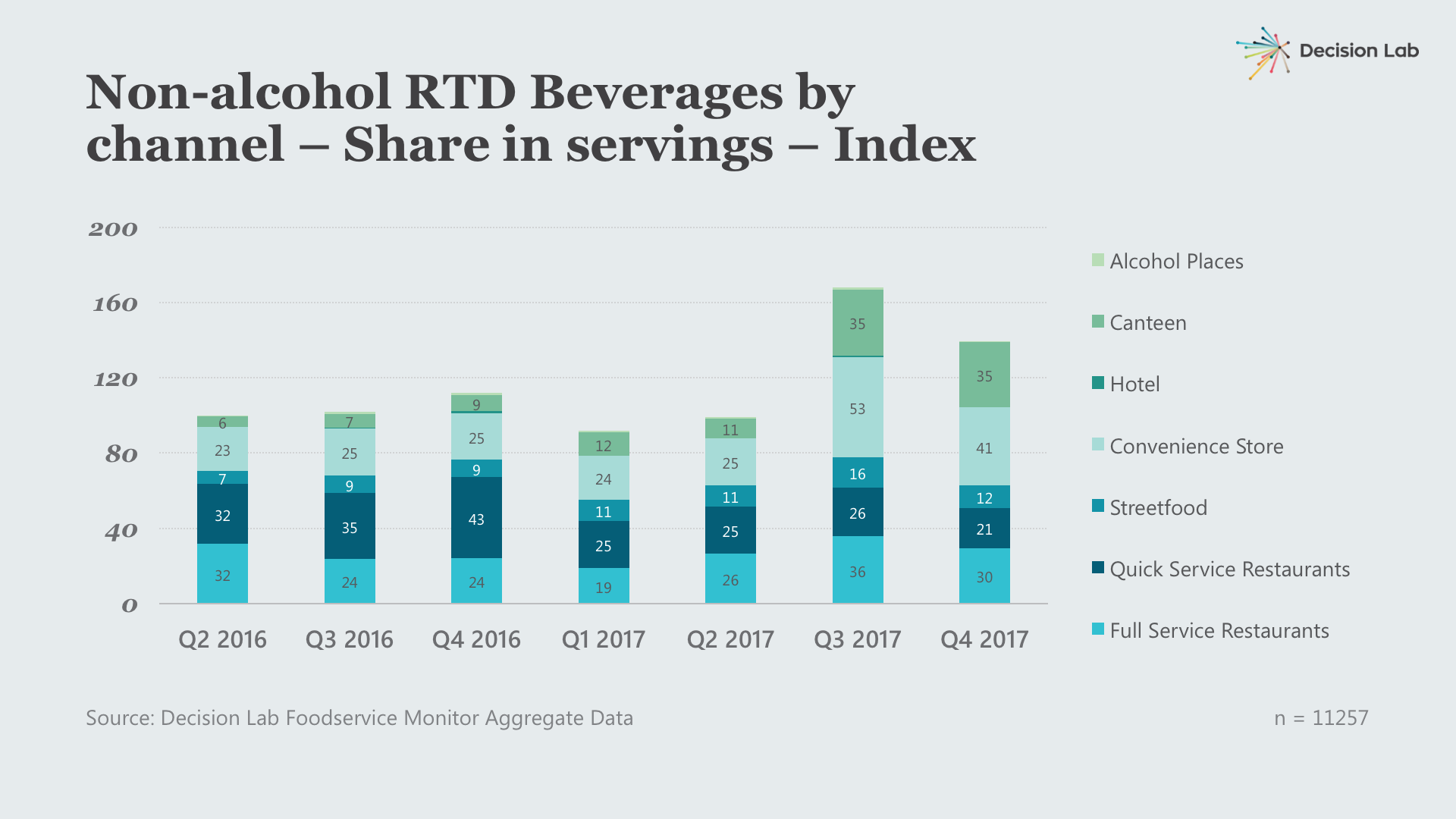 The implication for Beverage Manufacturers
This market development will have ample effects on different players in Vietnam's foodservice industry. This is especially true for RTD manufacturers who will need to take the following actions to address the shift in sales from QSR to Canteens:
Focus and invest more trade effort in Canteens and Convenience stores to increase market share.
Tap into the sales potential in Convenience stores and Canteens, taking advantage of the consumer's high tendency to buy both food and drinks for on-premise consumption.
Work proactively with QSR Operators and develop initiatives to drive footfall with voucher campaigns.
*Channel definition:
Quick service restaurants: Coffee/tea/juice/smoothie shops, bakeries, fast-food restaurants, and foodservice outlets with no table service.
Canteen: Canteen in the workplace, school, university, hospital, factory, etc.
Convenience stores: Standard convenience store such as FamilyMart that also offer snacks (some heated up) to eat on- or off-premise