A

s brands begin to plan for Vietnam's busiest retail period of the year, we wanted to 'unwrap' the anatomy of a successful 'Tet pack'. To help us, we spoke to several of Vietnam's top strategic and creative agency minds, and asked them the question, 'what makes a good piece of packaging at Tet?'

Steeped in tradition, like Christmas in the west, there is no celebration more anchored in Vietnamese culture than the annual, 4-week gift-giving ceremony that is Tet. Stimulated by 'lucky money' and salary bonuses, it's the time of the year when retail spending doubles, witnessed in the easy exchange of luxuries between family, friends and co-workers.

"It's the 'Superbowl' of gift-giving in Vietnam" describes Emilie Veillon, Group Creative Director at JWT & Mirum Vietnam.

"Tet has become a kind of game where consumers expect brands to surprise them," she continued, "and guess what? Everybody's playing!"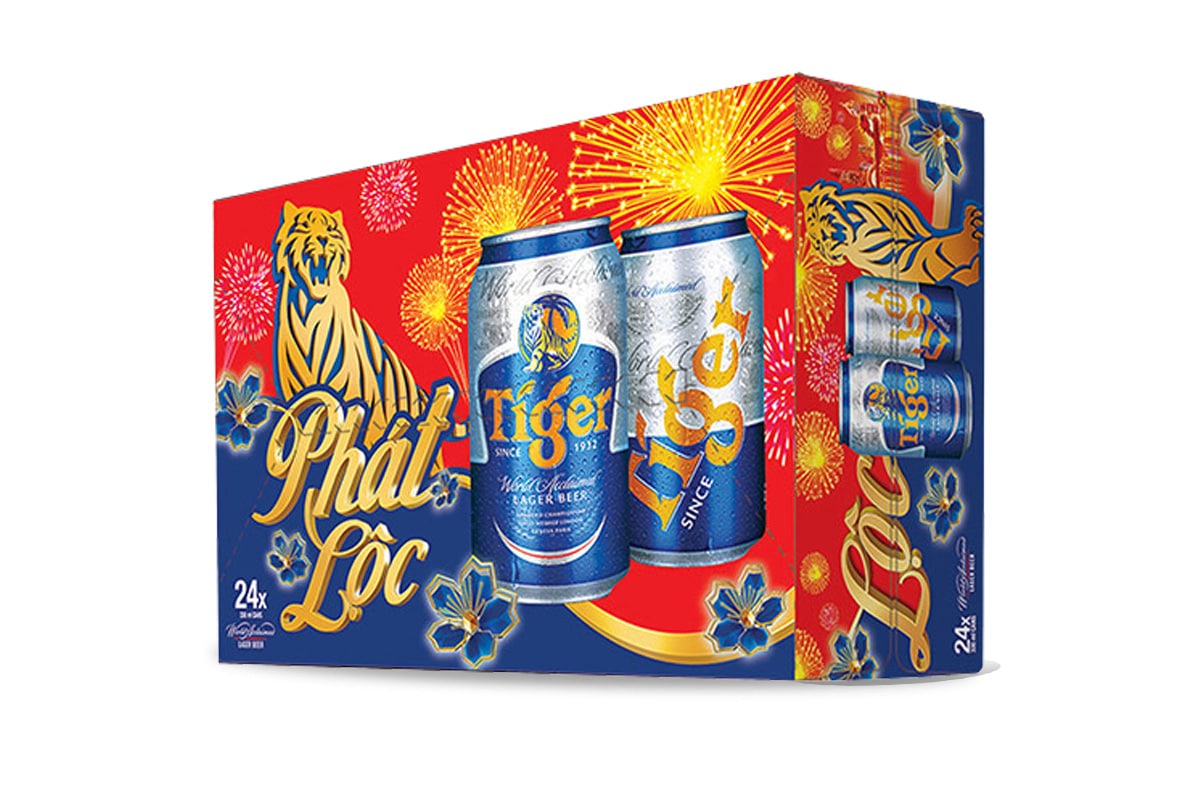 A cross-promotional Tet pack execution by Tiger. 'Phát Lộc' means 'find fortune'.
"For a lot of brands, Tet will account for a large percentage of their annual sales, so it's a must-win opportunity to sell volume."
Chi-An De Leo, Co-founder and Creative Director at Rice Creative
"For a lot of brands," says Chi-An De Leo, Co-founder and Creative Director at Rice Creative, "Tet will account for a large percentage of their annual sales, so it's a must-win opportunity to sell volume."
Chris Elkin, Co-founder of Doodle Brands agrees with De Leo, singling out beer, spirits, tea, coffee, and other FMCG products as those that benefit most from the retail industry's annual shot-in-the-arm.
"Every year these brands tap into the country's need to say 'thank you' or show respect to colleagues by creating heavily branded 'Tet' products," Chris says, "with packaging, content and communications to match. Generally speaking, the more 'Tet'-inspired the better."
Tradition
While the holiday is traditionally swathed in red and gold everything, alongside familiar images of gold coins, peach blossoms and rows of happy swallows, we think any piece of packaging should be judged by its likelihood to go from 'on the shelf' to into your customer's shopping basket.
"Packaging around Tet is over-saturated," admitted De Leo, whose agency Rice was recognised around the world for a Tet campaign it produced for Coca-Cola, famously spreading 'Peace' ("An"), 'Success' ("Tài") and 'Prosperity'("Lộc") via their special edition cans in 2014.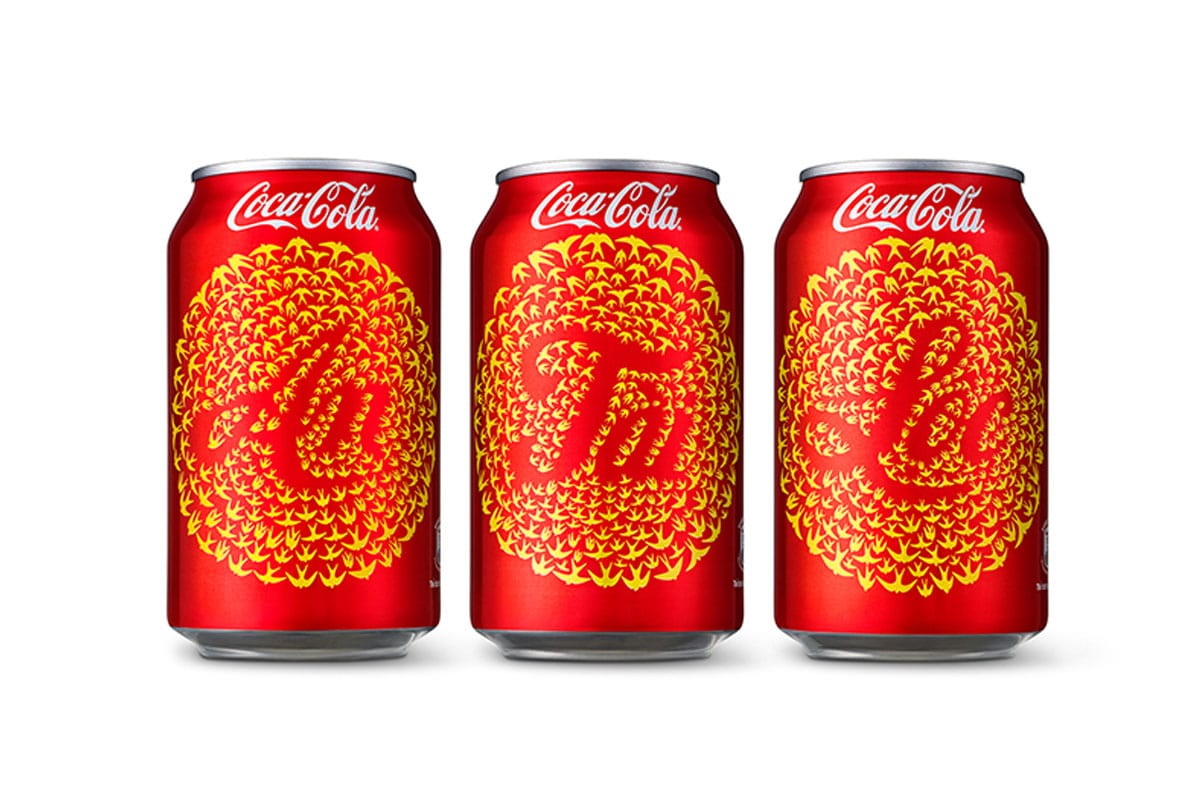 How Rice Creative helped the world's biggest soft-drink company celebrate Tet.

"What I think makes a successful Tet pack is the ability to stand out from the plethora of red and gold, and that usually requires a good concept and good design."
Relevance
Sandip Rakhit, General Manager of Grey Vietnam, emphasised the importance of staying relevant, particularly to the occasion of Tet, which he said is about 'celebration, nostalgia, family values and respect.'
"Packaging that marries the occasion to the relevant emotion is going to succeed," he said. "It's not just about creativity, it's about relevancy."
Also recognising Vietnam's love of expressing tradition during the holiday, Creative Director Emilie said that while there was evidence that consumers were ready to receive more 'edgy' Tet campaigns, ones that play on humour based on strong social insights, 'cutting through the clutter' was still a major challenge.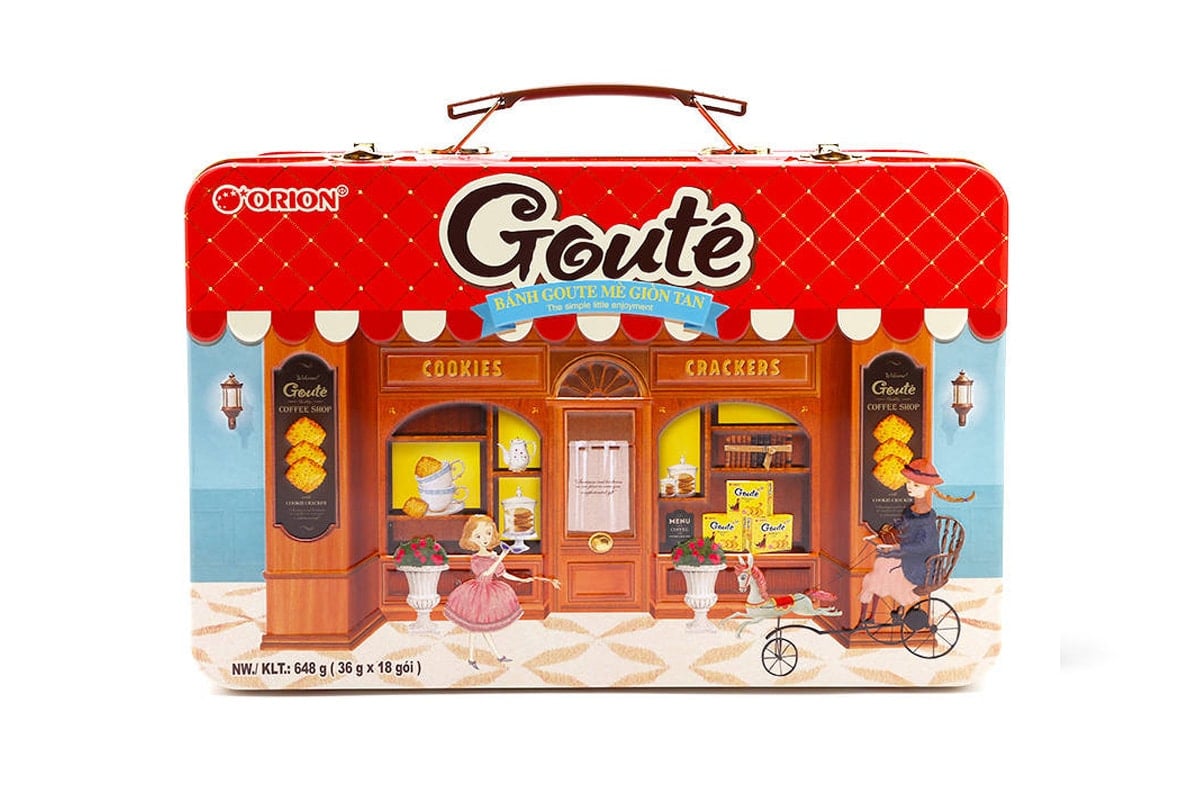 Orion launched this reusable Goute-branded 'cookie case' for Tet 2018.

"Whether it's "Instagram-worthy" because of an interesting design aspect or shareable because of a unique function, any packaging idea that disrupts what's already out there will make a brand stand out during Tet," she said.
Competition
In a fiercely competitive retail environment, 'standing out' while making a positive first impression is critical. Research shows that 80% of brands taken off the shelf first by shoppers are the ones most likely to be purchased.
It's a statistic that gives credence to why so many companies invest heavily at this stage of the product life-cycle. It also underlines what Chris Elkin explains, that the need to simply 'stand out' shouldn't be to the detriment of your brand's core values.
"The best packaging design is rooted in the brand owner having a strong understanding of their customers needs," he said.
"For Tet, in particular, re-living and celebrating tradition is important, so in terms of on-pack messaging, the brands that tend to resonate best are those that can link their brand values to meaningful stories. At Tet, these might be tied up in ideas like sending new year's wishes, honouring family and sharing good luck."
Notably, Chris also expressed the advantage of testing packaging prior to going to market.
"Innovating, prototyping and testing packaging, especially using real target consumers is an invaluable exercise," he said.
"Not many brands are trying to appeal to everyone, so it's very important for them to gain insight into what will delight their specific target audience."
Sandip from Grey echoed his thoughts exactly, agreeing that having metrics around attributes including likeability, uniqueness and customer purchase intent was something marketers should always have at their disposal.
"Consumer insight can always aid the design process," he said. "It helps brand owners to reflect the mood, tone and needs of the real buyer."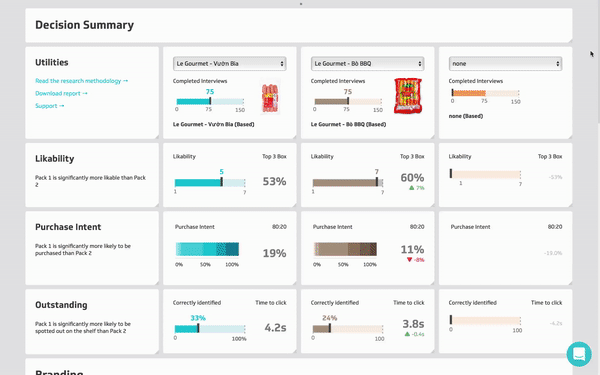 Decision Lab's Pack Decider gives you real-time feedback on likability, uniqueness and customer purchase intent

Learn more about how we helped San Miguel Pure Foods pick the right packaging.
Optimising Returns
While agreeing with the need to connect, Emilie offered another reason to test packaging design, one that enables people in her position to make sure clients get the best possible return on their creative investment.
"Testing is useful to fine-tune an approach, or judge how disruptive a packaging idea might be," she said, "but consumer feedback can be surprising and enlightening, and in many cases help agencies to sell creative ideas to clients that are afraid to break the 'Tet rules.'"
Keen to emphasise the importance of a good product backed by a solid design concept, Chi-An De Leo did espouse the value of having data to back-up creative intuition.
"Online surveys give you accurate data as I think generally people are more honest and open when shielded by their phone."
"I think first and foremost it's important for the design to be strategic and thoughtful, and based on a solid core concept. If that's the case, the design will be right, but it's only half the battle."
To help your brand reach its sales potential this Tet, contact Decision Lab to find out how the biggest online community in Southeast Asia and our suite of mobile-first decider products can increase your conversion from shelf to basket.