67

percent of 15-23 year olds in Vietnam say they now use more than 4 social media apps on their mobile phones. The ever more popular TikTok is one of them — as is established favourite Instagram — but like the rest of the population, when it comes to the platform young people can't live without, there is a familiar number one.

The latest Connected Consumer Report by Decision Lab in Vietnam has confirmed that Gen Z mobile users have the most divided attention of any age group online.
Asked how many social media apps they used during Q4 2020, more than two-thirds said they were active on 4 or more. This compared to 54 percent of Gen Y users (24-39 year olds) and 42 percent of Gen X (40-60 year-olds).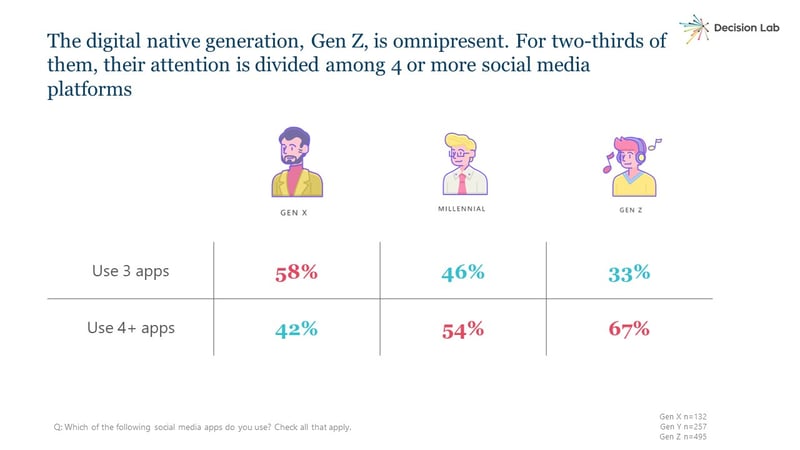 Across the country, Facebook is still the most commonly used app, followed by Zalo, YouTube, and Instagram. Not far behind is TikTok, which after launching locally in the middle of 2019, grew from the 20 percent it started with in 2020 to reach 37 percent overall penetration at the end of a year which saw most people spending a lot more time at home.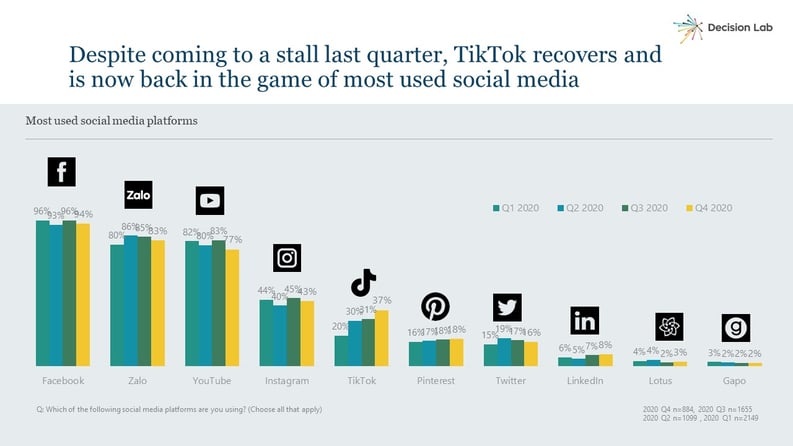 Like the rest of the population, Facebook is still the most commonly used app by Gen Z, followed by YouTube, local platform Zalo —though this lost ground it gained after a strong start to the pandemic — and Instagram.
Previously dominated by teenagers, the growth of TikTok is now being driven by a slightly older audience in Vietnam, particularly 24-39 year-olds who may have first tuned in during lockdown.
Clear recognition of its' power as a local advertising platform, TikTok has now become a legitimate place for established performers to share 'viral-worthy' content with fans.
However, the app's popularity still rests firmly in its ability to unearth the most unlikely of stars, and Cow herder So Y Tiet from Binh Dinh Province is the perfect example.
Videos he posted of himself singing numbers in English went viral last year after they were noticed by the likes of superstars Rihanna, Snoop Dogg and Cardi B, among others. The result was that his content and unique take on life in Vietnam was launched to an unsuspecting international audience, who have turned him into a social media star.
Awarded TikTok's Inspiring Creator of the Year award at the TikTok Vietnam Awards in Ho Chi Minh City in December, as of March 2021 he had amassed 1.9 million followers on the app, 529,000 subscribers to his YouTube channel and 692,000 followers on Instagram.
A loyal base?
Despite the app's popularity in its current form, there's no doubt that owners ByteDance will be forced to keep innovating TikTok in order to keep its valuable Gen Z audience engaged, especially with competitors circling. Although they are the group most likely to be active on the app, Decision Lab's research confirms that they are still the group most likely to quit it in favour of something new.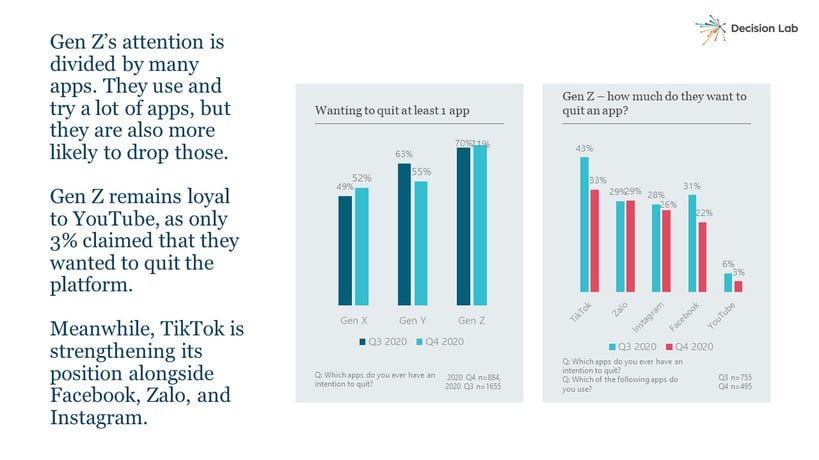 For more insights from Decision Lab's Connected Consumer Report, download the full Q4 report for FREE here. To get in touch about our entire suite of agile marketing products, reach out to one of our expert consultants today.