D

ecision Lab's Connected Consumer Report for Q1 2020 has confirmed Vietnam's huge population of 15-23 year-olds as the group most likely to download mobile apps. However, the data also suggests that they are just as likely to dump them once something new comes along.

The report, which compares the results of two nationwide surveys of Vietnamese social media users, has been produced using responses collected from Decision Lab's online panel between August 2019 and February 2020.
Facebook 'still thriving'
Despite negative publicity, the report confirms that Facebook is still the country's number one source of mobile news — particularly amongst a younger audience.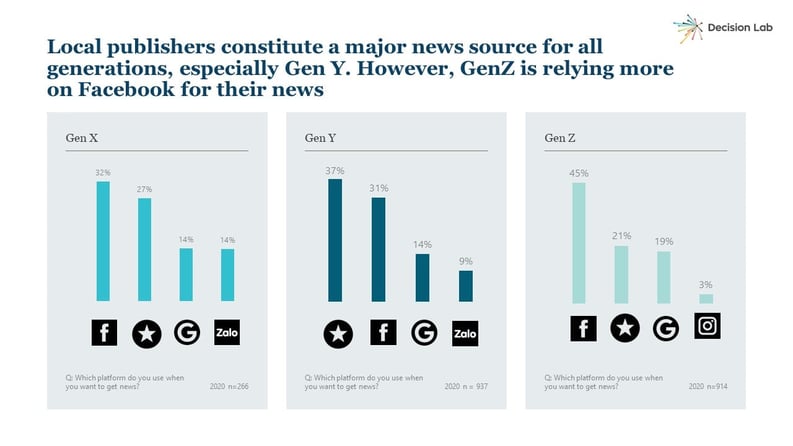 When asked which platforms they used 'when they wanted to get news,' 45% of Gen Z respondents named Facebook as a go-to source. This compared to 32% of Gen X and 31% of Gen Y, who are more likely to use local websites like tuoitre.vn, or 24h, for example, compared to their younger cohorts.
Connecting quickly still important
When it comes to connecting with family and friends, the study reveals another generational gap. Gen X and Gen Y users have either maintained or increased their use of Zalo, Vietnam's premier chatting app, while amongst Gen Z this has slipped to 16% — down from 24% in Q3 2019. Again, amongst younger users, Facebook (43%) and Messenger (33%) are the apps preferred for keeping in touch.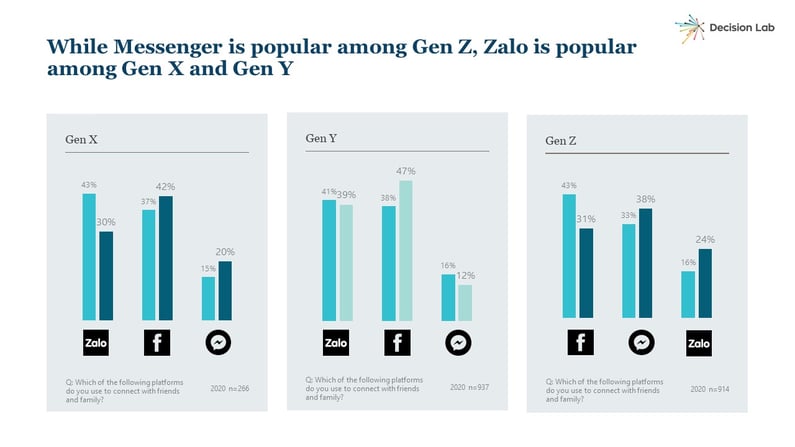 Gen Z driving growth
Unsurprisingly, it's been Gen Z driving growth in video-sharing and music streaming platforms like TikTok and Spotify in Vietnam, a reflection of the popularity of artists like rapper Den Vau and singer My Tam, who top the local charts. This hasn't, however, been at the expense of industry giant YouTube, nor local challengers like FimPlus or Nhaccuatui, for example, which have retained an overall share of around 20% according to the data.
Reflecting their thirst for content of this nature, Gen Z respondents said they were at least twice as likely to be 'unable to live without' Instagram, the picture-sharing app which has successfully transitioned into longer format video over the last 18 months, as well as a significant hub for online shopping.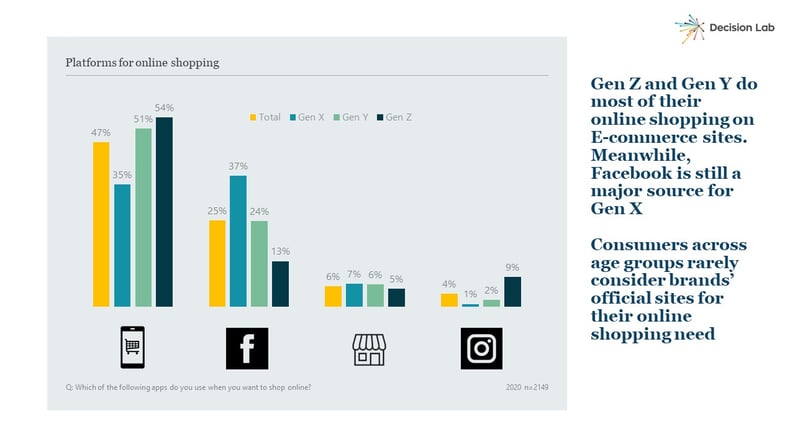 In general, the report confirms the assertion that younger users use more apps on their phones, but are also more likely to quit one compared to their older counterparts. Asked whether they intended to stop using an app they'd recently downloaded, 68% of Gen Z respondents identified at least one, whilst only 33% of Gen X did the same.
For more detailed analysis of Vietnam's Connected Consumers, download the full version of Decision Lab's Connected Consumer Report Q1 2020 for FREE here.