Decision Lab's Biggest Brand Movers highlights the ten brands that have improved their consumer perception metrics the most across a selection of Vietnam markets every month. Brands are ranked based on the number of metrics that saw a statistically significant increase across 13 YouGov BrandIndex metrics. These metrics are in three categories, Media and Communication, Brand Perception, and Purchase Funnel. The data is taken from YouGov BrandIndex, a syndicated brand tracker that continuously collects data on hundreds of brands in Vietnam daily. Following this ranking, brands can get valuable insights and feedback on their performance and strategy.

VTC Pay is Vietnam's Biggest Brand Mover for March 2023.
The e-wallet and payment gateway brand made gains in 5 out of 13 YouGov BrandIndex metrics across the Media and Communication category (Ad Awareness and Buzz), Brand Perception category (Recommendation and Quality) and Purchase Funnel category (Consideration).
VTC Pay is an online payment platform in Vietnam that offers various services such as mobile top-ups, bill payments, game card purchases, voucher purchases, etc. This brand was also the second most popular e-wallet in Vietnam in March 2023, just behind MoMo, according to Reputa's report. The strong growth in VTC Pay's metrics can come from minigames with many incentives such as "3 times Vinaphone top-ups" or "Buy game card - Give away phone card".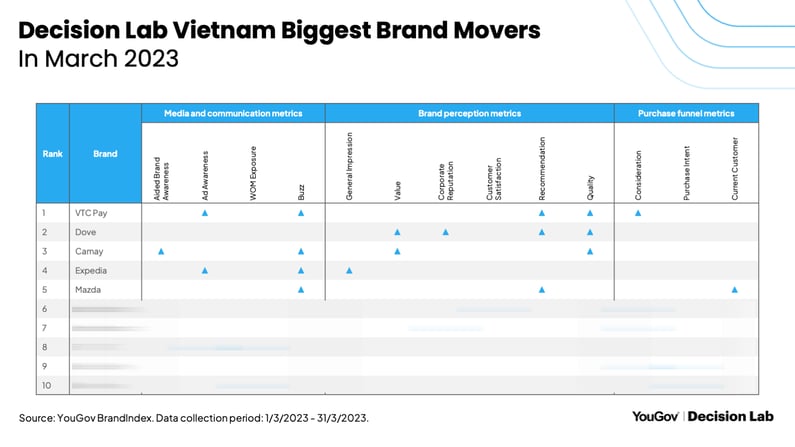 Which other brands were among Vietnam's top 10 Biggest Movers in March 2023? Download the full report to find out.
March, marked by International Women's Day, is a golden time for personal care brands to launch marketing campaigns. Dove and Camay both saw improvements in four metrics across the Media and Communication, and Brand Perception categories. The brand from Unilever stood out with two programs, "True beauty never fades", to raise awareness about breast cancer and "My hair, my choice" to eliminate stereotypes about women's beauty.
Travel platform Expedia and electronics brand Mazda round out the top five, making gains in three metrics each.
Was your brand one of Vietnam's Biggest Movers in March?
Uncover the other brands among the top ten in Vietnam by downloading the full report of Decision Lab Biggest Brand Movers for March 2023 here.
Contact us and sign up for a brand health check today!
Methodology
Biggest Brand Movers for March 2023 ranked brands according to the statistically significant score increases they achieved across the following YouGov BrandIndex metrics between February 2022 and March 2023.
Media and Communication Metrics
Aided Brand Awareness – Whether or not a consumer has ever heard of a brand
Ad Awareness – Whether a consumer has seen or heard an advertisement for a brand in the past two weeks
Word of Mouth Exposure – Whether a consumer has talked about a brand with family or friends in the past two weeks
Buzz – Whether a consumer has heard anything positive or negative about a brand in the past two weeks (net score)
Brand Perception Metrics
General Impression – Whether a consumer has a positive or negative impression of a brand
Customer Satisfaction – Whether a consumer is currently a satisfied or dissatisfied customer of a particular brand
Quality – Whether a consumer considers a brand to represent good or poor quality
Value – Whether a consumer considers a brand to represent good or poor value for money
Recommendation – Whether a consumer would recommend a brand to a friend or colleague or not
Corporate Reputation – Whether a consumer would be proud or embarrassed to work for a particular brand
Purchase Funnel Metrics
Consideration – Whether a consumer would consider a brand or not the next time they are in the market for a particular product
Purchase Intent – Whether a consumer would be most likely or unlikely to purchase a specific product
Current Customer – Whether a consumer has purchased a given product or not within a specified period of time