Decision Lab, YouGov's exclusive partner in Vietnam, introduces the most talked-about brands in Vietnam in February 2023, powered by YouGov BrandIndex.
Thế Giới Di Động (MWG) was the most talked-about brand in Vietnam, followed by Dutch Lady at number two and KFC in third place. According to YouGov BrandIndex data, which tracks brand perception among consumers daily, these three brands saw the highest increase in Word-of-Mouth (WOM) exposure during February 2023, making them our top three most talked-about brands in Vietnam.
WOM asks consumers if they have talked about the brand with family or friends in the previous two weeks, and based on the monthly scores, we determine our most talked-about brands.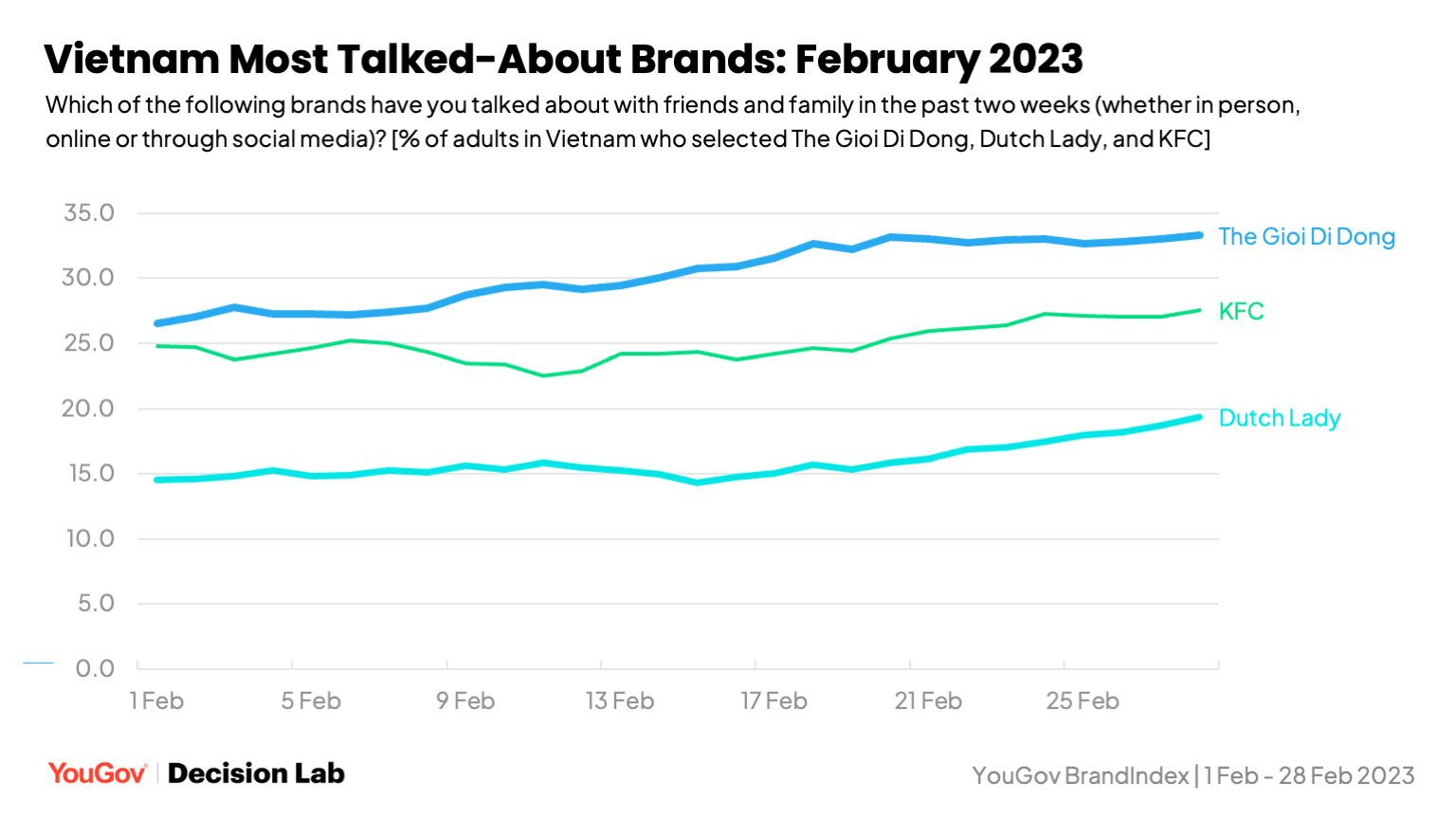 According to YouGov BrandIndex, Thế Giới Di Động's WOM metrics increased by 6.79% points from 26.52% on February 1 to 33.31% on February 28. MWG is a leading Vietnamese group specialising in retailing mobile phones, electronics, and accessories. The beginning of 2023 was not so good for MWG, as it had to close the entire Bluetronics chain in Cambodia after six years of operation, along with the AVASport chain, due to inefficiency. Despite this setback, MWG still expects its two chains, Thegioididong.com and Điện Máy Xanh, to continue to grow at double digits. Mr Nguyen Duc Tai, the Chairman of MWG, emphasised that the company's orientation this year is focus and efficiency.
Dutch Lady was talked about a lot in the second half of February. The company's word-of-mouth score increased by 5.05%, from 14.32% on February 15 to 19.36% on February 28, making Dutch Lady the second most talked about brand, just behind MWG. Dutch Lady has operated in Vietnam for over two decades and has established itself as one of the country's leading dairy brands. The increase in Dutch Lady Vietnam's word-of-mouth score is a positive sign for the company and suggests it is well-positioned to continue its growth and success in the Vietnamese market.
KFC ranked third on our list, which witnessed a rise of 4.97% points from 22.55% on February 10 to 27.52% on February 28. One of the contributing factors to KFC's success is its ability to offer attractive promotions and combos that appeal to its customers. KFC has also named the most popular F&B company on social media in February 2023, according to a report from Reputa. Their social media content is highly creative and leverages trending topics, resulting in high engagement from the online community. KFC has undoubtedly established itself as a dominant player in the F&B industry in Vietnam.
Want to check out how your brands fared and other customer insights? Contact us now.
Methodology
YouGov BrandIndex collects data on thousands of brands every day. A brand's Word of Mouth score is based on the question: "Which of the following brands have you talked about with friends and family in the past two weeks (whether in person, online or through social media)?" Data from surveys of adults aged 18 years and above residing in Vietnam from February 1 to February 28 2023. Word of Mouth scores is based on a four-week moving average. The score change for each brand is calculated by taking the difference between the highest and lowest scoring days within the period. Learn more about BrandIndex.