W

ith annual revenue from mobile games in Vietnam already at $136 million* by the beginning of 2017 and the segment continuing to explode in popularity since, it's worth understanding the who, what, when, where and how often of mobile gamers in Vietnam.
A changing gender landscape
Mobile gaming has taken Vietnam by storm, and on the whole, it's been women driving growth in the segment. Far removed from the stereotyped image of adolescent boys playing hardcore PC games in cyber cafes, the penetration of regular mobile gaming has become higher amongst females (59%) than males (54%).
According to a report released by POKKT in association with Mobile Marketing Association (MMA) and Decision Lab, like the rest of Southeast Asia, more than half of the online population in Vietnam (56%) are now playing games on their mobile phones, tablets or a combination of both.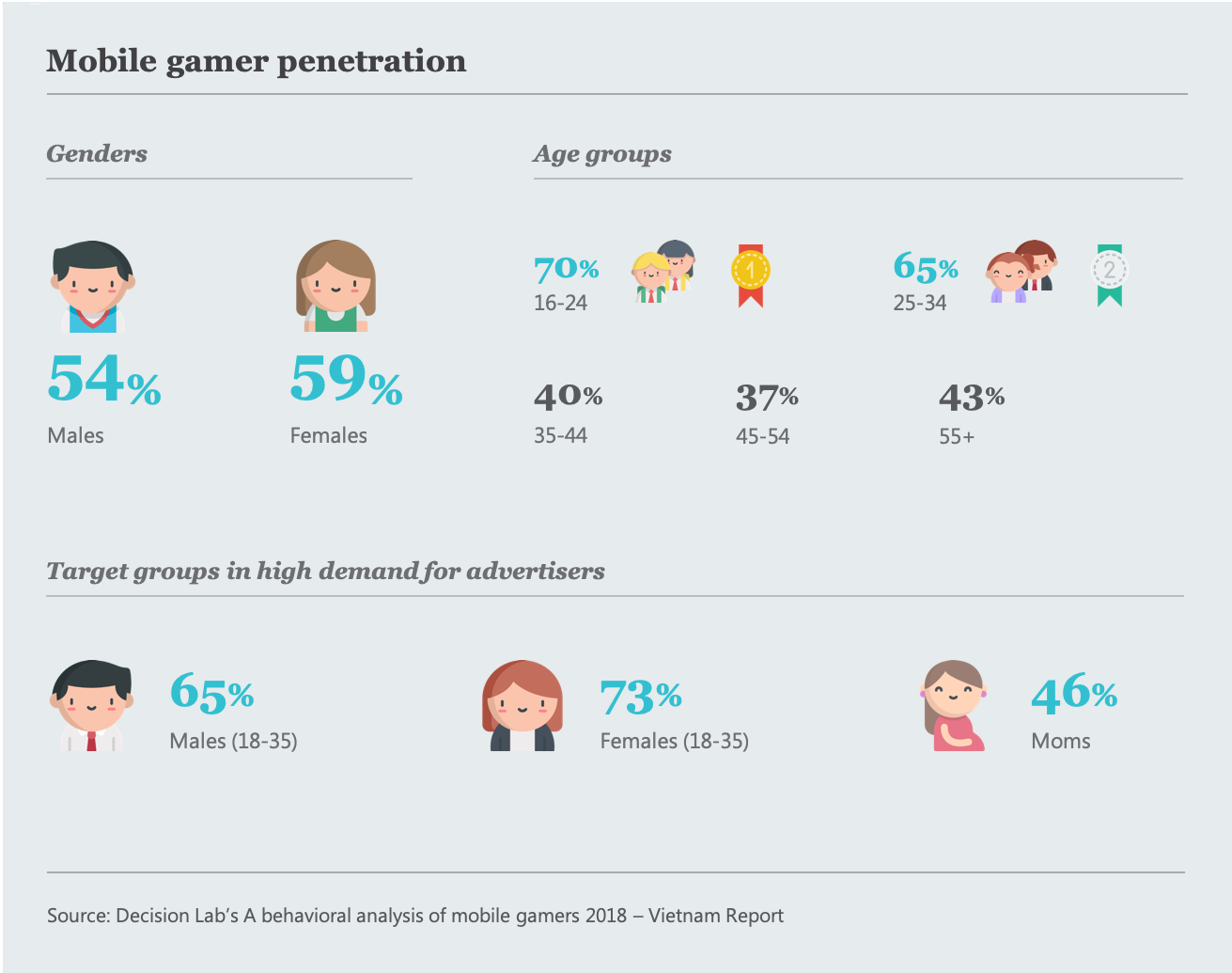 A new type of hardcore
On average, the study found that players spend approximately 51 minutes per session engaged in casual mobile games that involve elements of either strategy, puzzle, arcade play or action; giving birth to a new type of hardcore gamer. So popular has the activity proven, that time spent playing mobile games now accounts for nearly a quarter (23%) of total mobile screen time; more than social networking (18%), streaming video (14%) and even browsing the web (13%).
Splitting the genders, it is male mobile users who said they were most likely to play several times a day, at 51% compared to 39% of all female respondents, and it was also men who were more likely to 'binge' for more than 90 minutes per session, at 17% compared to 7%.
Overall, the most prolific players in Vietnam are Millennials - those born between 1981 and 1996 - with 65% identifying as mobile gamers, and 50% of those saying they played several times a day with an average session time of 48 minutes.
'Moms' with children under 12 are also a significant audience, with 42% playing several times a day with an average session time of 43 minutes.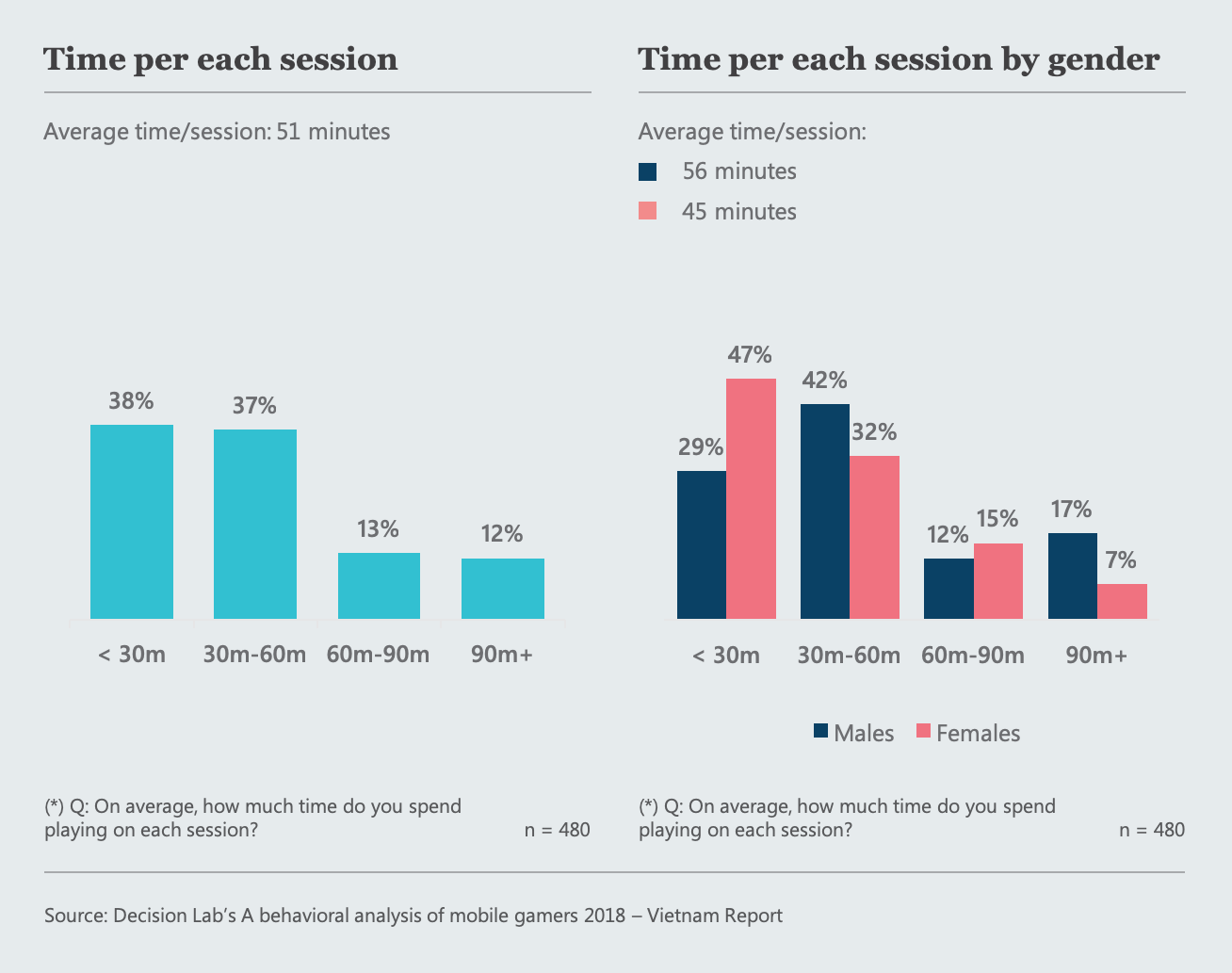 Divided attention
In the home is by far the most popular place to play across all categories (96%), with usage peaking between the hours of 7PM and 10PM daily. Women are slightly more likely to play during their lunch break (12-2pm) than men, while cafe's (40%) and the workplace (26%) were the next two most popular locations.
Attention-wise, a significant percentage of players are multi-tasking when they play mobile games; only slightly more than a third (34%) of respondents said they did nothing else while playing mobile games on their phones. Chatting online (35%) is the most popular multi-tasking activity to be doing while playing in-app games, followed by having dinner (27%), watching TV (25%) and waiting (24%).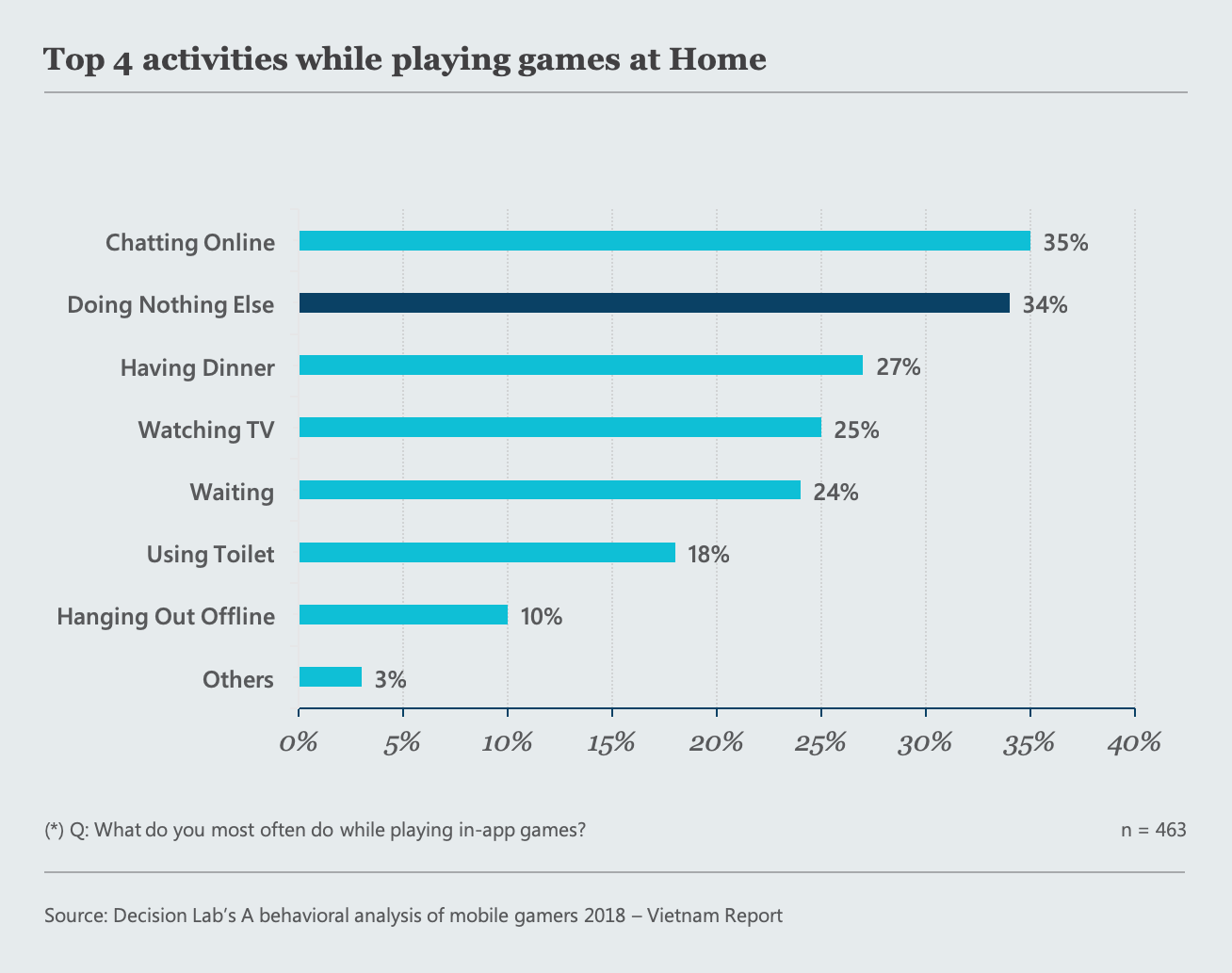 The right format
When it came to respondents reaction to in-game ads, whether they be video, static or interactive ads, the study revealed that up to 69% said they would watch them for bonuses or incentives, while only 20% said they would 'upgrade' to avoid them altogether. On an overall likeability scale, rewarded video ads fared much better, and were much more likely to be tolerated for longer, before being skipped or exited.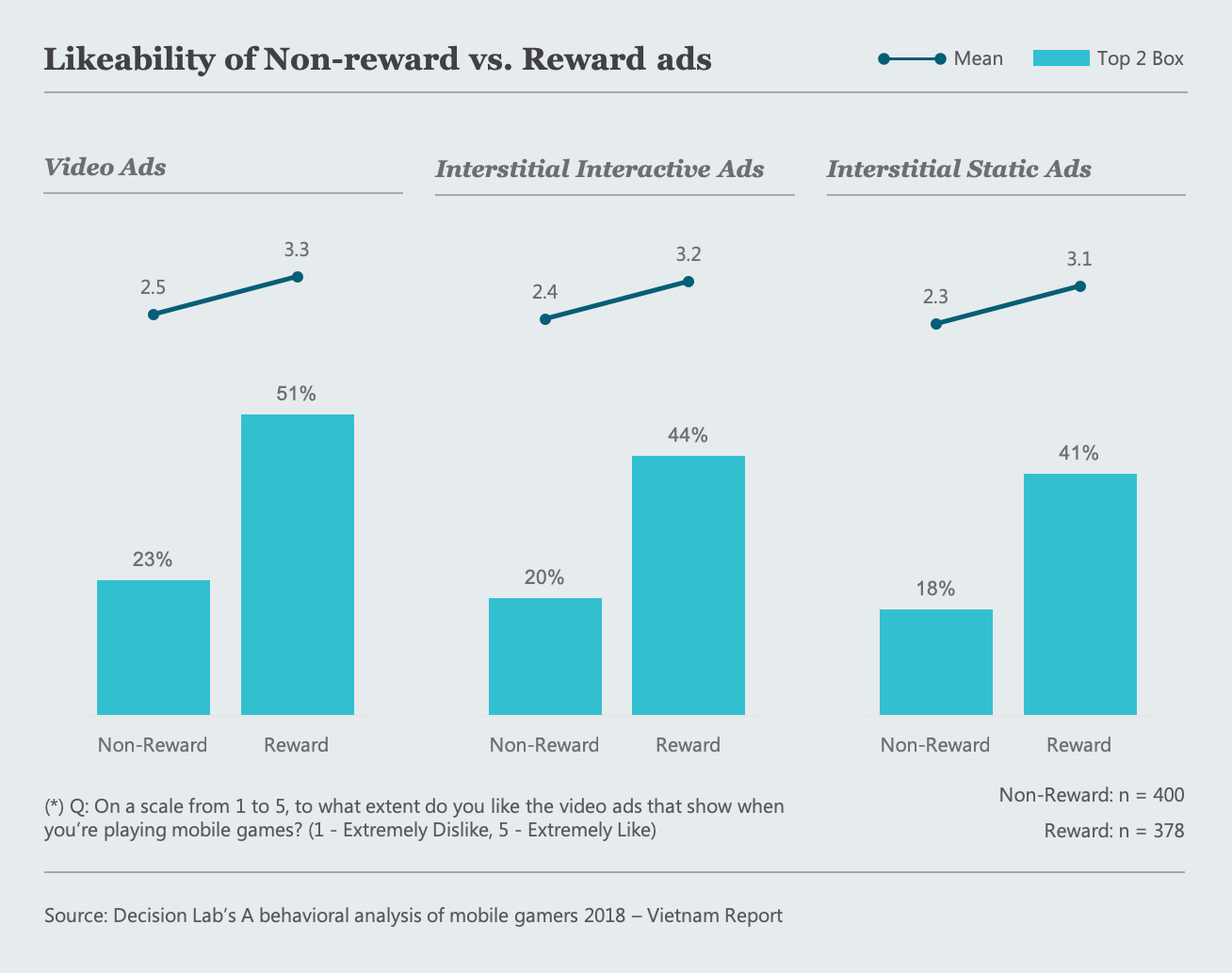 Summary of Key Findings:
Women are driving the growth of mobile gaming in Vietnam, with 59% penetration compared to 54% of their male counterparts.
Millenials are the most prolific in-app mobile gamers in Vietnam, with 50% spending an average of 48 minutes per session playing a mix of strategy, puzzle, action and arcade games several times a day.
The most popular time and place to play is in the home between 7PM-10PM or at lunchtime 12PM-2PM, particularly for women.
Ads that offer a useful incentive or brand new promotion are much more likely to engage gamers and warrant an in-play response.
To download the full report click here.
*The GMGC Mobile Games Whitebook, New Zoo, Q1 2017