According to the report "The Connected Consumer Q4 2022", published by MMA Vietnam and Decision Lab, Zalo continued to be Vietnam's most-used messaging application in 2022.
In the list of leading messaging platforms in Vietnam, by the end of the fourth quarter of 2022, Zalo leads with a usage rate of 87%, followed by Facebook with 72%, Messenger with 58%, and Instagram accounts with 15%.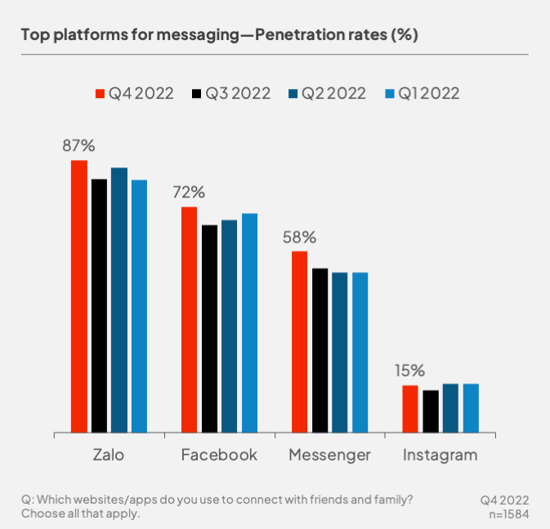 Zalo broke through the "glass ceiling", earning a 6% increase in favorability, further solidifying its position in the category. Also, The usage of Zalo rose by 4%, faster than Facebook's, helping Zalo to inch closer to being the most-used social platform in Vietnam. Most of this growth is in Gen X (42 to 62 years old) and Gen Z (16 to 25 years old) users.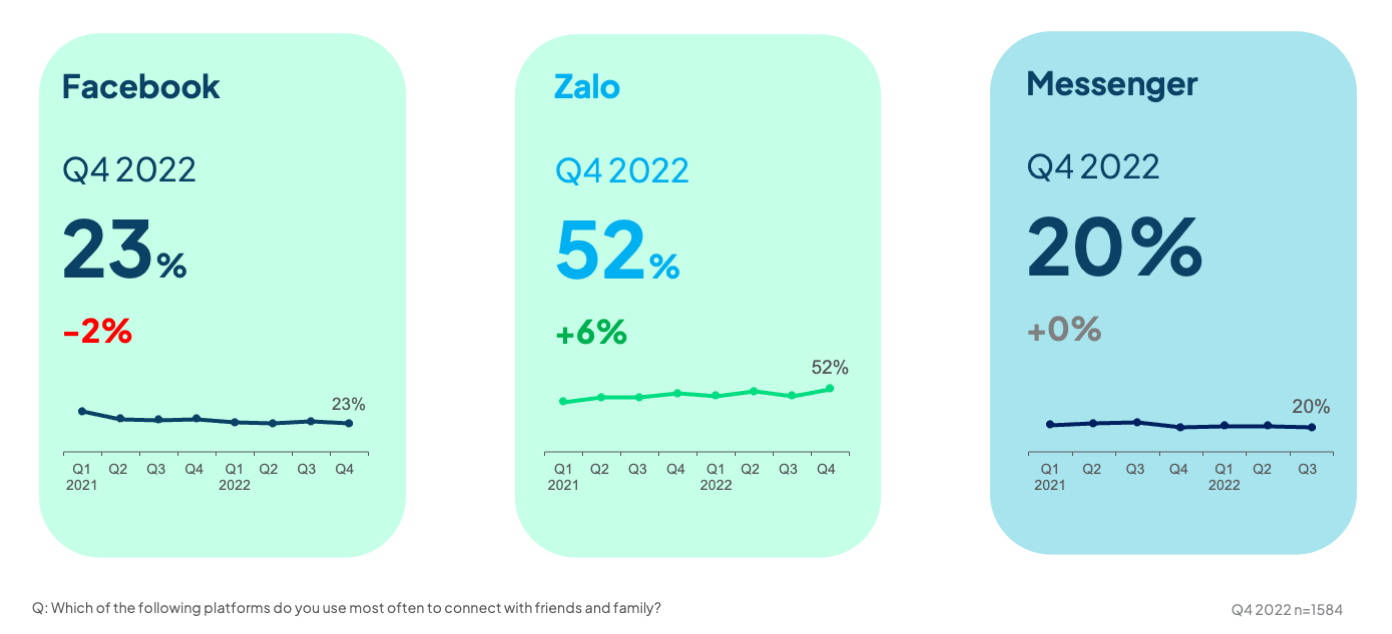 This impressive number helps Zalo strengthen its position as Vietnam's most popular messaging application from 2020 to now.
Zalo's advantage lies in its technology platform that caters to Vietnamese living habits. The app shows serious and systematic investment by consistently upgrading its safety and security features, such as the recent addition of the end-to-end encryption feature in May 2022.
In addition, Zalo enables users to send high-quality, extensive files of up to 1GB via the Zalo PC and Zalo Web versions while maintaining smooth and stable communication quality despite the app's growing user base. Such strengths have helped Zalo remain the top messaging app in Vietnam for many years.
Zalo has also been included in the Top 20 most popular apps on the Apple Store for two consecutive years (2021 and 2022), chosen by the global App Store editorial team based on various criteria such as downloads, quality, technology, design, and cultural and community impact.
For more insights, download the complete "Connected Consumer Q4 2022" for FREE here. To learn more about our entire suite of agile marketing products, contact one of our expert consultants today.
The Connected Consumer is a quarterly study conducted by Decision Lab starting in 2019. The study focuses on consumers' online habits, including social media usage, entertainment (music, movies, online videos), and online shopping. Data in this report is collected using Decision Lab's online panel.